I'm not sure when it happened, but Ugly Christmas Sweaters are now a thing. You don't even need a reason (like an Ugly Christmas Sweater party) to wear one. I for one, am totally supportive of this initiative. The holidays are all about relaxing and spreading joy. And what's funnier than an ugly sweater? Besides, it's nice to just not try to be perfect for a second, and just embrace the joy of wearing something that is not "perfect".
Two years ago, I purchased my husband an ugly sweater for Christmas. It was the "Merry Flippin Christmas" sweater that was made in response to Jose Batista's famous bat flip. He showed me the sweater online when he first saw it. Little did he know that I would actually buy it for him. Guess what? It turned out to be the best present ever. He still wears it often – almost weekly! It is comfortable after all.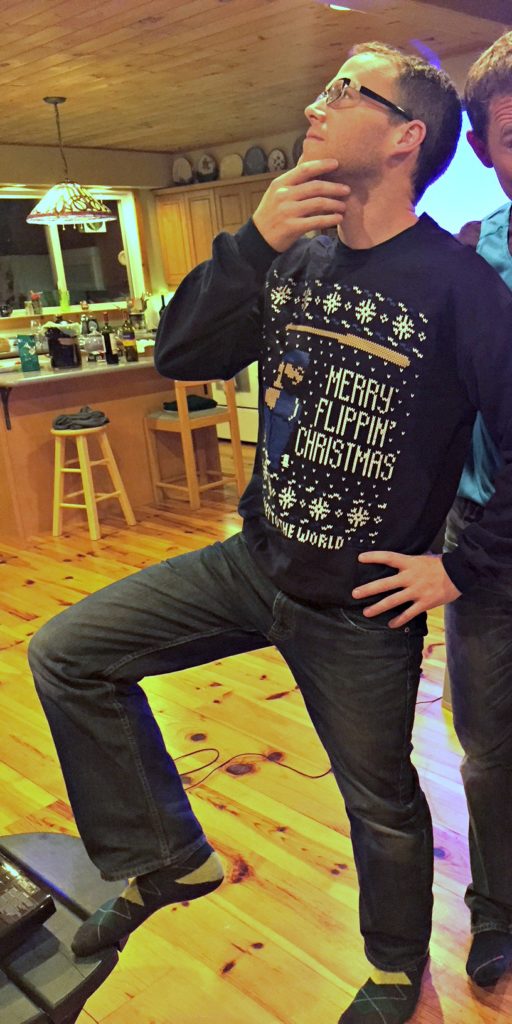 Last year, I found my own gem of an ugly Xmas sweater. It says "Merry Chrismukkah" on it. If you've been following me for a while, you know that we celebrate both Christmas and Hanukkah (I'm Jewish, John isn't). Put the two words together, and you get Christmukkah (made popular by the TV show "OC" – which I miss dearly).
So if you're on the hunt for the perfect imperfect (aka Ugly) Christmas Sweater, than you're in luck! Here are some of my favourite Ugly sweaters, which can all be found on Amazon.ca
1. I kind love everything about this Rudolph 3D pon pon nose sweater. I might need to add it to my collection. 2. Who doesn't love kittens? Especially ones that double as reindeer. This reinkitty sweater also lights up. Now that's awesome. 3. I may need to get this Maple Leafs ugly xmas sweater as my husband's gift this year. 4. Back to the cats, and that this is how my immigrant self probably spelled it back in the day! This Santa Claws Sweater is everything! 5. Our family is kind of obsessed with everything Star Wars, so this one just jumped out at me, but there are so many other great Star Wars options too. 6. Who doesn't love a good #Selfi?!? I mean… #Elfie! 7. I love me a good cardigan, especially come winter. It's all about total coverage. This ugly xmas cardigan is kind of festive even. 8. Celebrate both Hanukkah and Christmas – than this sweater is for you! 9. This one is sort of an inside joke between my husband and I, but clearly we're not the only ones who say it… "Challah at you girl!" 10. I'm not high maintenance, I just have high expectations, #AmIright?
Let me know… are you in or out with this trend? Love it or hate it?
Disclaimer: The links included are affiliate links as this is sponsored post from Amazon Canada that's a part of the Amazon Associate campaign.