December is often so jam packed with gatherings, holidays and work that I often forget to celebrate, let alone acknowledge ,that it's my blog's anniversary. Crazy to think that I started this tiny blog of mine six years ago, when Kyle was just a little over 1 year old.
I actually never knew that this "influencer world" (if that's what you want to call it), existed, and I was mostly happy if two of my friends read what I had to say. But here we are, a life time away from my early beginnings. I honestly couldn't be happier or prouder with how far I've come with this blog of mine, and it's mostly thanks to my amazing readers and the community that we have created over the years.

In the new year, I may do a round-up of my top posts from the year, but I thought that right now, before the holidays, when everyone is busy shopping and gift giving, it might be more timely to share with you some of my favourite products from all time. There have been so many great products, toys and services that I've reviewed and while some were loved at first, not all of them made it through the years. So here are a few products that I swear by, whether for myself, my home, for travel or the kids!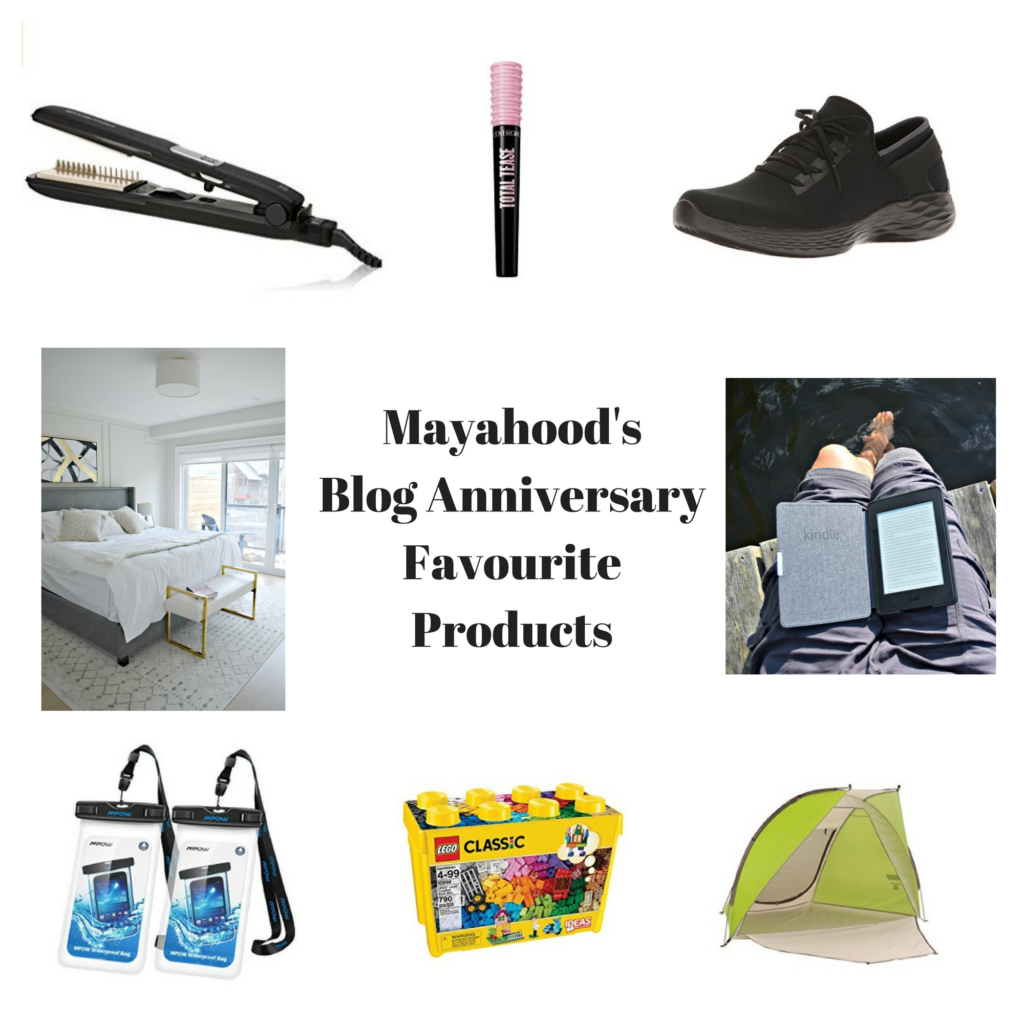 I'm a curly haired girl that wishes she would get out of the shower with straight hair. Not likely ever going to happen, so this hair straightener from Rowenta is the next best thing. I kid you not, it takes me about 10 minutes to get my hair from curly to straight. It works so well because of its ability to get to a really high temperature, has a built-in brush and a wide iron. I have recommended this straightener to several people now and everyone agrees!
I'm not really a makeup girl, and I rarely wear it, saving it for special occasions / outings instead. However, sometimes I just pop on some mascara just for a little something-something! I'm a really big fan of Cover Girl makeup, but I love this total tease mascara. It's easy to put on and doesn't clump!
I've been wearing Skechers shoes since I was a teen, but I love them more now as an adult. When I was younger, all I cared about was style. Now, comfort is of utmost importance. Luckily, Skechers provides me with both!! I'm lucky to live in a walking neighbourhood, but I have to ensure that my feet don't ache by the end of the day because really, there's no recovery time when you're a mom to three young boys. These recently launched line of YOU by Skechers are my favourite for comfort and fashion.
I recently did a master bedroom makeover and one of my favourite pieces was this rug! It's stylish and comfortable. I never realized how much I needed this rug in my life – especially now in the winter when my feet get super cold.
I'll be the first to admit that I hardly read books any more. But when I do, it's glorious! I just complete a stints of trips and I got my fair share of reading time (thanks to traveling solo). Having my Kindle made it so easy because I didn't need to lug around 4 or 5 books that take up too much clothes / shoes space in my luggage and the built in light was perfect for reading in the dark.
If you're traveling somewhere where water is involved (beach or lake in the summer), I highly recommend this water proof case for your phone. I actually wore mine when I was surfing and snorkeling in Hawaii. The pictures aren't amazing, but it's always nice to have your camera around, just in case. And my phone was totally safe!
Lego is probably the most requested gift by the boys this year… and to be honest, I don't mind. I feel like we can never have enough of it. While I love building the sets according to the instructions (and Kyle has finally come around to that too), Ryan and Nate just love building their own creations for the million of un-built pieces we have. If you're just starting out, I would highly recommend this Classic Lego set.
Whenever we traveled to Hawaii with the kids, we always brought along this Coleman Beach Tent / Shade. It folds up compact and it's super easy to set up. It's been one of my most asked-about products. If you're planning on traveling somewhere warm with the family this holiday break, make sure you buy one before you leave! Also, while you're at it, I highly recommend buying a white noise machine that's great for at home and travel. Because (a good night's) sleep is just as important when you're on vacation.
I would love to hear what some of your favourite, tried-and-tested, products are!
Disclaimer: The links included are affiliate links as this is sponsored post from Amazon Canada that's a part of the Amazon Associate campaign.