As a young kid, and now as a parent, my family and I love to frequent resorts in the greater Toronto area.  Usually we do this in the winter as part of a skiing getaway. What I didn't realize until my recent family vacation at Blue Mountain, is that the resorts are just as amazing during the summer months (dare I say even better? Hard to say, but amazing nonetheless).  My mom, my two boys and I (hubby was traveling on business) stayed at Blue Mountain for two night at the beautiful Westin. We had a full itinerary of activities and we soaked up every second of our stay.  My four year old is already planning our next visit to Blue Mountain and a day doesn't go by without him reminiscing about something we did during our stay. Here's a breakdown of what we did, where we ate and where we stayed if you're looking for a two to three day itinerary for Blue Mountain (FYI, my kids are 18 months & 4 years old).
Activities:
There's so much to see and do at Blue Mountain, I was glad to receive some guidance from the experts at Blue.
While my youngest was taking a nap, my four year old and I did pottery painting at the Crock a Doodle studio at Blue Mountain village.  He picked a travel mug for his dad, a plate for me and a fire truck money bank for his soon-to-be brother.  He had fun picking out the colours and painting each piece, some with brushes and others with his hands.  The best part is that the pieces are always ready by 4 PM the following day (or they can be shipped to your house directly).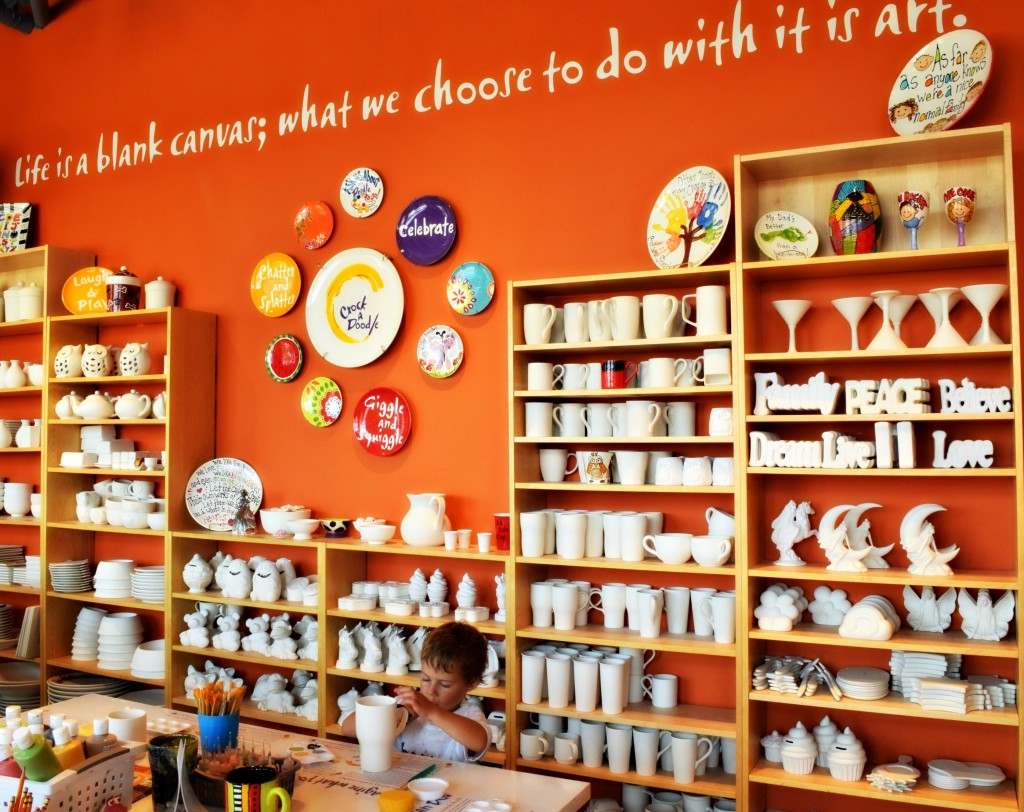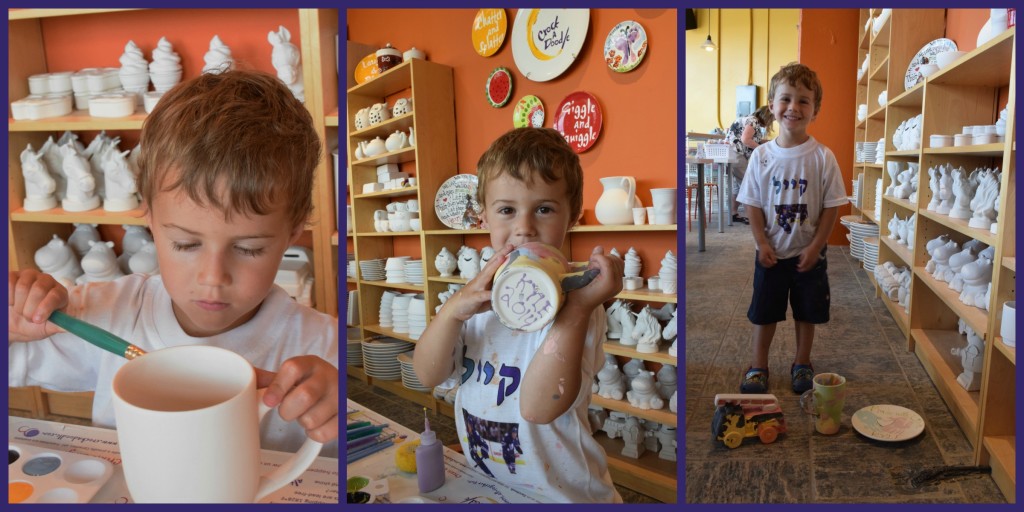 Our second day was very overcast.  That didn't stop us from having fun though.  My older son and I hit the Cascade Putting Course on the base of the mountain, which is nicely landscaped with cascading falls. The course is suitable for both kids and adults.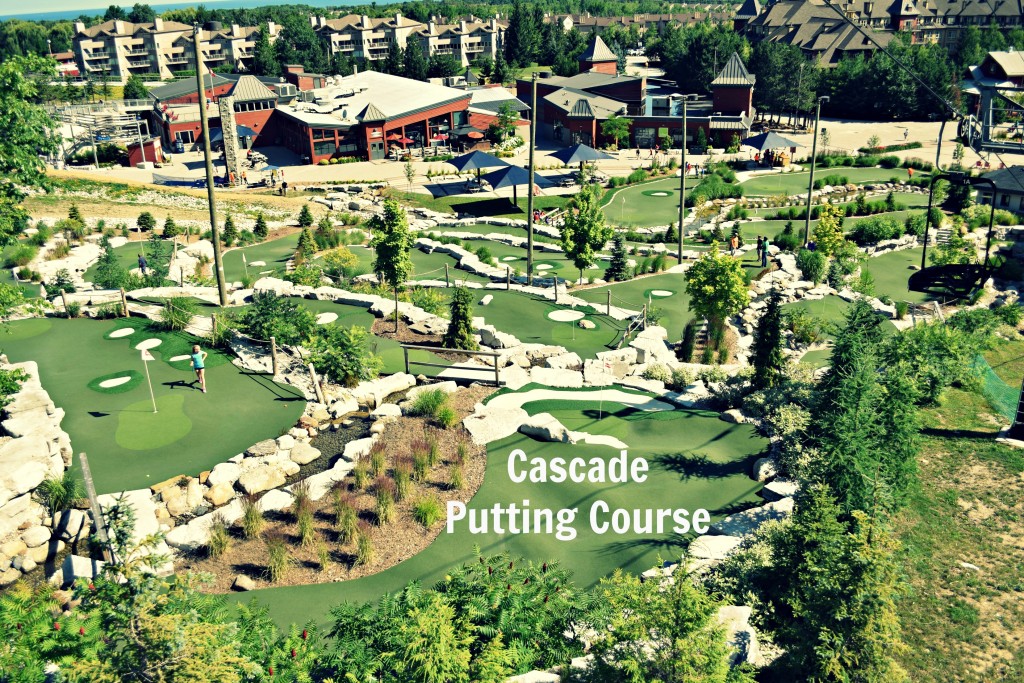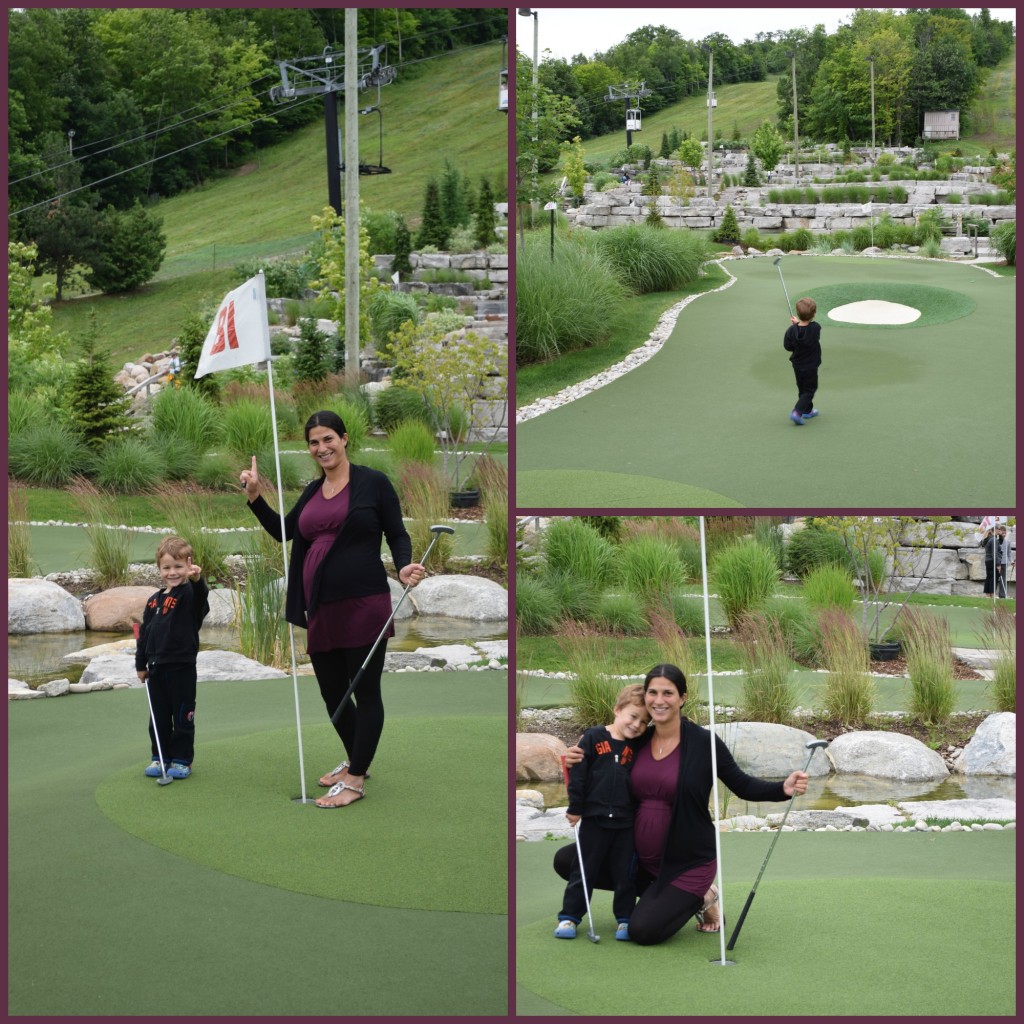 When we finished our game, we headed over to the Ridge Runner Mountain Coaster.  Surprisingly, my timid and scared son was excited to try it out. The ride begins with an ascent up 3,560 ft before we zipped down. The coaster can go down as fast 42 km/h but we definitely went a bit slower considering I'm 9 months pregnant and I didn't want to scare my son right off.  The best part, my son refused to leave Blue Mountain until we went on the ride again.  I'm proud to say we went faster the second time around and my son loved it just as much.  FYI, children need to be at least 40″ tall to ride and older than 13 years of age to ride alone.
Before dinner, we spent a few hours at Plunge! Aquatic Centre and indoor / outdoor water playground. It's equipped with an indoor water playground, outdoor slide, swing rope, hot tubs and a huge pool flows indoors to the outside.  There are lifeguards on duties and lots of life jackets for little ones.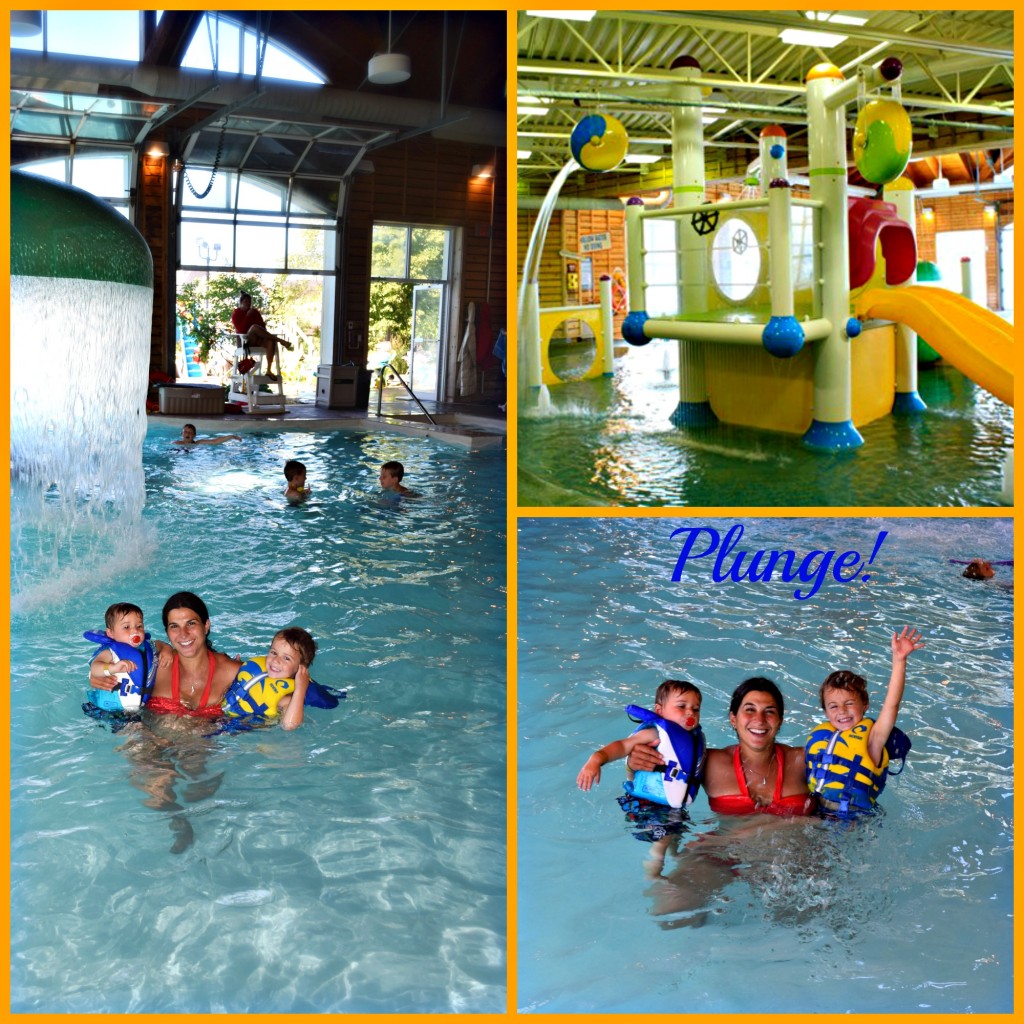 On our last day, we went out in style.  We took the open-air gondola up the mountain to take in the spectacular view.  We got to see a view of the Niagara Escarpment and panoramic views of Blue Mountain village. While my mom and I enjoyed the views, my sons enjoyed the ride!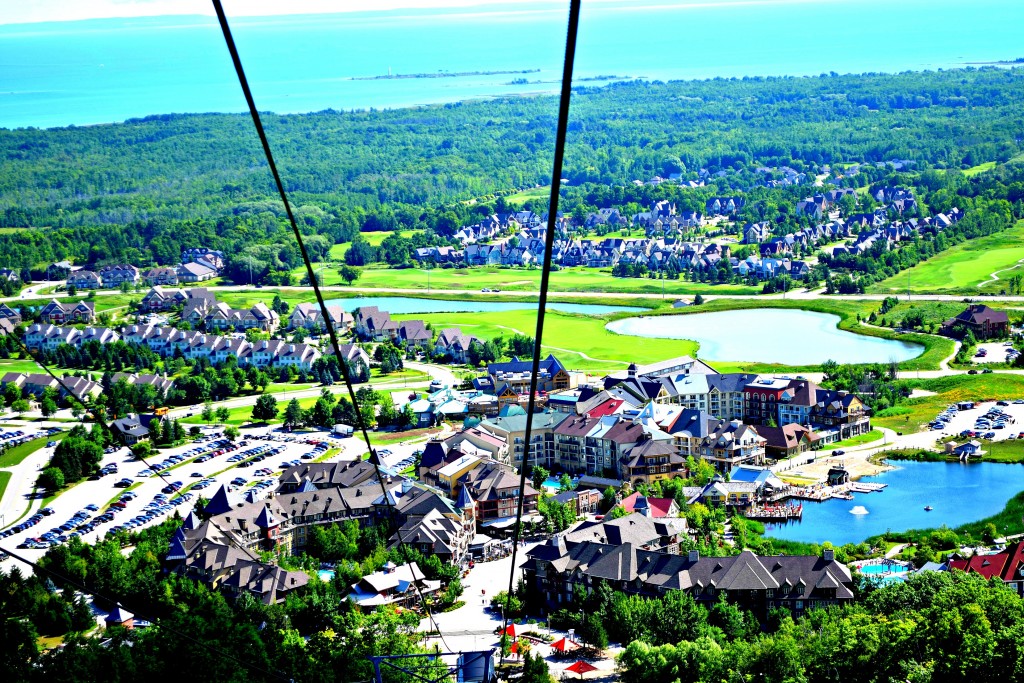 A good way to decide which activities you and your family may want to do during your visit is through the interactive summer adventure builder on Blue's website. You'll receive a customized activity package just right for you.
Restaurants:
The Pottery Restaurant is located at the outskirts of the village.  Not a far walk but if you prefer, there is a shuttle. The restaurant is quaint and kid-friendly.  One of our favourite dishes there was the veggie burger. We enjoyed dinners at Tholos Greek Restaurant and at Firehall Pizza Co. While Tholos Restaurant is a bit more on the pricey side, the atmosphere and location was great.  My kids enjoyed the dips for appetizers and the chicken kebob meal. Firehall Pizza Co is very family friendly and has several delicious food options including pizza, pasta, burgers and more.  Just make sure to show up before 6 PM or make reservations.  This is one of the most popular restaurants at the village.
We enjoyed two delicious breakfast meals during our stay.  Our first was at Oliver & Bonacini Café Grill, located in the Westin. There were various healthy and delicious options, suitable for everyone's dietary needs. The second is the famous Sunset Grill.  An affordable option with great selection for kids.  The portion sizes are large enough that if tastes allow, your children can share a meal.
If you're craving some delicious freshly baked goods or a nice coffee or hot chocolate stop at Royal Majesty Espresso Bar Bakery at the village.  Eat in or take out, there's something for everyone in your family to enjoy.
Accommodations:
To say we were a little spoiled during our stay is an understatement.  Our two-bedroom, two-bathroom suite at the Westin Trillium House was impeccable.  Not only did it provide us with ample space for comfortably sleeping four (two queen size beds and a crib), but it had a full kitchen, dining room, living room and two balconies overlooking the hills. My sons had plenty of room to play and we enjoyed having a fully-loaded kitchen to store water, milk and snacks, and cut up fruits and vegetables. We found the staff to be very helpful and always accommodating.  They took the time to answer our questions and always had a smile on their face.  That's a big deal for busy mother!
Overall a great trip! I would definitely recommend Blue for anyone looking for a quick getaway in the Toronto area.