If you were a fly on our bedroom wall at night you'd see our youngest son, a newborn, all 8 pounds of him, lying sprawled out on our king size bed. His arms are outstretched above his head, as if he's giving himself a cheer. You'd also see that he's lying in the middle of the bed, my husband and I are each on one side of him. You might guess that we're following attachment parenting and are co-sleeping with our newborn.
If you were a fly on our wall, you'd see that when our newborn son, all 8 pounds of him, cries for food, I roll over to my side and breastfeed him while I continue to sleep, as much as one can while breastfeeding lying down not very comfortably. You would probably think to yourself, that's one lazy parent!
Well, which one is it? Did we make a conscious decision to co-sleep or are we just being lazy? Neither really. We don't follow attachment parenting (although our newborn does currently sleep with us, I feed on demand and I enjoy baby wearing), and we're not lazy (completely). We're just tired parents trying to "survive" the newborn phase so we can also be involved parents with our older sons (ages 1.5 and 4).
It's funny really… with our first son, he slept in a bassinet and almost never in our bed until we transferred him to a crib. Our middle child was moved to the crib shortly after birth. But our third? Our youngest? Our forever "baby"? Apparently, we've "given-up". But truly, we haven't, just circumstances have changed and we now have three times as many little ones to care for since we established the initial "parenting rules."
Not only have the sleeping arrangements changed, but also the morning wake up routine. When our oldest son went through a phase of waking up at 5 AM, my husband got up with him. Now, when our middle child is going through the exact same phase, we've been  bringing him into bed with us so we can extend our sleeping time (whether we actually get to sleep or not is another story). Hopefully, by the time our youngest goes through this crazy early-morning wake up phase, we can get our oldest son to just take care of him (wishful thinking, I know).
Since our society loves giving labels to just about everything, I'm going to label this type of parenting as Reality Parenting. It means that as a parent, you do what's right for you and your family.  You do what you have to do to stay sane and happy.  That's my reality at least… what's yours?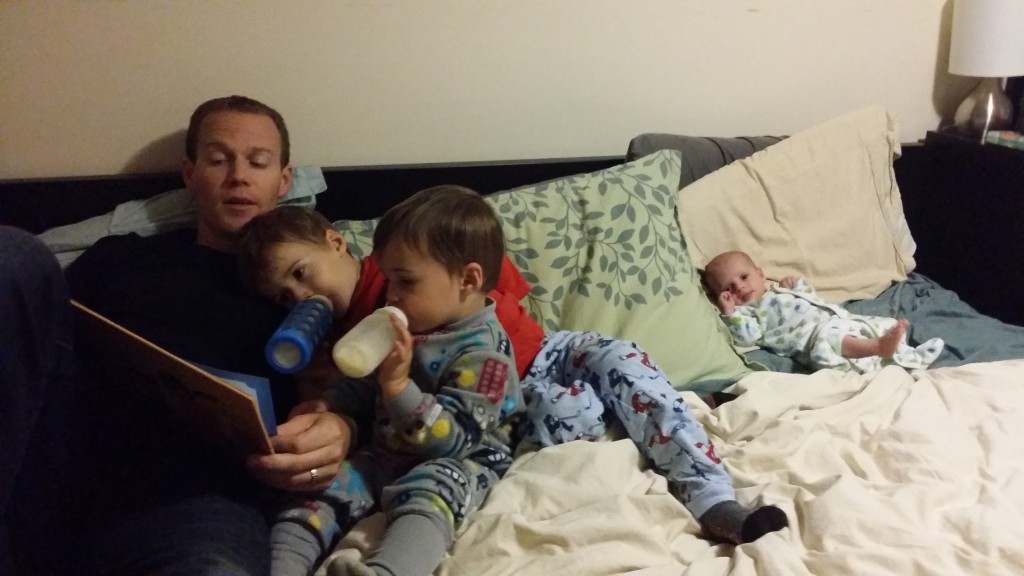 So if you're a a parent to two, three or more kids, did you find that you treated each one differently? At least when it came to the sleeping situation?