The holidays are fast approaching (yikes) and if you have kids to buy for, I'm sure your list is never-ending.  However, that might also mean that you're spending more than you'd really like.
While I believe in consumerism as a great driver of our economy, I also like to think of myself as a savvy shopper.  That's why when it comes to my boys, I pride myself on buying their clothes and toys either on sale or through a consignment store.  In fact, most of the clothes that my boys wear are hand-me-downs.  Kids, especially infants, outgrow their clothes in a matter of months.
While some toys can grow with your kids, others are tossed aside after a few days. That's why I always appreciated that my parents bought toys for my two boys from consignment stores.  The toys were in great condition and best of all, they were affordable.  Of course the toys were properly sanitized at home before play, and to my kids, they were brand new.  They didn't know the difference and they didn't care! In fact, growing up, the vast majority of my toys were bought at garage sales.  They were good enough for me, so why should it be any different for my kids?

That's why I'm such a big fan of Boomerang Kids, a Canadian consignment shop dedicated to selling high-quality kid goods. Boomerang Kids is located in Ottawa, Quebec and a recently opened store in the GTA. The focus is on high quality goods for kids including clothes, toys, books, baby gear & equipment and maternity wear. The best part is that now you can buy the stuff ONLINE!  The e-commerce site is so easy to navigate and buy from.  I recently purchased a few items online for my boys for the holidays. I placed the order Friday afternoon and the items were delivered to my house Saturday morning.  Someone called me on Friday night to even arrange a drop-off time. Free next day shipping is provided to those who live in the GTA!
Some of the other great services offered by Boomerang Kids include a 24-hour refund policy on resale items purchased in store.  They sell only high quality items and some of which have never been used or taken out of their original packaging.  Also, Boomerang Kids thoroughly checks the items they sell against recall and safety and regulation listings. Truly, the customer service experience provided by Boomerang Kids is superior which is very important to me as a busy mom of two.
My recent purchase included a nearly-new wooden baby sleigh and cover, a Melissa & Doug Dinosaur stamp set (in original package), a hockey figurine set (in original package) and a Kids cardboard coloring playhouse (in original package with a few dents to the packaging).  I saved $75 buying these items "used" despite all them being never used. It was a great experience and the next day delivery to my door just made my day. This will truly become my first spot to check when picking up something for my boys.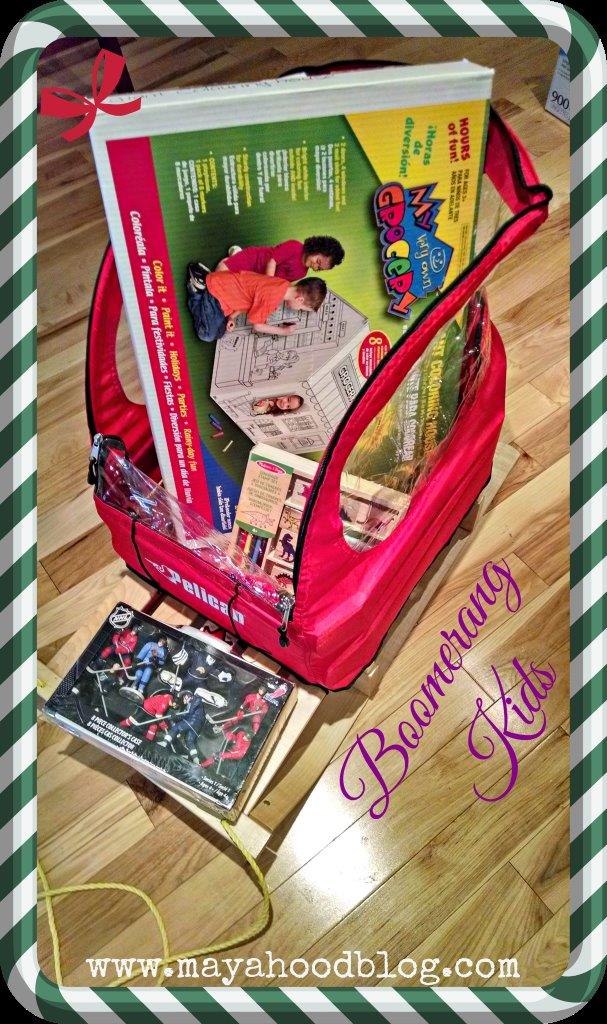 Personally, I think it's smart and socially responsible to buy some nearly new gifts for your children. Have you ever purchased nearly new toys for the holidays? Would you consider doing it now?
Just in time for the holidays, Boomerang Kids is giving one lucky Mayahood reader a $100 gift code redeemable at Boomerang Kids. Enter the giveaway via Rafflecopter below (please give it a few seconds to load).  Contest is open to residents of Canada. Contest ends Wednesday December 18, 2013. Good-luck!
For further details on how you can make money selling your gently used items at Boomerang Kids check out the great post written by Me, Myself & Kids.