It's amazing how much your body changes once you have a baby.  I feel that in a certain way, I'll never be able to get my pre-baby body back. I often hear the same sentiments from other fellow moms.  One of the biggest changes that impacted me through pregnancy and postpartum when I had my first son was my knees.  As an avid runner, I always prided myself on how well my knees held up.  That all changed when I gained 40 pounds during my first (and second) pregnancy and was left with a nagging knee injury.  Postpartum, my knees didn't get any better and working out didn't help either.  That's when I decided to seek the support of a Chiropractor.  It was amazing how much better my knee felt only after a few weeks of sessions.  My chiropractor also gave me some great advice on how to work-out safer and bend when picking up, holding and putting down my newborn.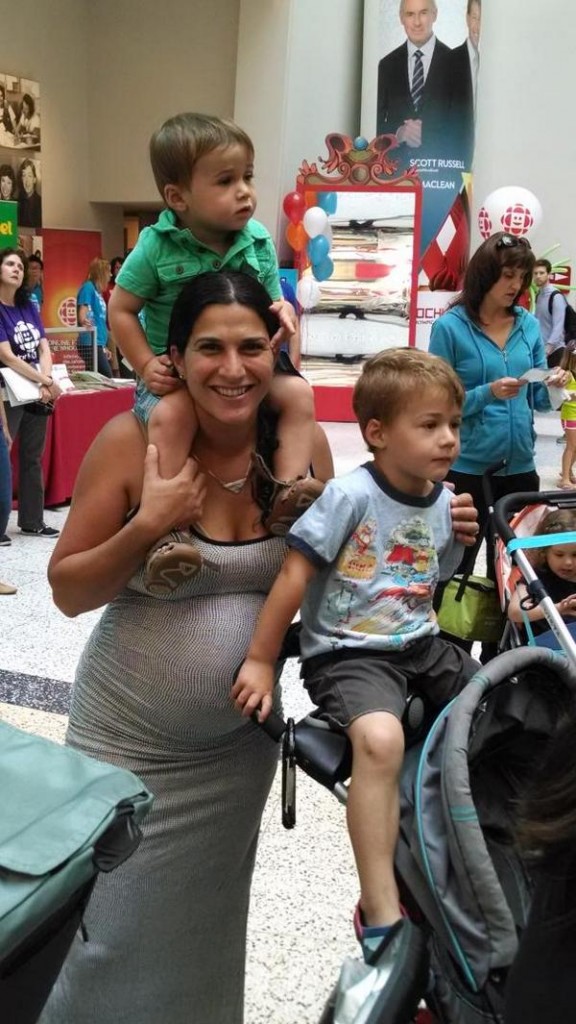 While knee joint pains are just some of the issues I experienced during pregnancy and postpartum, I know that the most common pain is backache.  That's why the Ontario Chiropractic Association  has put together some great tips on how to reduce postpartum backache.
Tips for new parents to reduce postpartum backache include:
1.       Keep your baby close – Bring your baby close to your chest while picking up and putting down. The closer you hold your baby to your body, the less strain on your back.
2.       A bag's not just a bag – Choosing a diaper bag that will help distribute weight evenly across your body will help avoid the stress of isolated muscles overcompensating for unevenly distributed weight.
3.       Turn off twisting – By avoiding a twisting motion while picking up your child, you'll avoid straining muscles.
4.       Eyes up front – Consider using a "front pack" to carry your newborn baby when you're heading out for the day; for older babies switch to a back carrier to protect your back.
5.       If you don't need it, leave it – Diapers, yes. Soother, check! 3 changes of clothes and half a dozen story books, you can leave that at home. You're a new mother and don't need to add any excessive weight on your shoulders!
6.       Feeding frenzy – When nursing, use a comfortable, upright chair and ensure you bring the baby to you, instead of bending forward to reach. Pillows of different shapes and sizes can be used to help support your lower back, arms and the weight of baby while feeding.
7.       Stretch and stabilize  – While baby enjoys some tummy time, join them on the floor and stretch your neck/upper back or do some exercises to strengthen and stabilize your core
8.       Mommy fitness – Resume exercise as soon as your health care provider gives you the go ahead; put baby in the stroller or in a front carrier and go for a walk every day.  The exercise and change of scenery are stimulating for both mom and baby.
9.       Trouble in the tub – Bending over a tub can put a lot of strain on your back; try to keep your little one as close to you as possible to avoid reaching or twisting.  If kneeling beside the tub kneel on a non-slip mat to try to take the pressure off of your knees.
Routinely lifting a 7-10 pound infant up to 50 times a day can create crushing damage to your back if you're not taking proper precautions. By the time a child is a year old a parent is lifting and carrying up to 17 pounds numerous times a day.
Giveaway
Regardless of the weight of the child, the combination of carrying a baby and a diaper bag puts ample stress on a new mother's spine. With a baby in one arm and a diaper bag on the other, keeping stress off your lower back is a balancing act. That's why the Ontario Chiropractic Association is giving away a diaper bag filled with goodies valued at $100. The prize pack will include a baby-and-me yoga video, a portable foot massager, an exercise ball, an active heat wrap for back pain, and of course, a new diaper bag for all the goodies to go in. Enter the giveaway via Rafflecopter below (please give it a few seconds to load).  Contest is open to residents of Ontario, Canada. Contest ends Tuesday September 2nd, 2014. Good-luck!