Something wonderful and amazing happened to me this past month… I started baking. In the past, I avoided baking like the plague. I was already not comfortable cooking in the kitchen (which I only did as a necessity for keeping my family alive), so baking seemed like a nuisance more than a must-have. But two of my goals this year were 1. to focus on my health / diet and 2. to become more confident in the kitchen. So baking was a natural fit. After I scoured the internet for recipes (thank you Pinterst) and getting some amazing recipe recommendations from my followers, I put myself to the test and just sort of went for it.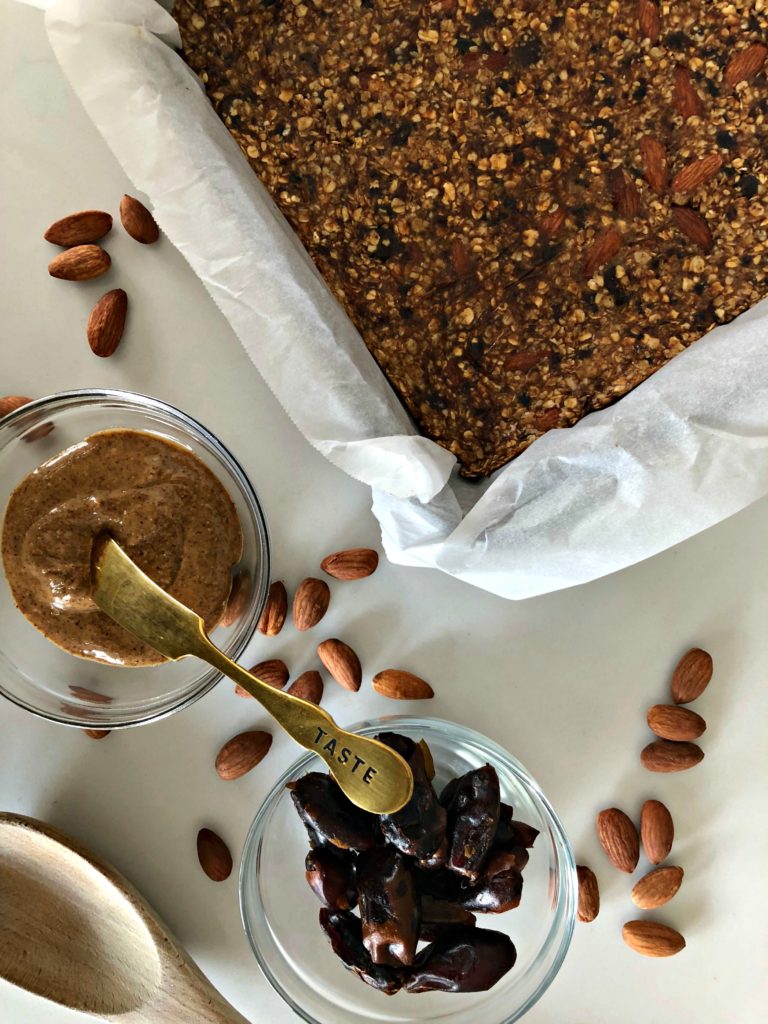 Here's the thing about baking if a you are a newbie like me. It's all about preparation. Once you have the right gear and ingredients, the rest is super easy. For example, this recipe calls for a mixer and without that, you can't make this granola bar (although I'm working on an alternative – stay tuned). You will also need almond butter and old fashion oats, which most people (if you're like me) don't necessarily already have at home. I promise you this, once you get your items organized, making the recipe is the easy part. Not to mention, the finished product is totally worth it.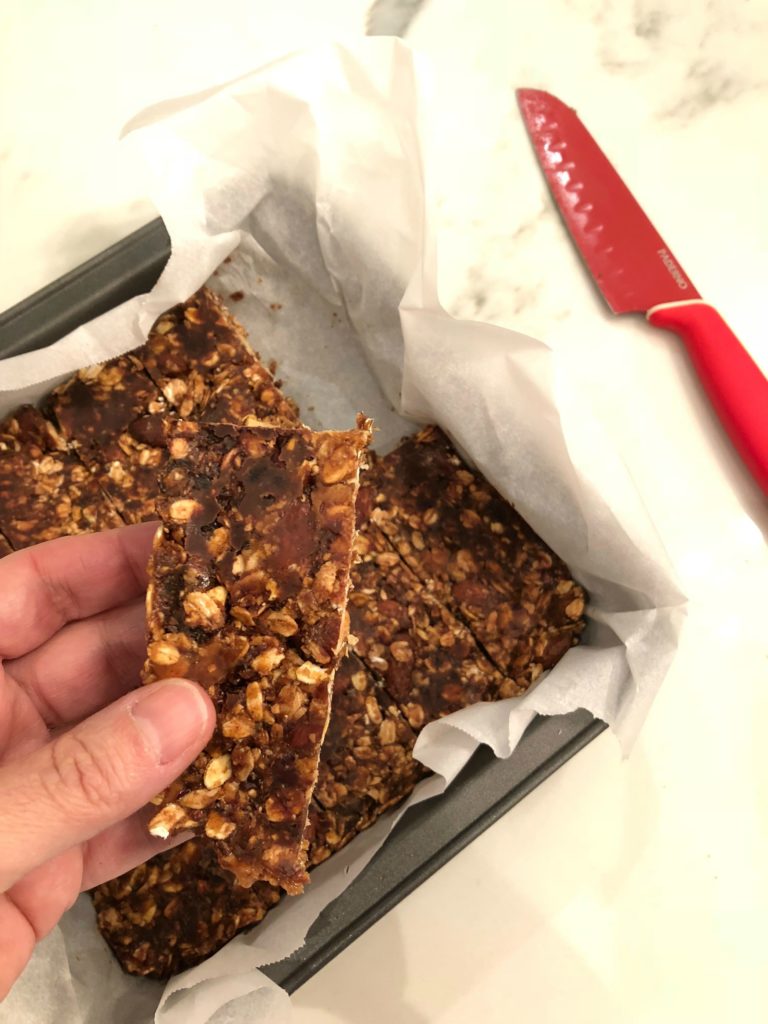 This granola bar is my absolute favourite and doesn't compare to anything that you can buy that is already pre-made. It tastes sweet and delicious and it's actually healthy. The original recipe is from the Minimalist Baker, but I've made some modifications to the recipe. It's so good that I make it weekly, sometimes even twice a week. The bars are so filling and yummy I often eat them as my meal for breakfast. Of course they make a great snack option too!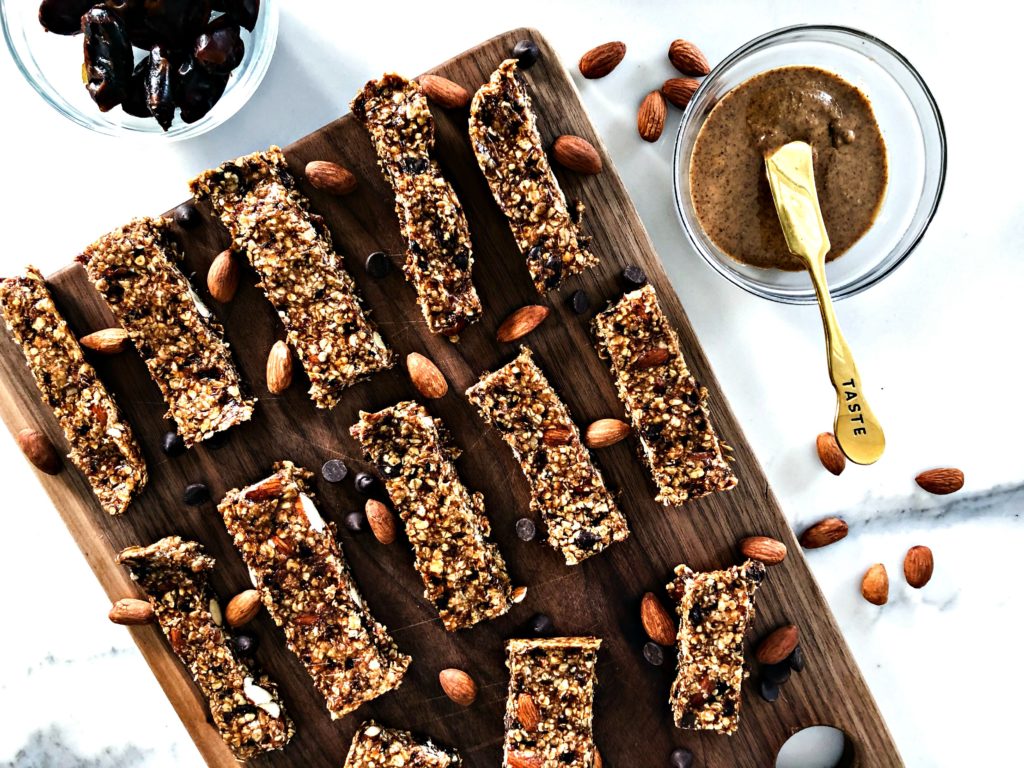 So without further delay, here's my go-to recipe for these granola bars
No-bake, 6-ingredients, chocolate chip and almond granola bar
Ingredients
1 cup packed dates, pitted
3/4 cup toasted unsalted almonds (but you can use any raw nuts)
1 1/2 cups rolled oats
2 tbsp chia white ground
1/4 cup honey
1/4 cup almond butter
1/4 cup semisweet or dark chocolate chips 
Instructions
Mix dates in a food processor until they form into small bits and almost a soft consistency. 
Mix processed dates into a medium bowl and add almonds, oats and chia. Mix with a wooden spoon. 
Add honey and the almond butter into a small saucepan and cook over low / medium heat.
Pour warm mixture over the dry ingredients in the bowl and mix well until everything is evenly coated. 
Add chocolate chips to the mixture and mix well (some may melt, but it will still taste delicious)
Cover an 8×8 pan with parchment paper and transfer mixture. Cover mixture with another piece of parchment paper and using your hands, press down tight and spread out the mixture evenly throughout the pan. 
Keep the mixture covered and place the pan in the freezer for 15 minutes. Remove and cut into even pieces in the shape of bars (rectangular).
I like to wrap each bar individually with parchment paper and store in an air tight container. You can also store the bars in a Ziploc bag.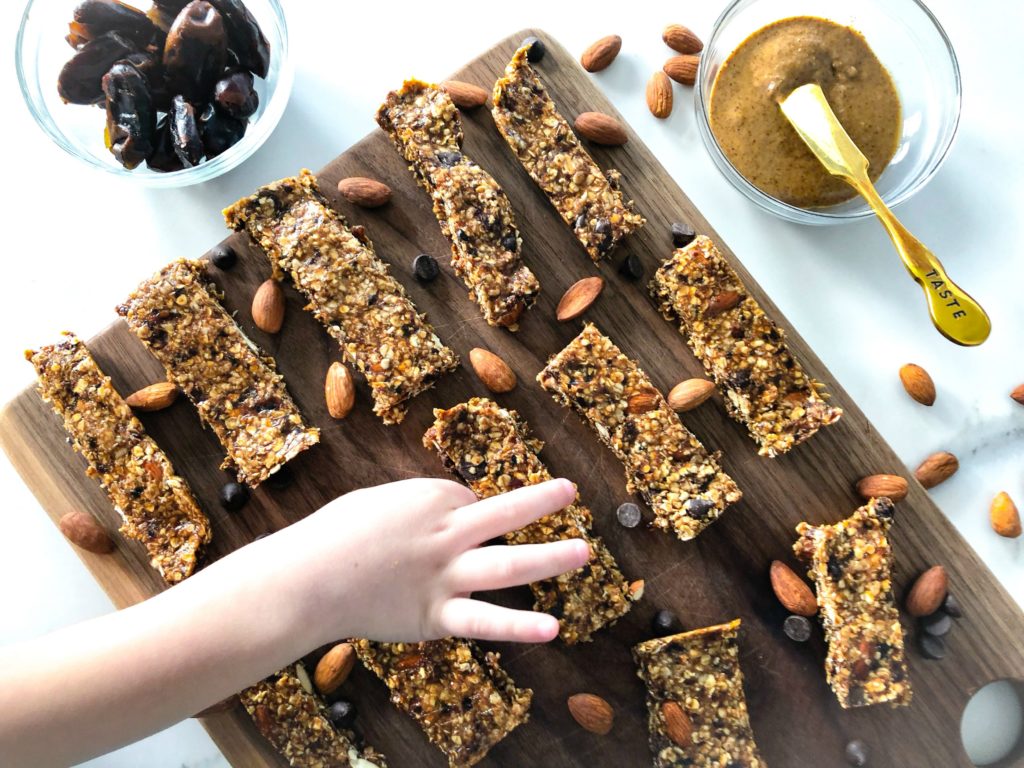 What's your favourite thing to bake regularly?