Last month we took our annual family trip to Tremblant. We went last year too and all three of the kids skied for the first time (even though it was only for an hour a day), so we decided to make it an annual tradition. After all, we've been skiing here almost yearly for the past 12 years. This year was even more special as John's parents decided to join us. Tremblant has so many activities to enjoy, both on the ski hill and around town. The beauty of the village itself and several food options, make it a perfect spot for a multi-generational family trip. Here are just a few of the highlights from our trip: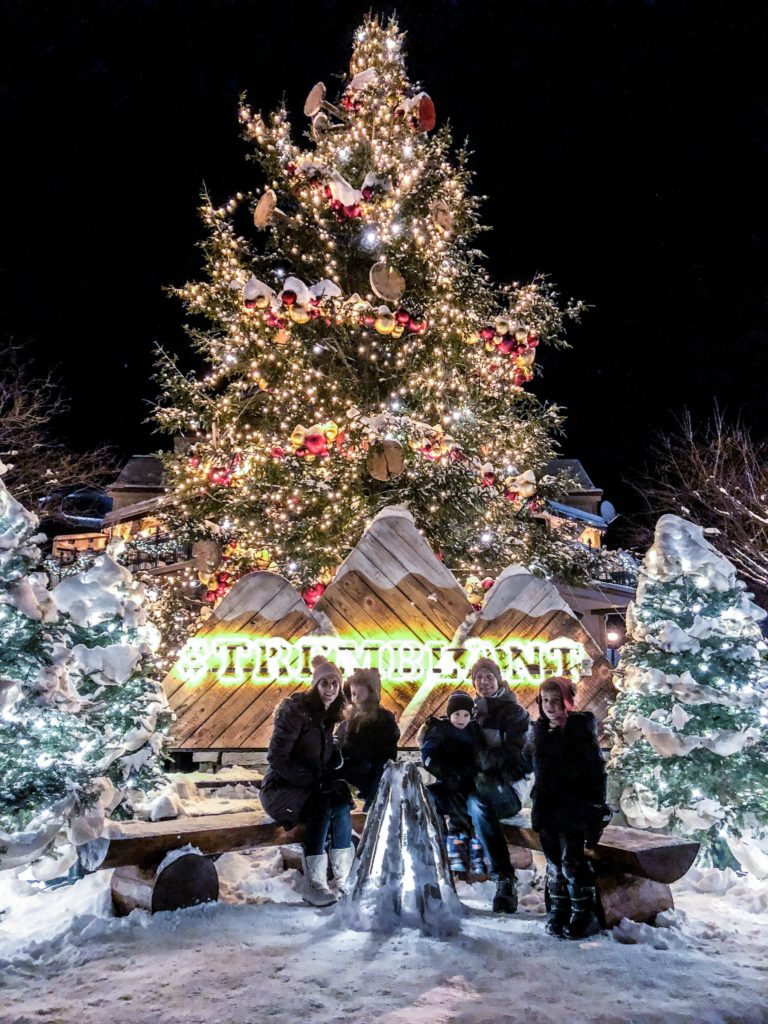 Skiing
Obviously, skiing is a must if your family enjoys this activity. The best part is that the beginner hill (going up the magic carpet) is very cheap – only $12.67 for the day or $8.44 for half a day! So even if you're not sure about skiing, you might as well give it a try and see what you think. We started all of the kids on this hill the first day, taking them up and down the beginner hill for over an hour until they got comfortable.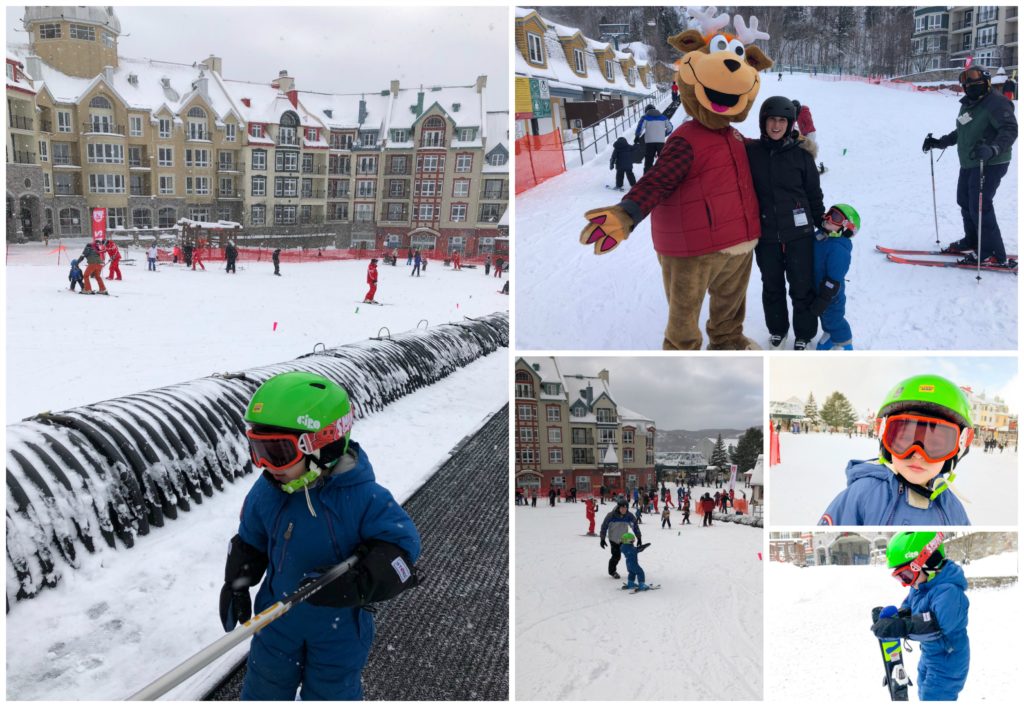 Eventually, we managed to get all 7 of us (grandparents included) up the gondola to the top of the mountain for a family ski down the green runs. John and I were each strapped to the youngest two boys (Ryan and Nate) and we just took our time going down the hill. It was an experience and an adventure that I'll never forget! Having an extra set of hands (two actually), made it that much less stressful with the little ones who are beginner skiers.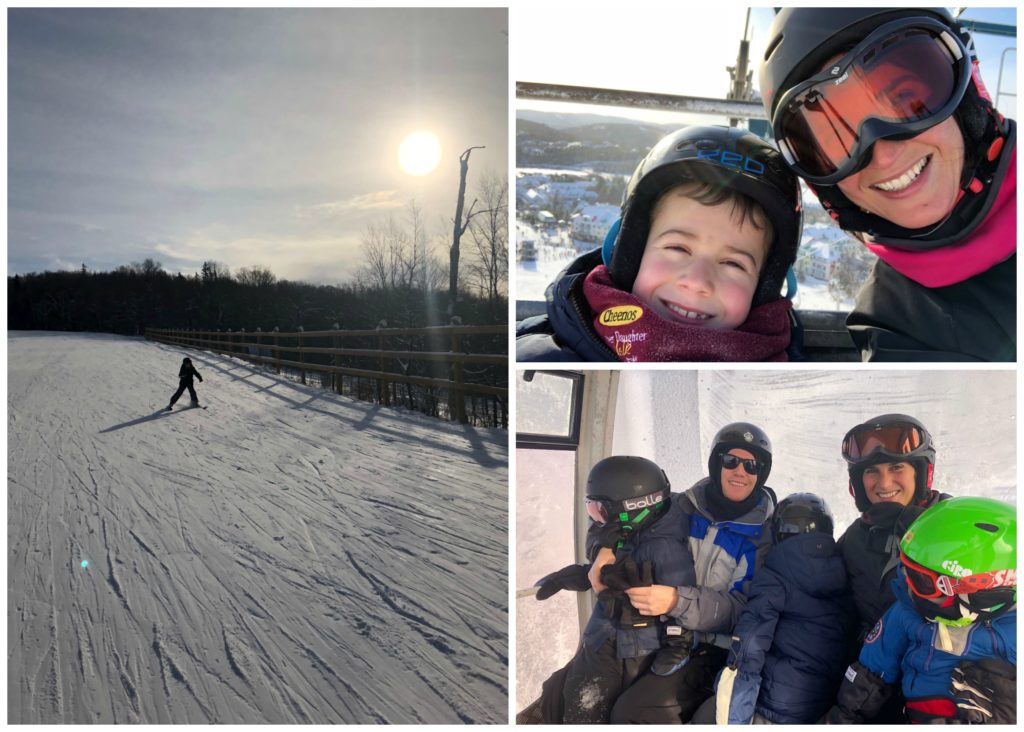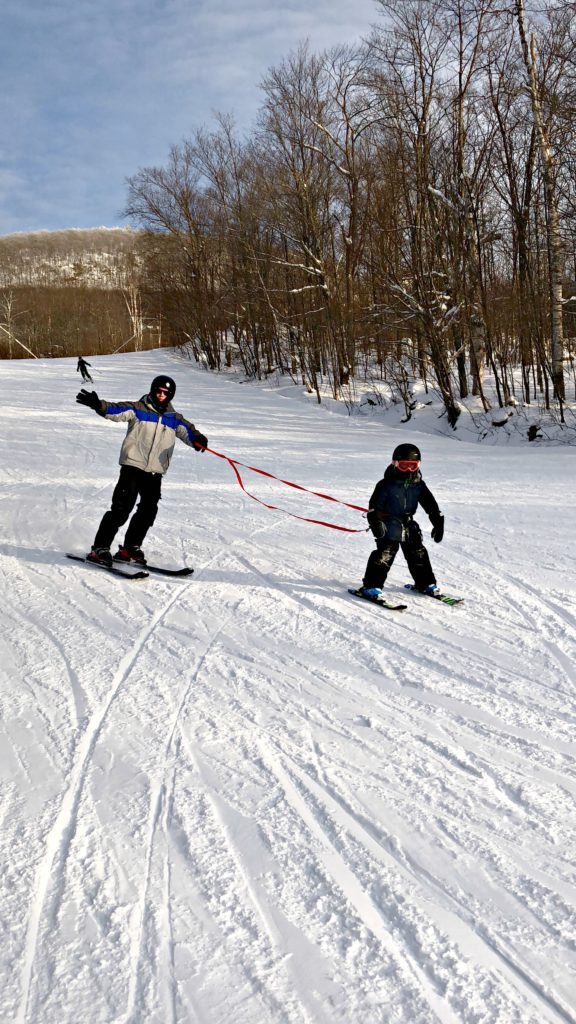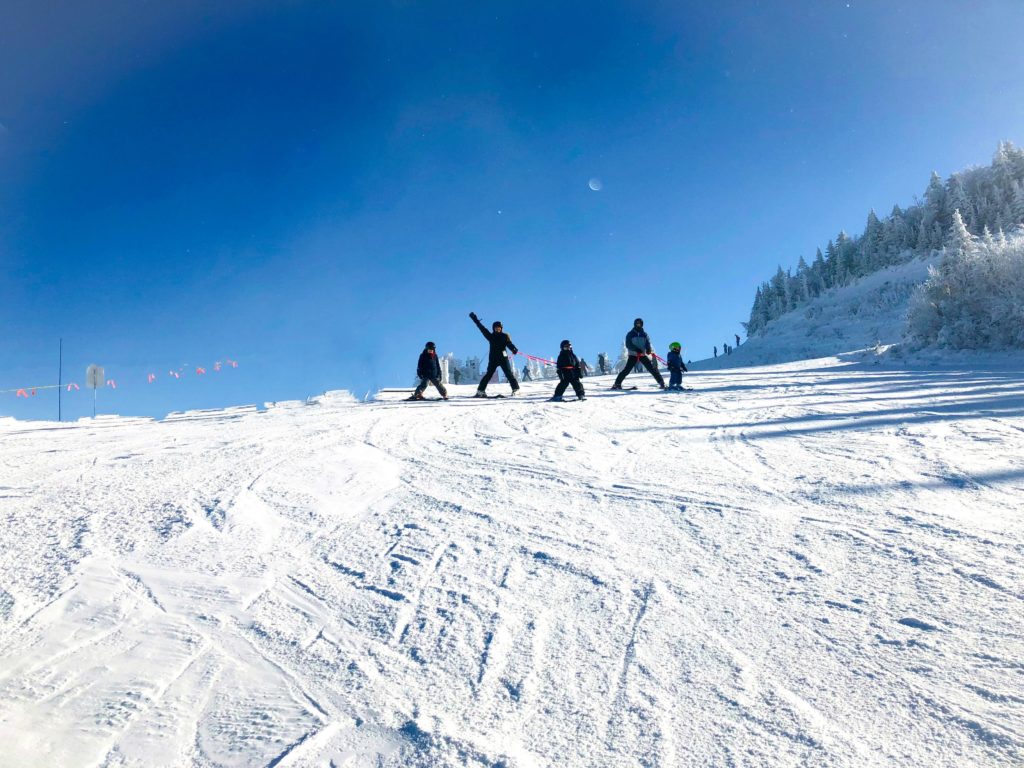 Dog sledding
Going dog sledding was actually on my bucket list for a while. So I couldn't wait for this experience. John didn't want to miss a half a day at the slopes, so he opted to ski while I took the boys with me. It was also a great way for John to spend some time with his parents! Here's what to expect: a shuttle van picks you up from the village and drives you to the dog sledding camp (about a bumpy, 30 minute drive). When you arrive at the spot, you are ushered into a heated yurt where you are given instructions on what to expect. Then the fun begins!! The kids and I were huddled together into a family sled and covered with blankets and a plastic cover. The experience didn't disappoint. However, the boys were frozen (since they didn't get a chance to warm up after their morning ski) so we had to stop after one ride around. We went back inside the yurt to wait for the rest of the group to finish their ride and while we waited we were treated to some hot chocolate and cookies. I would highly recommend this experience!!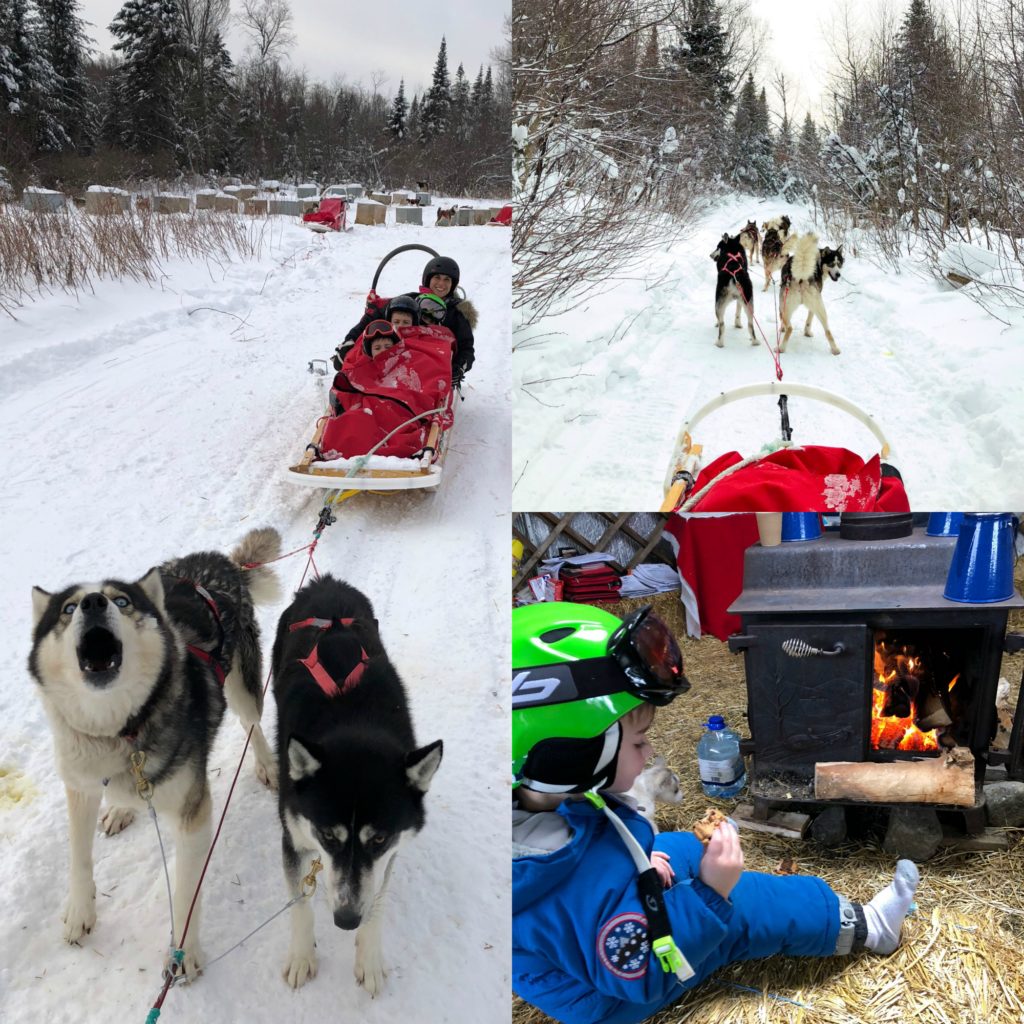 Village Activities
Pottery fun
Located at the bottom of the village, enjoy some down-time with the kids, or as a couple, painting some pottery at Le Studio Creatif! I took the boys there on our first night at Tremblant and it was great. They did something fun but calm which was the perfect apres ski activity and to help them get ready for bed time.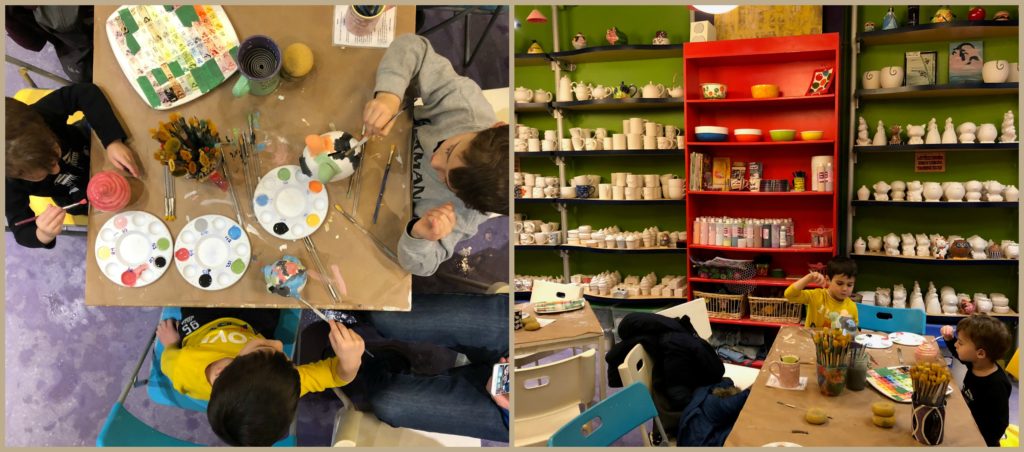 Decorating shirts
The T bar in Tremblant is another fun activity for all ages. The boys and John each painted a shirt with fabric paint. Nate wanted to get a dragon print pressed on top of his painting which was super cute. I got one of their pre-made prints done "Coffee, then the world." It was fun picking out the colours and the metalic finish! I then gave them my blog's logo which they printed on the back of the shirt. Not only was the experience fun, but I've worn my shirt almost weekly since!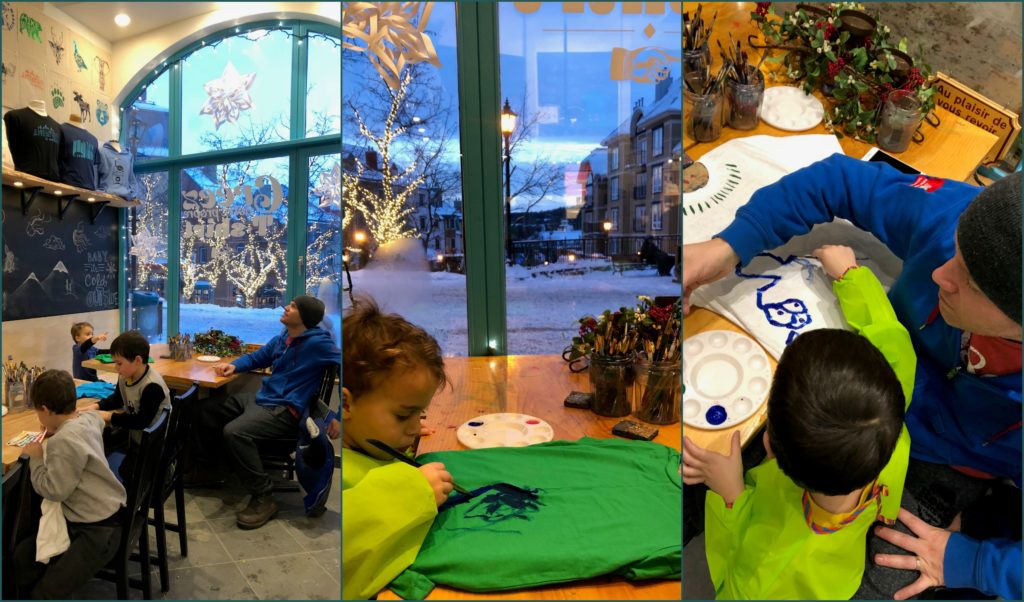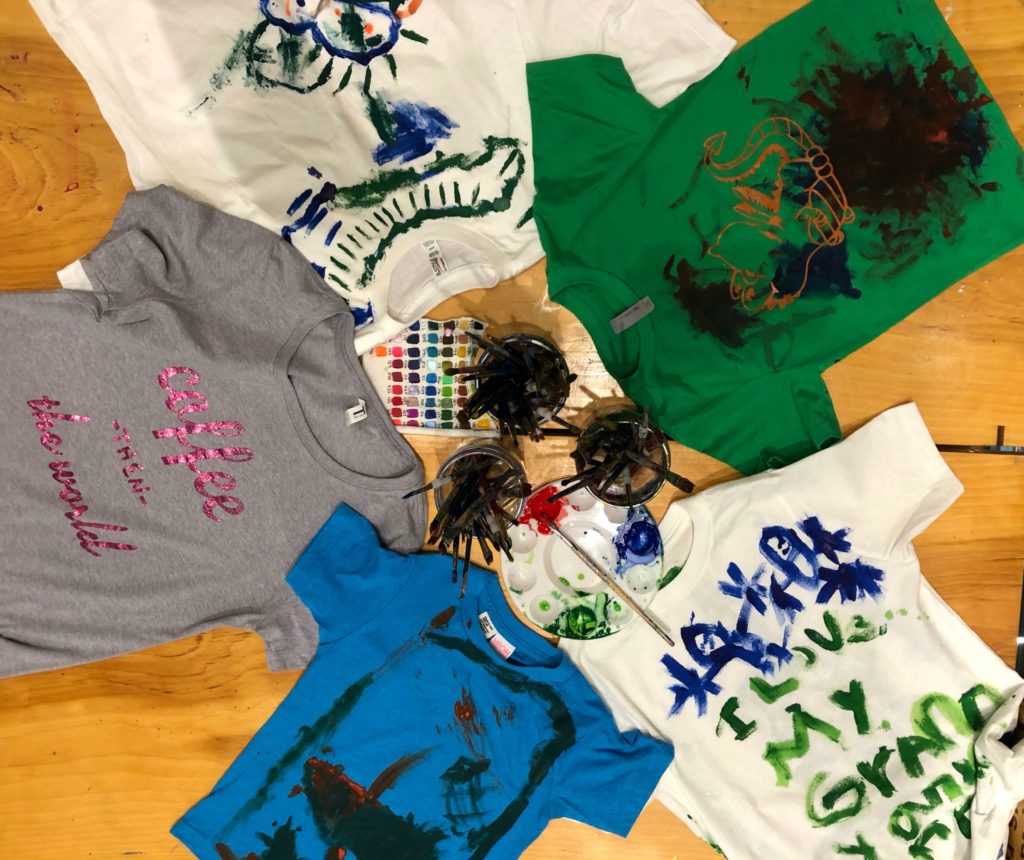 Swimming
Another great activity for the whole family – swimming. The Aquaclub La Source offers a perfect respite from the cold and a perfect way to relax your sore and weary muscles. There's both a shallow wadding pool and a deep-water pool with slides, a jumping rope and plenty of floats. Of course, there's a hot tub too! The outdoor tub is for adults-only. A perfect excuse to get the grandparents to watch the kids to get some downtime in.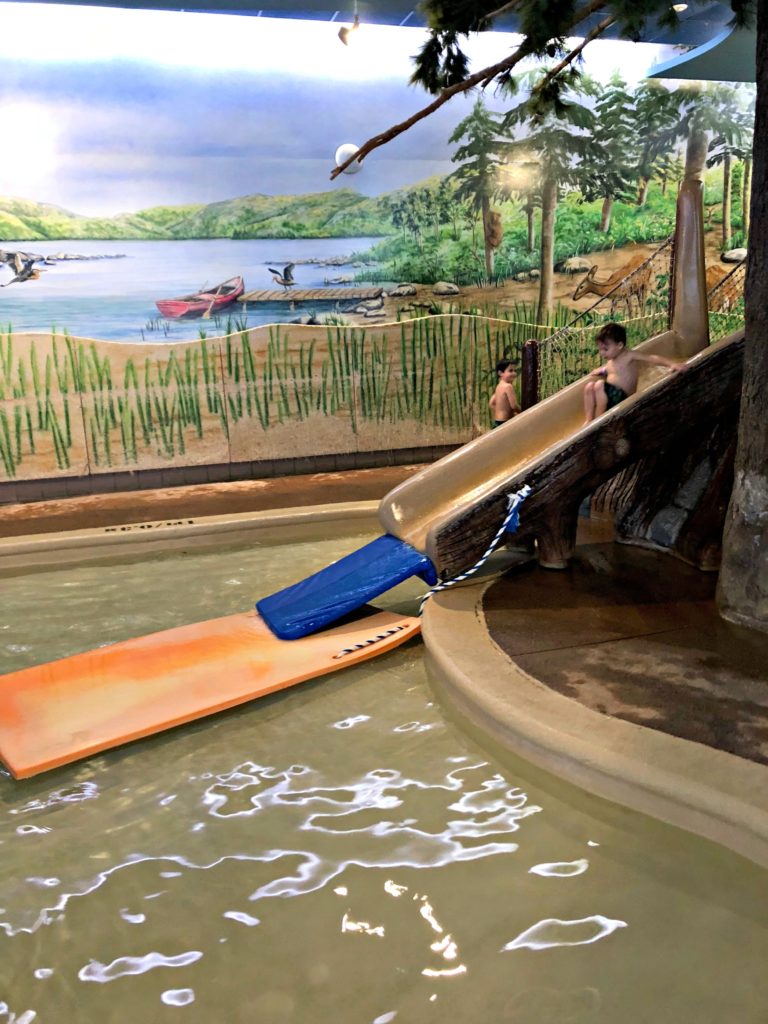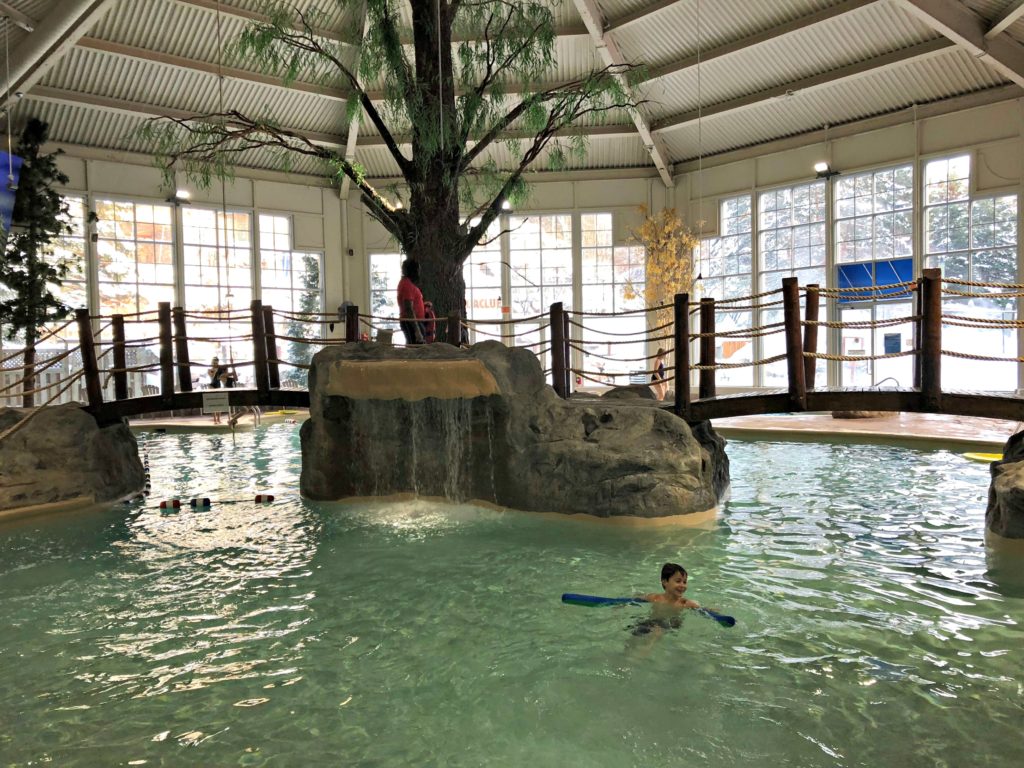 Dining
One of our favourite places to eat at is Le Shack. Sports bar with giant screens and family-friendly cuisine. Located at the base of the hill, it makes a perfect spot to relax and eat some poutine apres ski.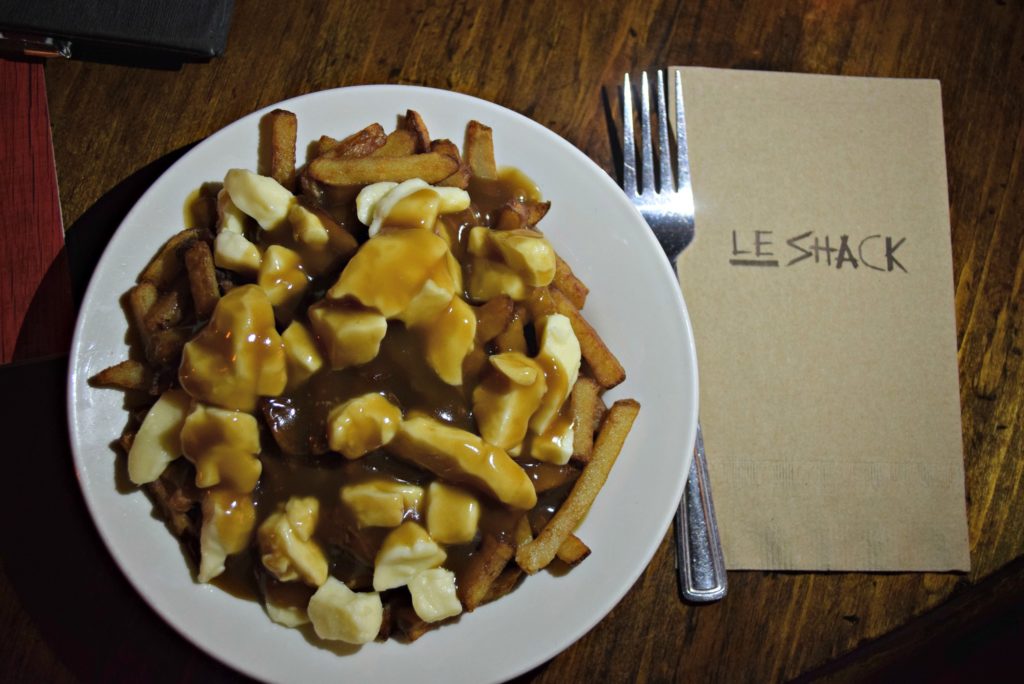 In the past, we've also dined at Pizzateria, but this time, we ordered some take out to enjoy in the comfort of our room.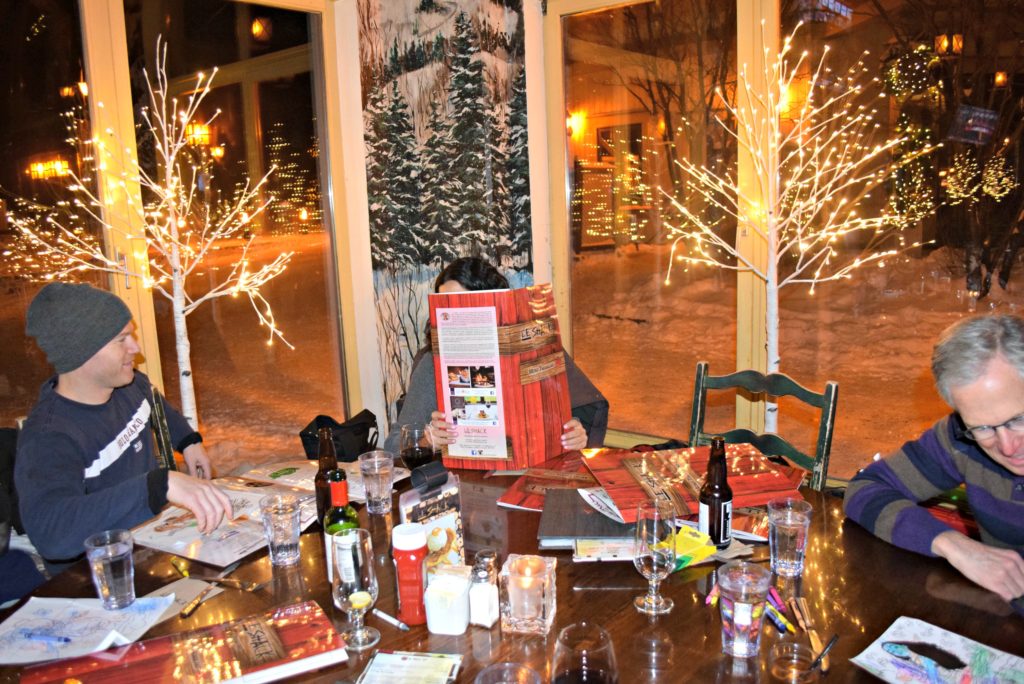 Some of our other family favourites when we've traveled here with the extended family include Microbrasserie la Diable and Beaver Tails for dessert!
For breakfast and lunch, we've always just brought stuff up with us as the rooms include a full kitchen. If you do forget something or run out of something, you can grab it at in the grocery store located in the village – Magasin General. 
Lodging
Our 2-bedroom, 2-bathroom, full kitchen suite at Place St-Bernard might have been my favourite part. Located at the top of the village, overlooking the bottom of the hill! You really couldn't get any closer, and it was perfect for little kids.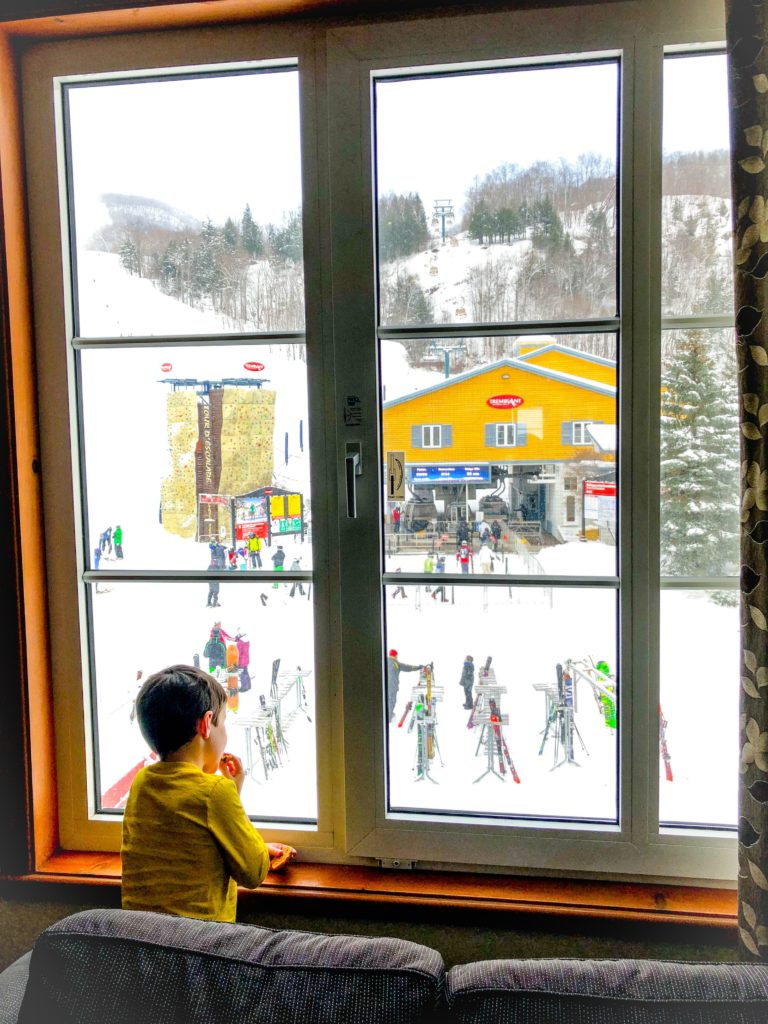 You can ski in and out, pop in to warm up or for a bite to eat. I could actually look out the balcony and see the boys skiing down the beginner hill. There was plenty of space for the 5 of us. John's parents got their own room but in the same building. It was spacious and close to the action including the restaurants and the pedestrian village. When we come back next year, I will most likely request the same room again!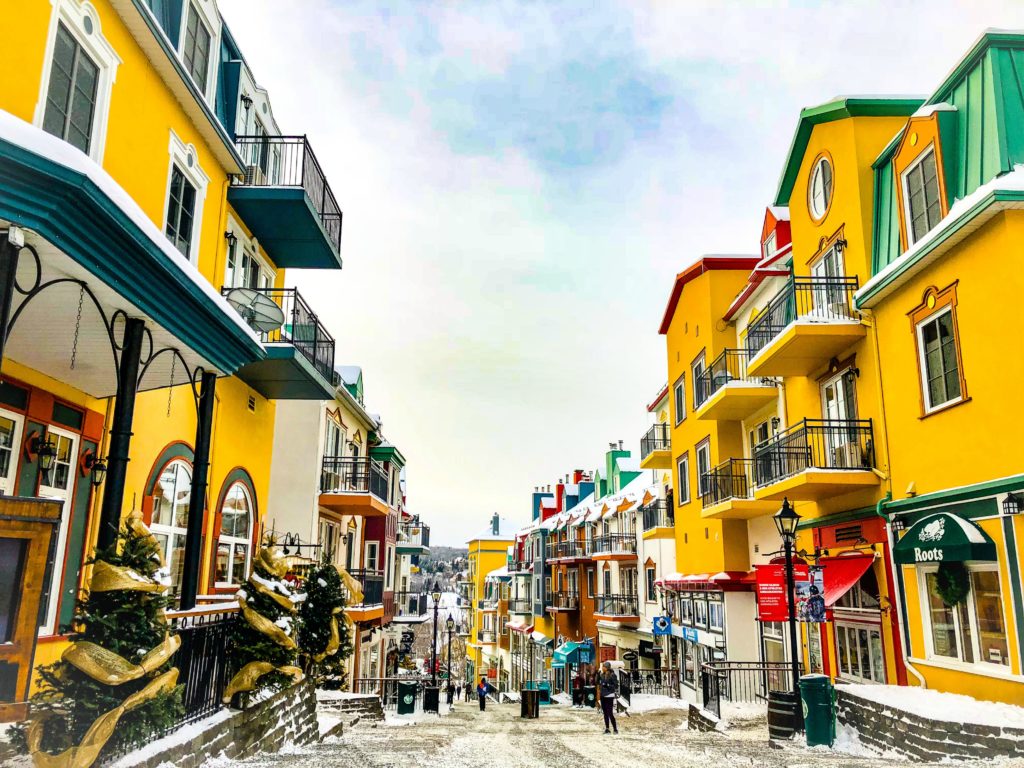 I have to say that I love the fact that visiting Tremblant every winter has become a family tradition. I know that it will only get better and better as the kids grow and ski more. I'm already dreaming about our return next year!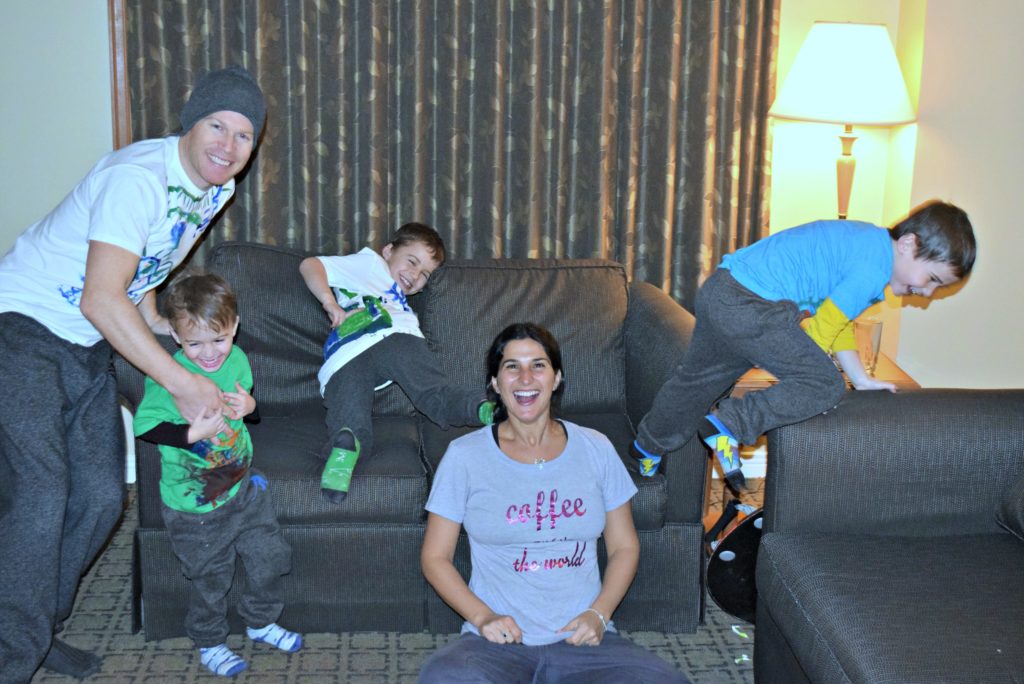 If you're planning a trip here soon, you can check out all of my other posts about Tremblant to help you plan. Click HERE ('what to do in Tremblant with young kids), HERE (Tremblant with baby) & HERE (hosting a wedding at Tremblant)!
Have you been to Tremblant with your extended family? What were some of your favourite activities?
Disclosure: I received non-monetary perks while we stayed at Tremblant in exchange for my honest review. Opinions stated above are my own.