We moved into our new house about three months ago and it already feels like home. We immediately felt settled in. Mostly because our house felt complete and was done exactly to our specifications. One of things that I'm most happy about doing is working with designers who helped make our vision come to life. While the house was finished, the decorating wasn't. Also, some of our furniture required to be updated because it didn't fit our new space or was no longer functional. Ultimately, updating the boys' beds became our priority.
Previously, Nathan slept in a crib and Ryan slept in the same room as Kyle on a toddler bed. We got rid of the crib before we moved and Ryan was outgrowing his toddler bed. Also, he would be sharing a room with Nathan now and Kyle would get his own room. We bought a bunk bed for Ryan and Nathan and I bought a loft bed for Kyle. While updating the boys' beds was a necessity, our bed wasn't. However, our Master bedroom was lacking. It didn't feel RIGHT! I knew that it was time for a makeover.
For starters, I didn't like our headboard. It was too short and when we leaned back on it to watch TV, we couldn't rest our head back. It was also a dark wood colour which didn't fit our new colour scheme. We also had mismatching side tables and lamps and had zero paintings up. The room was finished so beautifully, but I felt that our furniture and decor made it feel bland. I was so excited to give this room a much needed face-lift. However, my budget was tight. After all, we just gutted our entire house.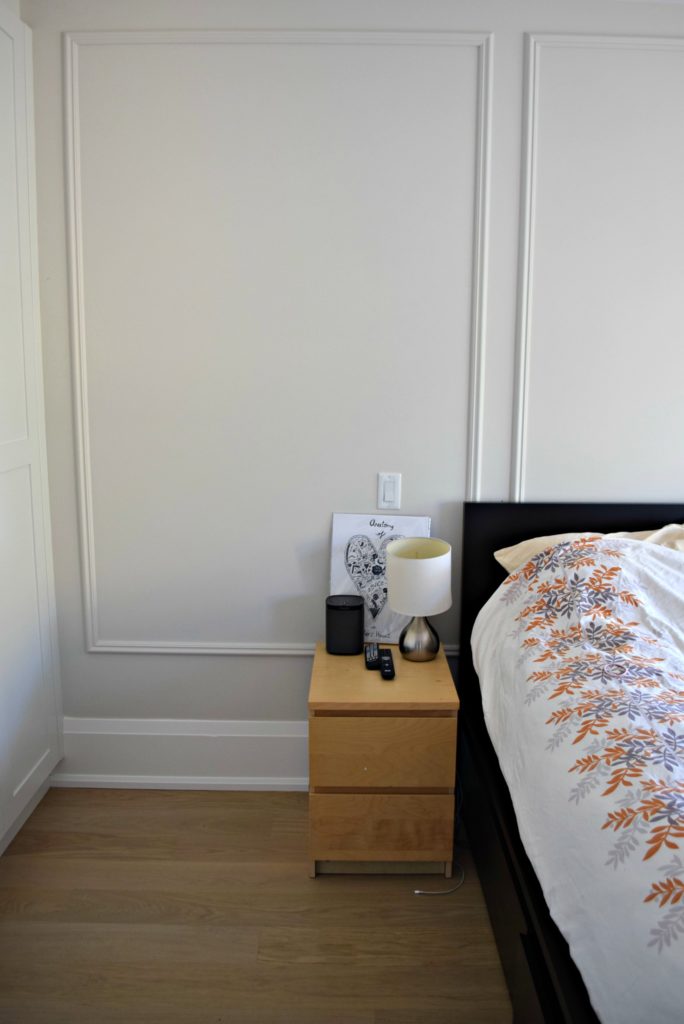 I remembered that when we were selecting a lot of our finishes with my designers, we often opted to get them at Lowe's Canada. We purchased several of our faucets, mirrors and bathroom accessories from there. The online selection was amazing! They products were stylish and affordable and if my picky and talented designers provided them as options I knew it was going to look amazing. I also loved that I can purchase everything online from the comfort of my home. So when it was time to update our Master Bedroom, I immediately went back to Lowe's.
After much delibiration – because there were SOOOO many great options – here are the pieces that I ended up selecting!
For the Bed frame, I was looking for a high and elegant headboard that is functional and appeasing to the eye. I selected the Best Selling Home Decor Amory Uphosltered Bed. It's distributed by a Canadian company and I liked the bonded leather look. They also offer a 90 day return policy, which I love! While the assembly part took a bit longer than I would have liked, and you really need to be gentle with the lined fabric or it might rip, I have to say that I love how this bed frame looks.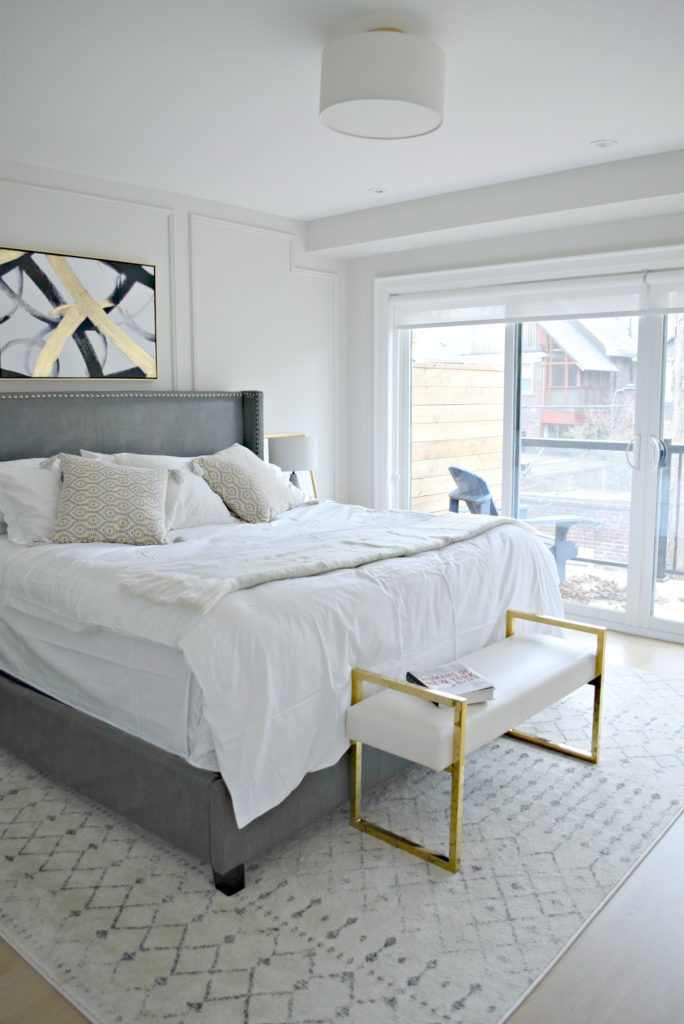 For the bedside tables, I opted for a modern farmhouse look with industrial style accents. This nightstand from South Shore Furniture comes with two drawers which was important to me but the distressed wood finish is my favourite part. It was easy to assemble, and I even love the open shelf on the top – easy storage for my magazines, books, tissue box and remotes.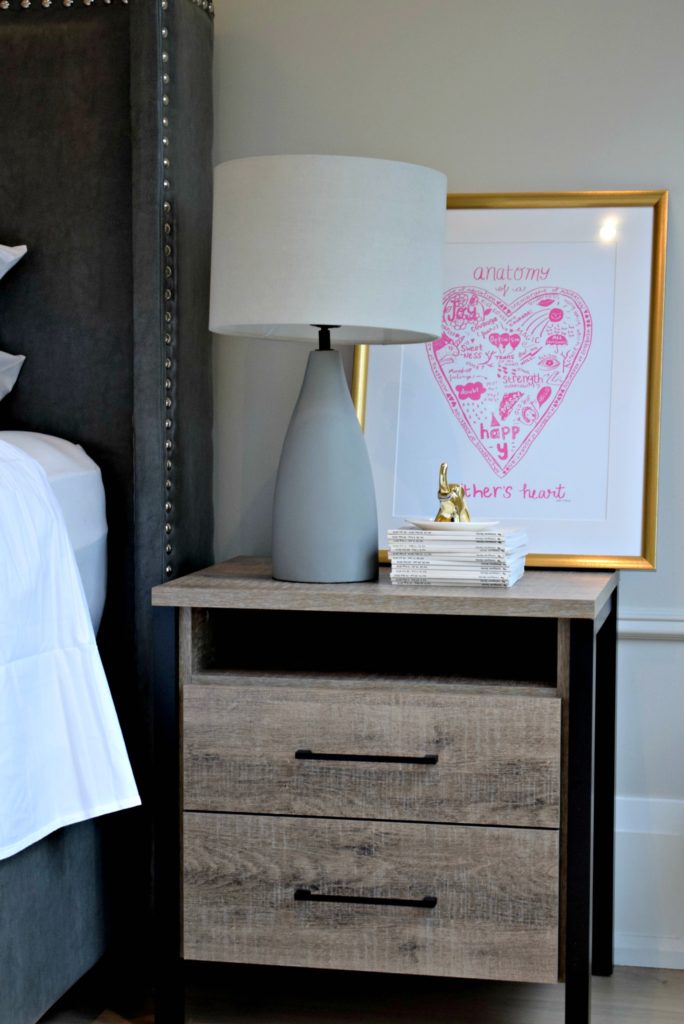 To tie the pieces together, I went with the L2 Lighting Zoey table lamp, which also has an industrial look. The light grey cement base is sleek and curvy, which is a nice contrast to the otherwise straight lines in the room's decor. The white fabric shade also ties in nicely with the rest of the room's look.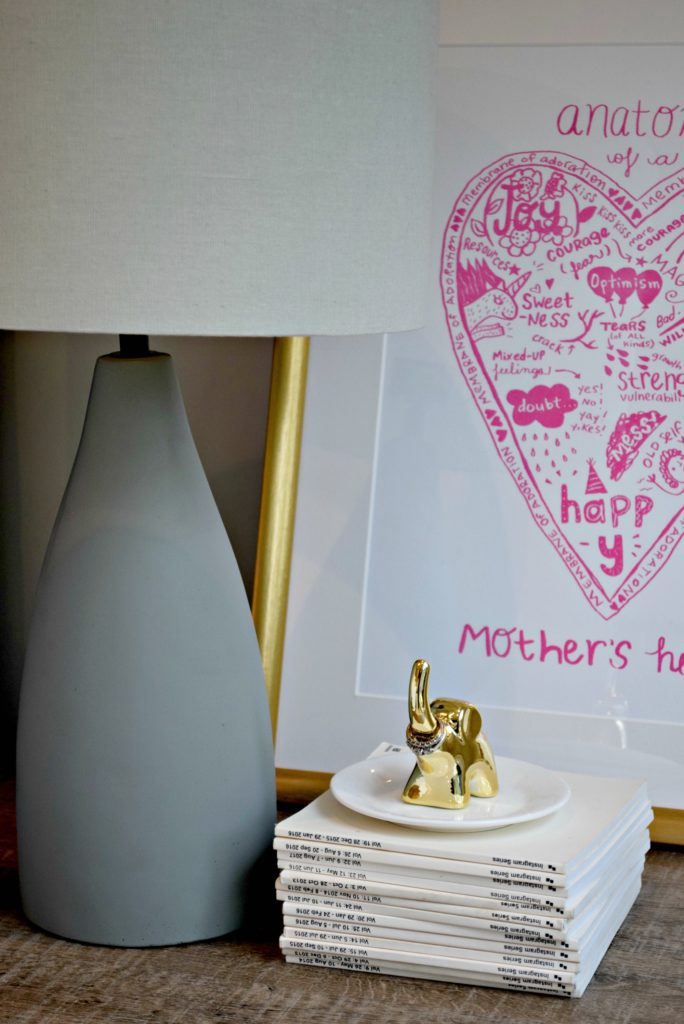 Above all else, I have to say that my favourite new piece in the room is the bench at the end of our bed. I don't know why, but I've always wanted one. I really love this !nspire Bonded Leather Double Bench. The fact that it comes in white and gold just makes me believe that I was meant to have it (you can also get it in black and gold). The quality is great and I love the shiny gold finish on the frame. It's a modern take on a very traditional look. Oh ya, it's also very comfortable to sit on (bonus!). I really think that this piece can instantly take your room from drab to fab!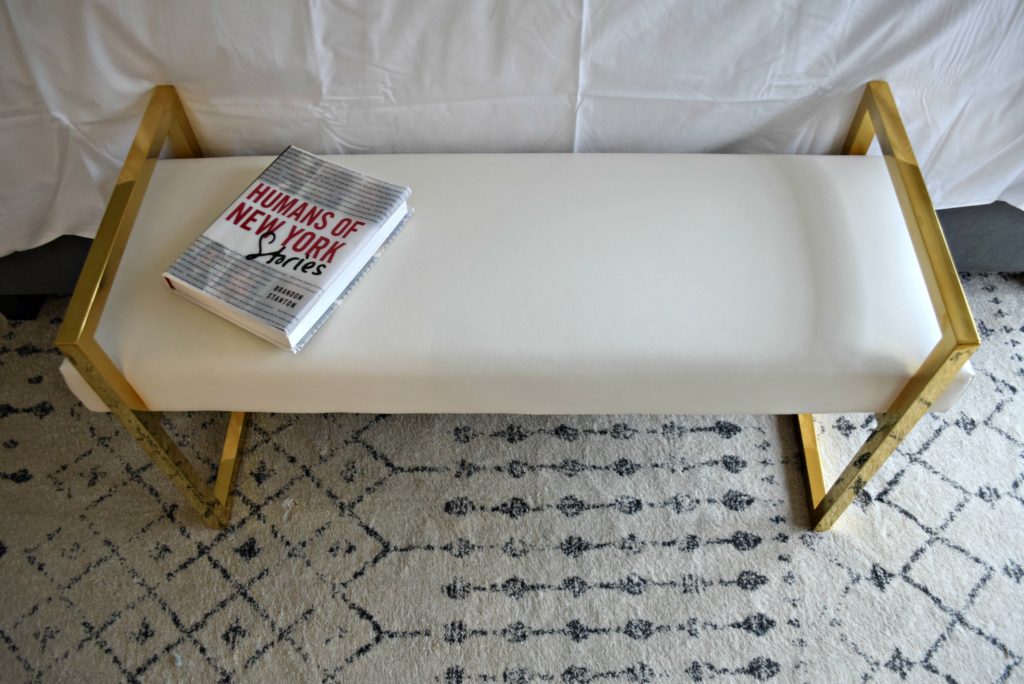 So let me know your thoughts on my Master Bedroom Makeover. Which piece is your favourite?
Disclosure: This post is sponsored by Lowe's Canada. In exchange for this post I received compensation in the form of free products that I selected. All opinions are my own – and I truly am in love with my new room!!