While the end of summer often marks the beginning of the school year, in our home it also marks the start of hockey season. I have a feeling that the same is true for many fellow Canadians who have kids playing the sport or those who simply enjoy watching their favourite NHL teams. This year, Ryan has joined his brother Kyle, and started playing in a hockey league. He is currently focused on learning hockey skills but it won't be long before he plays full out games with his teammates. As a newbie hockey mom, I still have a lot to learn about the sport and the leagues, but there are a few things I've picked up in the last four years. Here are some of my tips for families who want to partake in hockey but also save money and reduce waste at the same time.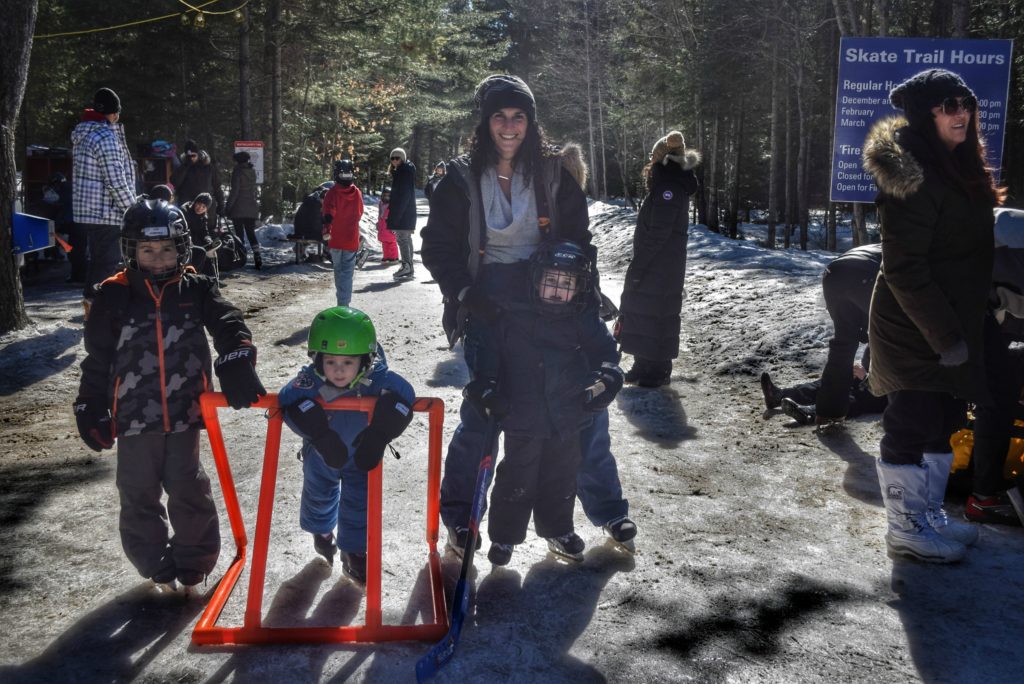 Tips for saving money and reducing waste
Reusing and handing down equipment
This might be an obvious one, but it's been one of the main factors that has helped make hockey somewhat more affordable for us. With three boys who all love hockey, we have taken full advantage of hand-me-downs. When Kyle outgrows his skates, we pass them on to Ryan and then Nate. Once Nate outgrows the equipment, we either pass it on to friends or family or sell them. The boy's school recently had a free up-sale where people donated their used but unwanted sports gear to other families in the school. I thought it was such a great idea to help others in the community.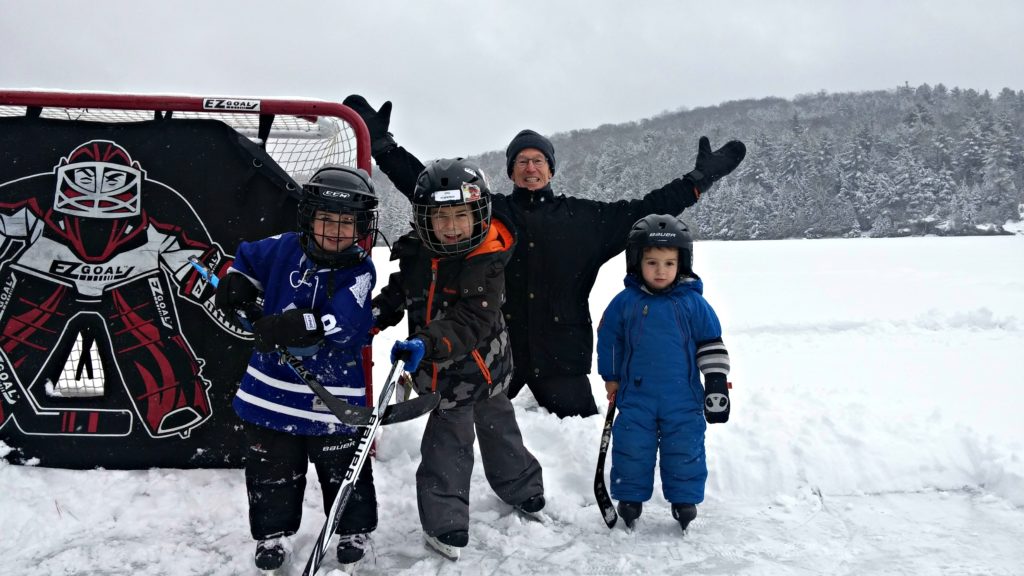 Proper skate maintenance
Keep your children's skates properly maintained so you can make them last long enough until they outgrow them. This can be done by ensuring you get them sharpened on a regular basis. Also, ensure that while wearing their skates, your kids only step on rubber floors so they don't damage the blades. If the arena or outdoor rink that you frequent doesn't use rubber flooring, you can ask them to upgrade it. Recycled rubber floors made from used tires are not only good for the skates, but also for the environment.
Play for free
Playing hockey doesn't always mean that you need to spend a lot of money to do so. Take the whole family for a day of fun at one of the local public spaces in your city. It's a great way to explore your city while getting some exercise. It's become a New Year's Day tradition for us.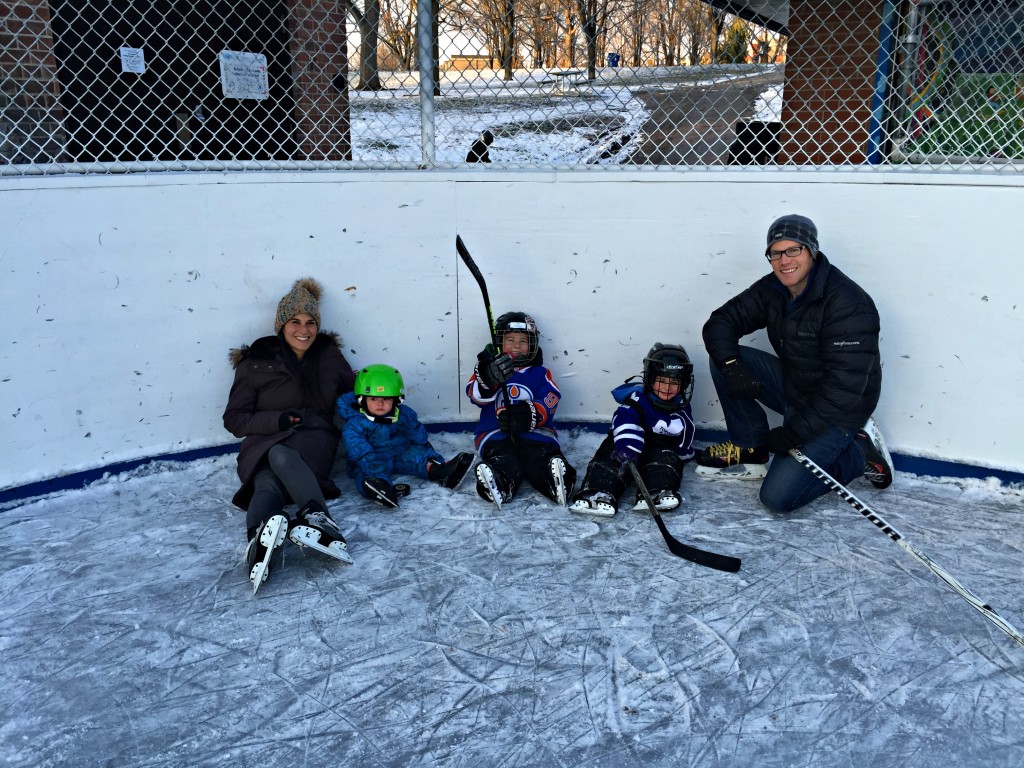 The Harbourfront rink in downtown Toronto is a perfect spot to do that. The entire space has been outfitted with recycled rubber flooring (8,600 sq feet!) through the Ontario Tire Stewardship, diverting 715 tires from landfills!
Build a backyard rink
John's dream has always been to make a backyard rink for us to play on. Now that we moved into our new house with a backyard that is suitable for a rink, that dream may be more feasible than ever before. When choosing your products, ensure that you buy something that is both good quality and good for the environment. Kits are available for the rink, but don't forget the area around it. You can purchase rubber matting made from recycled tires produced by Multy Home. These mats are available at the Home Depot (in the runners section). Lay them down from the backdoor to the rink to help save your skates, and give the kids a safe surface to walk on.
Road trips and tournaments
Every winter we head up north to the cottage to skate and play hockey on the frozen cottage lake. It's become a favourite family tradition. I also think having a rubber mat would be helpful up on our cottage lake. It would be great to have one along the edge for lacing up and taking a rest without getting wet!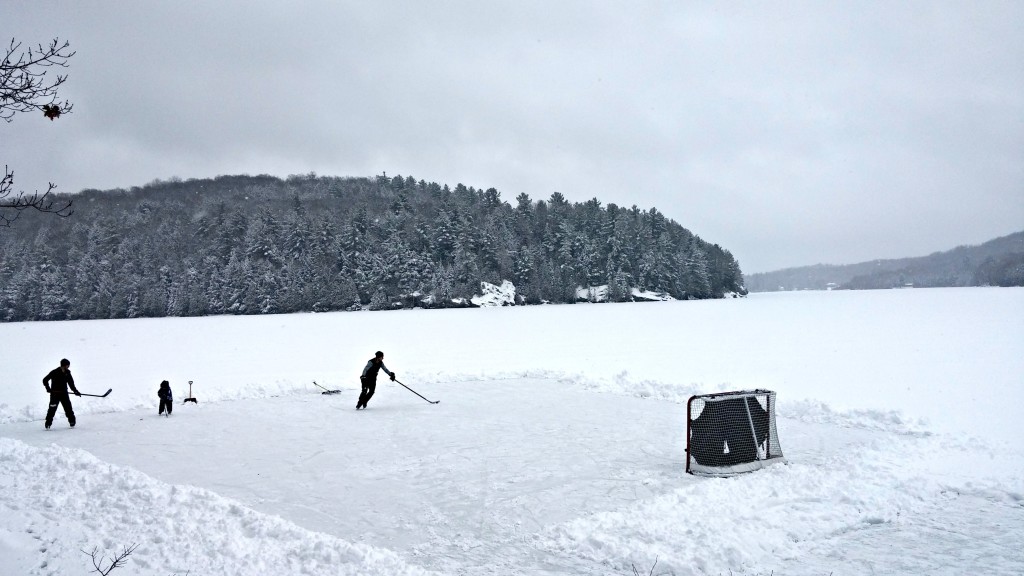 And while our boys don't play select yet, it's only a matter of time before we start doing road trips to hockey tournaments. One of the main things we do both for safety and proper car maintenance, is change over to winter tires in the season. It's also important to know when it's time to retire your tires. You should replace your winter tires every two to three seasons. You can drop off used tires free of charge at a registered Ontario Tire Stewardship collector where they are recycled to become innovative products designed for the home, garden and commercial industries. Find a tire collector location near you at RethinkTires.ca
What do tires and hockey have in common?
While not obvious at first, there are so many ways that tires and hockey go hand-in-hand. From recycling tires to rubber mats and floors, to ensuring your family's safety during road trips to tournaments. Some other great products made from recycled tires include boot trays and urns (for storing your hockey sticks). You can find a full array of these products at Home Depot, Canadian Tire or Lowes. Click HERE to see which products are available or on sale at each of these retailers.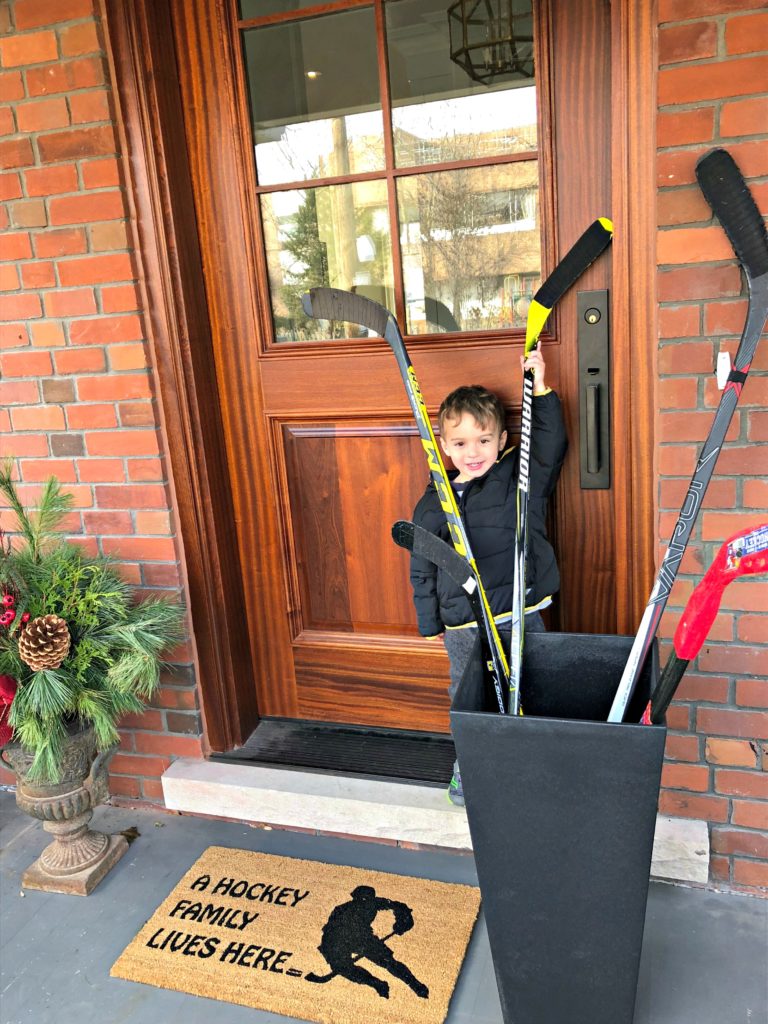 Scrap tires are transforming communities across the province. Do your part by dropping off old tires at a registered collector. Visit www.RethinkTires.ca to find registered collectors across the province. By dropping off your tires at a registered tire collector, you're contributing to the creation of many new products that can be used at parks, rinks, in your home and much more. These are products people can feel good about because they are made with recycled material that could have otherwise ended up in a landfill.
It's up to each one of us to do our part in helping the environment. Not to mention all of the cost-saving benefits that can be taken with proper care of hockey equipment.
 What tips would you add to my list?
Disclosure: This post was sponsored by The Ontario Tire Stewardship. In exchange for this post, I have received perks in the form of compensation. All opinions on this blog are my own.