Back-to-school… Back to routines and schedules. Back to early bed times, eating better (or trying to), and back to jam-packed days. Good or bad, this time of the year means we have to get a little bit more organized. While a big part of me is going to miss Summer, I'm looking forward to having the kids back in school. That means that I need to get myself super organized so the days aren't stressful and chaotic – or at least a little less than normal. One of those ways is through meal planning. It's great for budget planning and making more time for everything else. That's why I'm excited to have teamed up with Canadian Turkey and Lentils.org to provide you with five tips for back-to-school meal planning.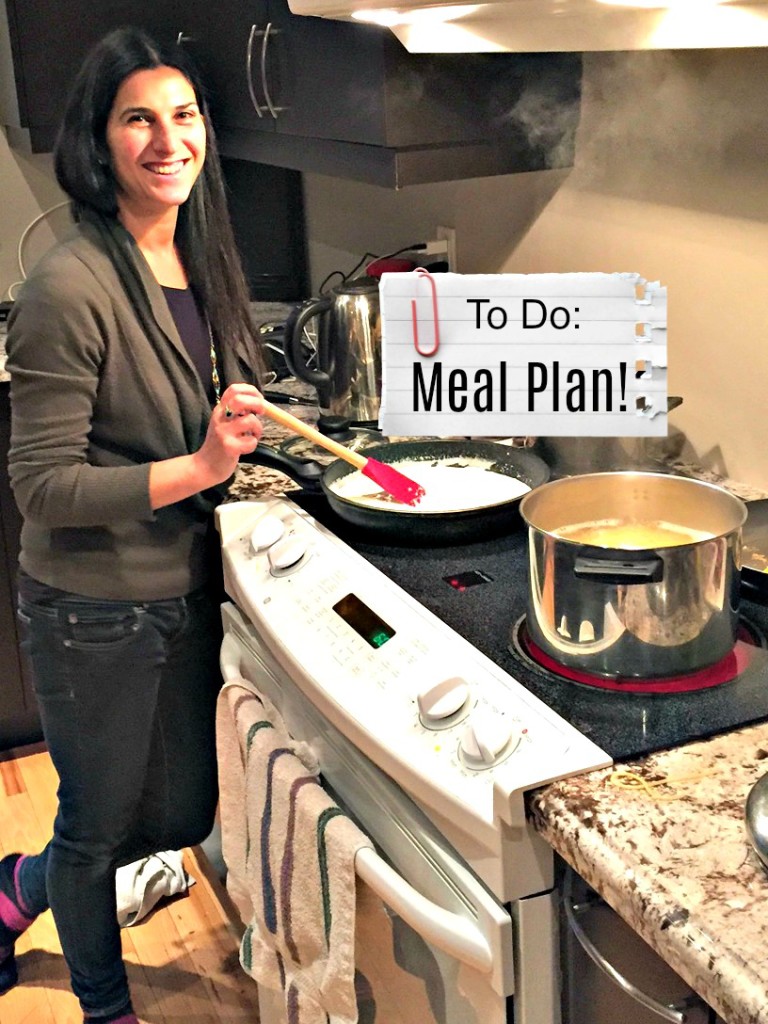 5 BACK-TO-SCHOOL MEAL PLANNING TIPS WITH CANADIAN TURKEY AND LENTILS.ORG
1. Kick-start the day with an energy-boosting breakfast!
When it comes to breakfast for kids, the key is to feed them something that is high in protein. It will help give them the energy needed to make it through the day until lunch. So instead of focusing on their hunger or crashing due to lack of energy, they can stay focused on learning and retaining all of the information they are taught in class.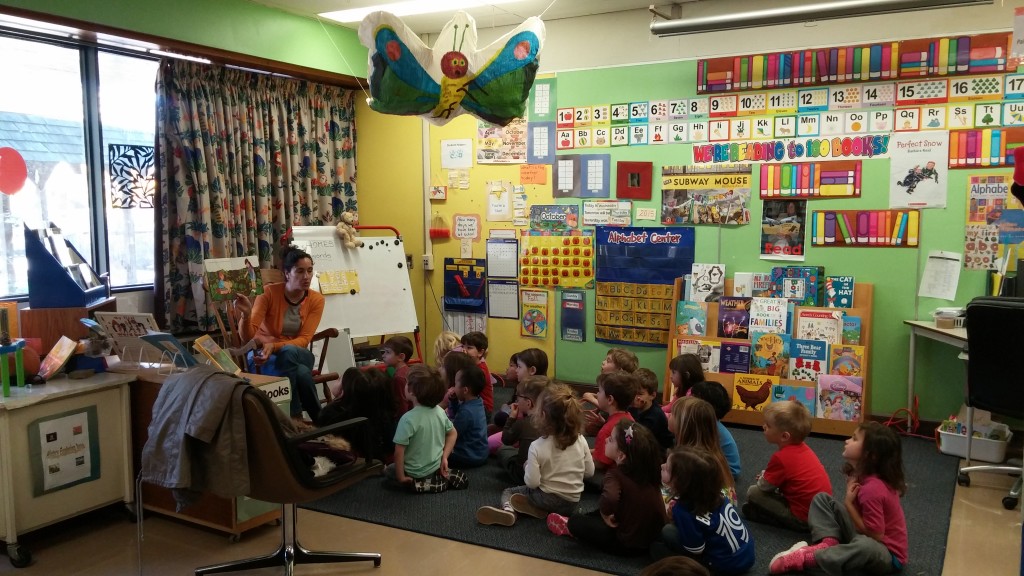 Add turkey and lentils to your breakfast choices for a nutrient boost. We love and only eat turkey bacon, both due to dietary restrictions but also because its leaner and a healthy protein choice that tastes great.  It's Kyle's favourite thing to eat for breakfast and he pretty much eats it every morning at the cottage. It will be nice to continue to do so during the school year. Lentils' combination of protein and fiber helps you stay full longer throughout the morning.  You can add lentils to breakfast muffins, smoothies, egg dishes and casseroles.  So go ahead and power up your breakfast!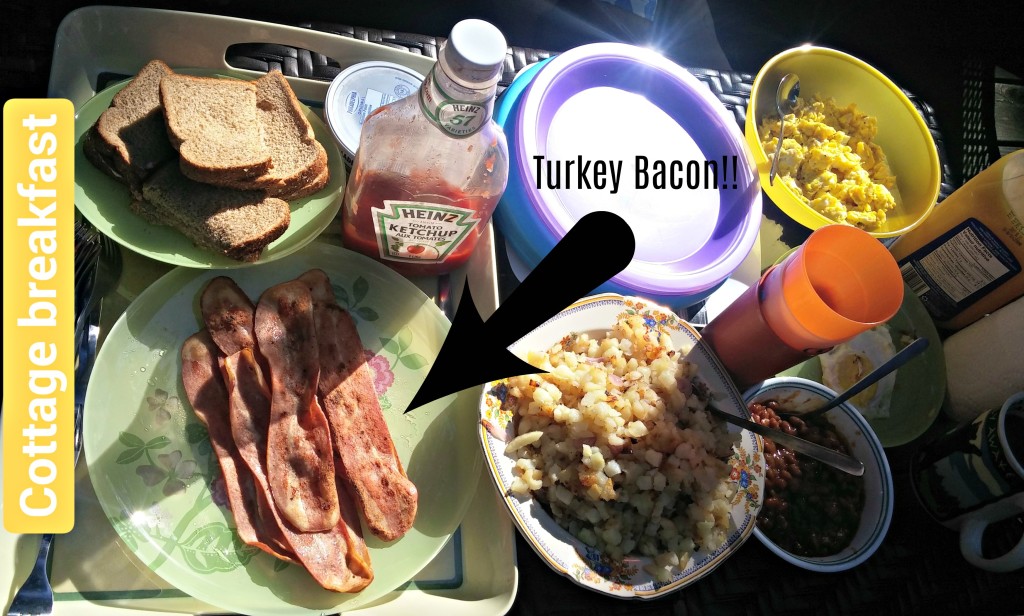 2. Give kids lunch that packs a nutritious punch!
When it comes to your kid's lunch, it's important to pack something that will continue to fuel them but also something that they will want to eat. Think simple, yet healthy! Mix it up with finger food, or left-overs like turkeyballs. Another good option is the "make-your-own" lunch. Pack crackers, small slices of cheese and turkey cold cuts and let your kids make their own mini, bite-size, "sandwiches."
3. Manage munchies with smart snacks.
This is where I have to step up my game a little. I usually just grab something pre-packaged for snack, but I'm going to make an effort to provide my boys with healthier options like fresh fruits and vegetables, even if it takes me a little longer to prepare because they like them cut-up in certain ways. Other great snacks include yogurt and cheese, whole grain crackers, hummus and protein-rich food like dishes made with turkey and lentils (use your leftovers!)
4. Keep it simple: cook once, eat twice!
Planning for leftovers saves time.  It helps you get a nourishing meal on the table quickly.  Dinner doesn't have to be complicated to be good.  You can grill a whole turkey on the barbeque for a weekend dinner and then use leftovers for stir fry, pizza, soup or sandwiches during a busy week.  Lentils are perfect for batch cooking – just rinse and simmer a bigger batch and refrigerate or freeze in pre-set amounts, so that they're ready to thaw for your next recipe.
5. Make a plan…and then stick with it!
Busy schedules can sometimes get in the way of cooking good-for-you weeknight meals.  Having a basic meal plan – and sticking with it – is a smart solution.  Planning even just two or three days in advance can help reduce mealtime stress during a busy week.  Bookmark sites with healthy and reliable family recipes to save time, like lentils.org and canadianturkey.ca.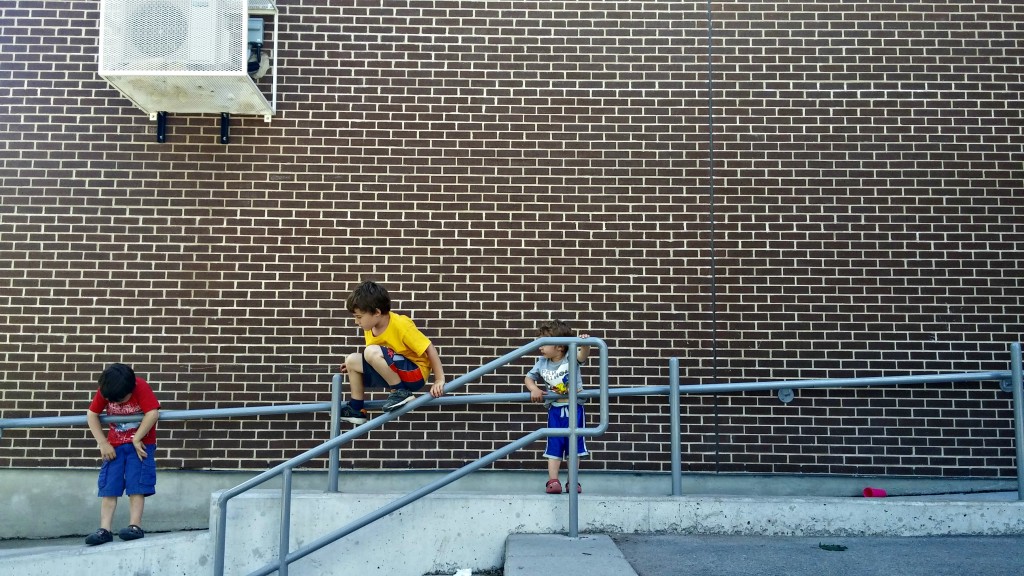 We are huge turkey fans at home. It's a nice change from our typical dishes, and I prefer it over other meat options both for it's taste and health benefits. Lentils are always a nice addition to a meal. Whether you serve it as a side dish, or include it in your soup, it's a great way to add some flavour, protein and fiber to your favourite meal. So just how good are Canadian turkey and lentils.org?
Turkey is packed with high quality lean protein and includes nutrients like vitamin B12 (important in keeping your nervous system – the body's electrical wiring – working well), selenium (an antioxidant mineral) and zinc (for a strong immune system). Canadian lentils are high in protein and fiber, and a great source of minerals such as potassium, iron, and folate.
Here's a great recipe for Smoked Turkey Lentil Chili that I can't wait to try out. I can see it being a Fall favourite in our house and a huge time saver!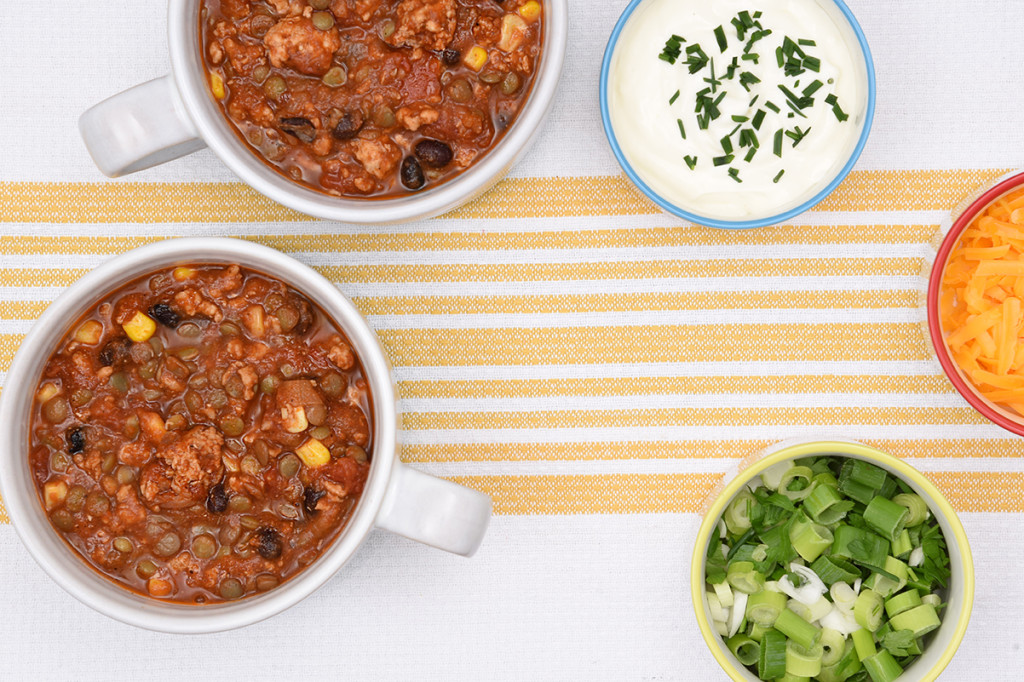 Smoky Turkey Lentil Chili
Serves: 6-8 people
Prep time: 20 mins.
Cook time: 45 mins.
Ingredients:
1 kg (2.2 lb) ground Canadian turkey
1 1/2 cups (375 ml) whole green lentils
1 tbsp (15 ml) olive oil
1 large onion, diced
3 cloves garlic, crushed
2 cans diced tomatoes (2 X 796ml or 2 X 28 ozs)
3 cups (750 ml) turkey broth
1 cup (250 ml) water
1 can (398 ml or 14 ozs) black beans
1 can (398 ml or 14 ozs) refried beans
1 cup frozen corn
1 package chili seasoning (40 g or 1.4 ozs)
½ can (148ml) Chipotle peppers in adobo sauce (optional)
2 tsp (10 ml) cinnamon
2 tsp (10 ml) garlic powder
1 tsp (5 ml) sweet smoked paprika
Salt and pepper to taste
½ cup (125 ml) water, if needed
Instructions:
Heat olive oil in a large pot.
Add onions and cook until translucent, 5-7 minutes.
Add garlic and cook through, an additional 2 minutes.
Add turkey and cook through, 8 – 12 minutes.
Season with salt and pepper to taste.
Add tomatoes and stir thoroughly.
Add lentils, turkey broth and water.
Add spices and Chipotle peppers (if using) and bring to a gentle simmer.
Cook for 25 – 35 minutes, until mixture thickens and lentils are cooked through.
Add black beans and refried beans. Simmer for an additional 5 minutes, until flavours are thoroughly incorporated. If mixture is too thick, add additional water to desired consistency.
Season with salt and pepper to taste.
Serve!
TIP: This recipe makes an excellent make-ahead one-pot meal!  To cut down on cooking time during a busy week, you can batch cook this recipe, freeze into portions and use as needed.
GIVEAWAY
I'm excited to have teamed up with Canadian Turkey and Lentils.org to give one lucky reader a $75 prepaid Visa gift card to help you get ready for back-to-school!
Disclosure: This post is sponsored by Canadian Turkey and Lentils.org. In exchange for this post, I have received perks in the form of products and/or compensation. All opinions on this blog are my own.