I have such fond memories of spending time at Canada's Wonderland as a kid. From going there with my family as a new immigrant, to being goofy with my cousin, to playing hooky to go there during the week with a friend (with our parent's approval of course). I loved the thrill of the rides, I loved getting Henna-tattoos with my best-friend and I loved  dressing up and getting old-fashion-style photos. From eating funnel cakes to relaxing on the lazy river at splash works, I feel so fortunate to have experienced so many unforgettable memories so close to home.
After becoming a parent myself, I knew that it would only be a matter of time before I introduced Canada's Wonderland to my kids. Kyle wasn't even two when I first took him to Canada's Wonderland and we haven't looked back since.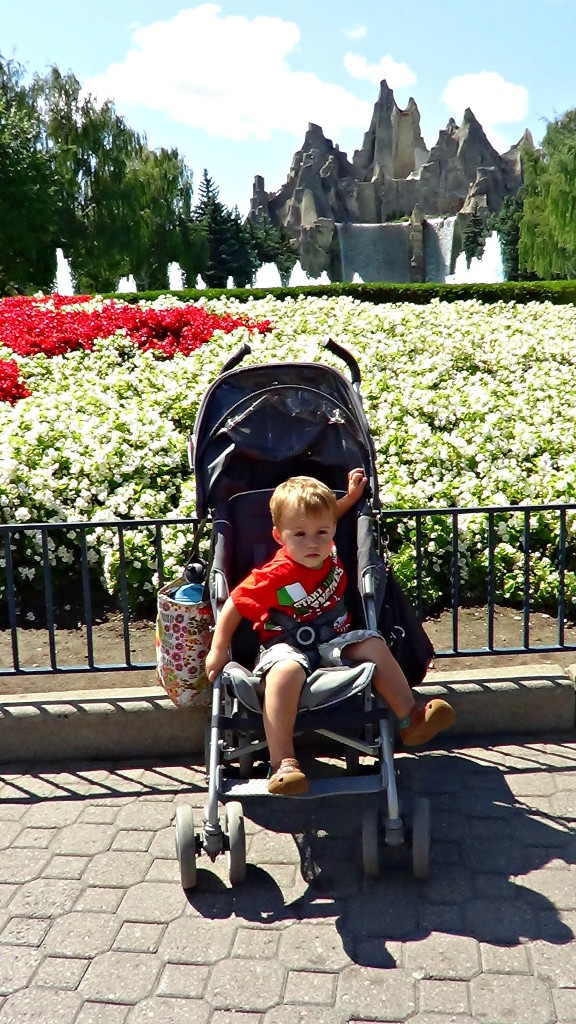 We've gotten a season pass every year for the past five years and we've been busy creating new memories. I remember the first time Kyle went on a ride alone (Frequent Flyers). I was that proud mom that videotaped him and I cheered him on the entire time. It was a very proud moment for me even though he had no idea what the fuss was all about. The following year he went on his first "roller coaster ride", Taxi Jam. Again, I was a proud mom and of course I had to purchase the pictures of us on that ride to commemorate the special event forever! From that moment on, it instantly became his favourite ride in Kidzville. Mostly, I'm just so happy that the boys love Wonderland as much as I do and are always excited to go there.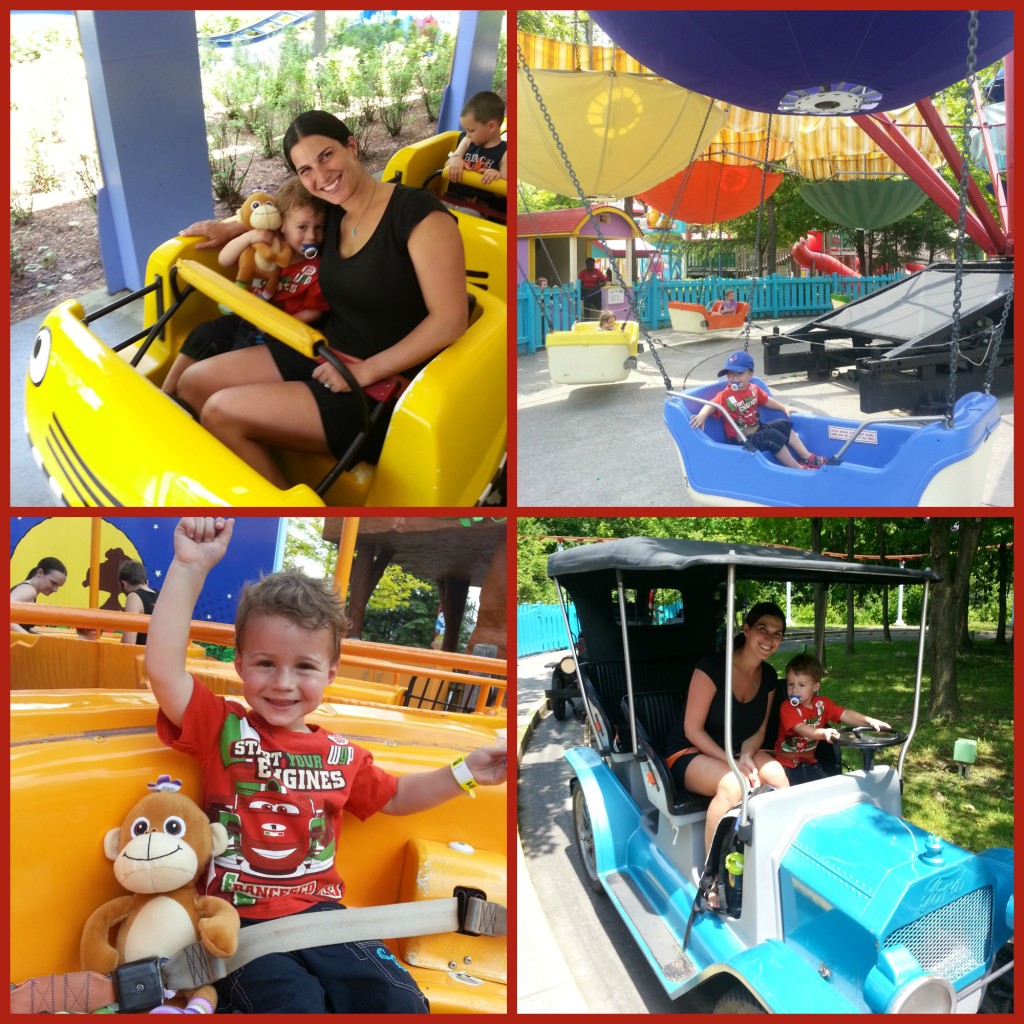 KID RIDES
Last weekend, we went to Canada's Wonderland for the first time this season.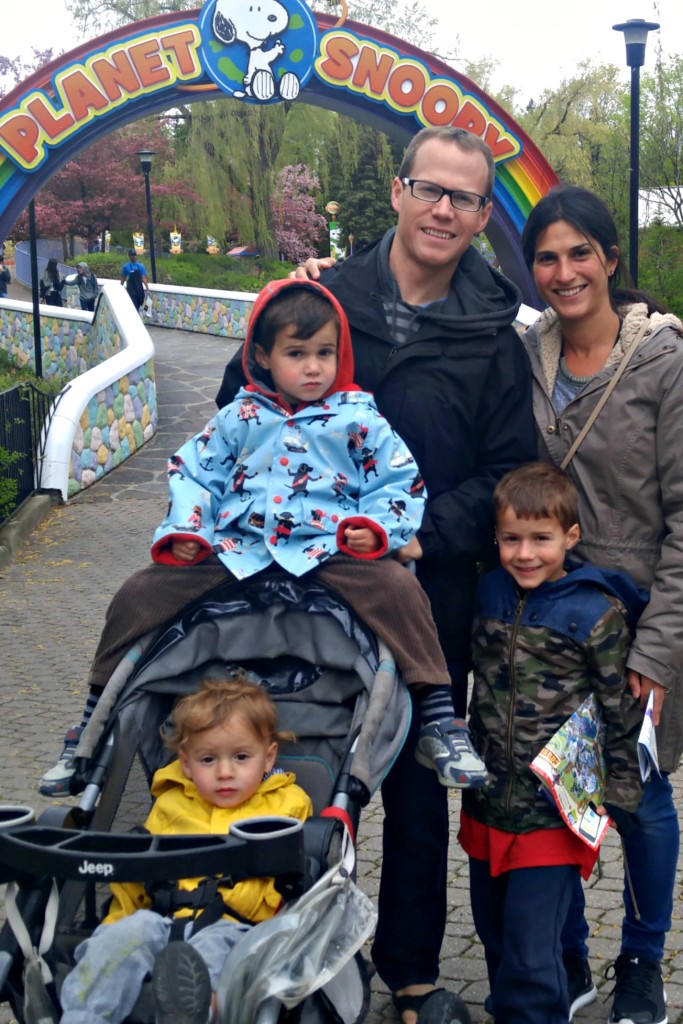 Since Taxi Jam was Kyle's favourite ride, we went there first and took Ryan with us. Here's their review of the ride:

And here is a slow-motion video of us going down:
Kyle, who is five and a half, was eager to try out some new, bigger rides. He tried Silver Streak where your legs are suspended and Ghoster Coaster which is a wooden coaster with a lot of drops. He declared that he officially has a new favourite ride and it's the Ghoster Coaster. He was so excited after he went on it that he had to do it four more times!! It was so amazing to see the joy and excitement in his eyes…, it reminded me of myself as a young thrill-seeker.
When I asked Ryan what his favourite rides were, he shouted, with much excitement "ALL OF THEM!" I know that he is particulary fond of Kidzville Station, Character Carrousel, Jokey's Jalopies and Treetop Adventure.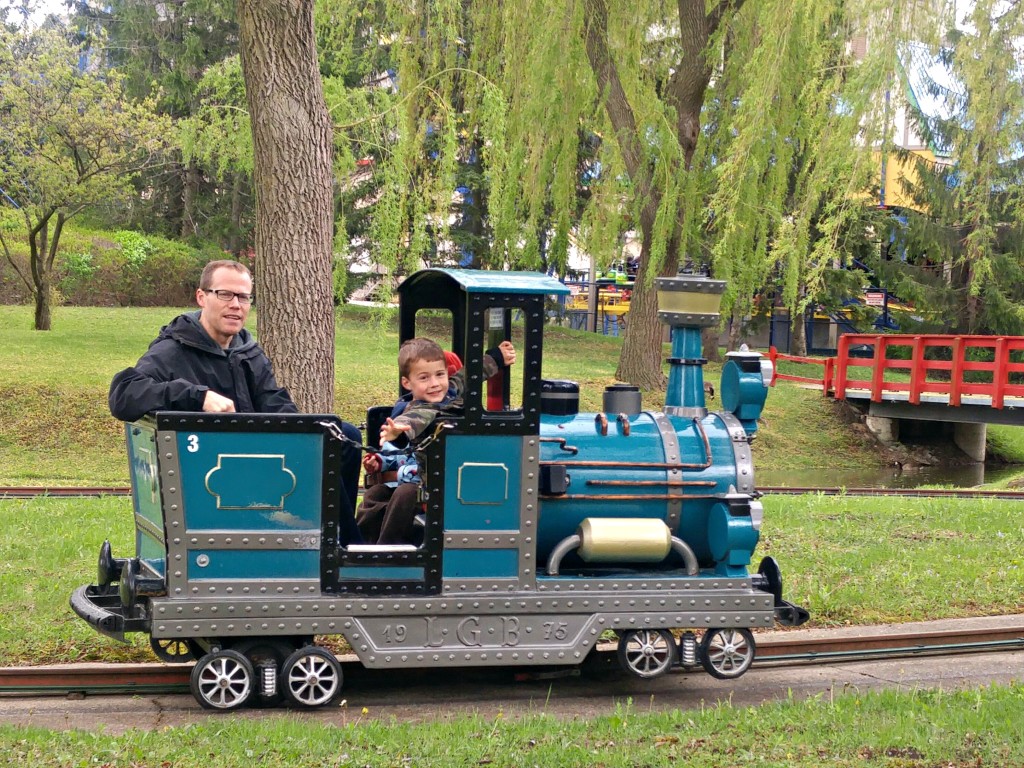 Kyle said that his favourites are: Ghoster Coaster, Silver Streak, Taxi Jam & Peanuts 500.
NEW KID RIDE
New to Kizville this year is the new family-friendly ride, the Flying Eagles.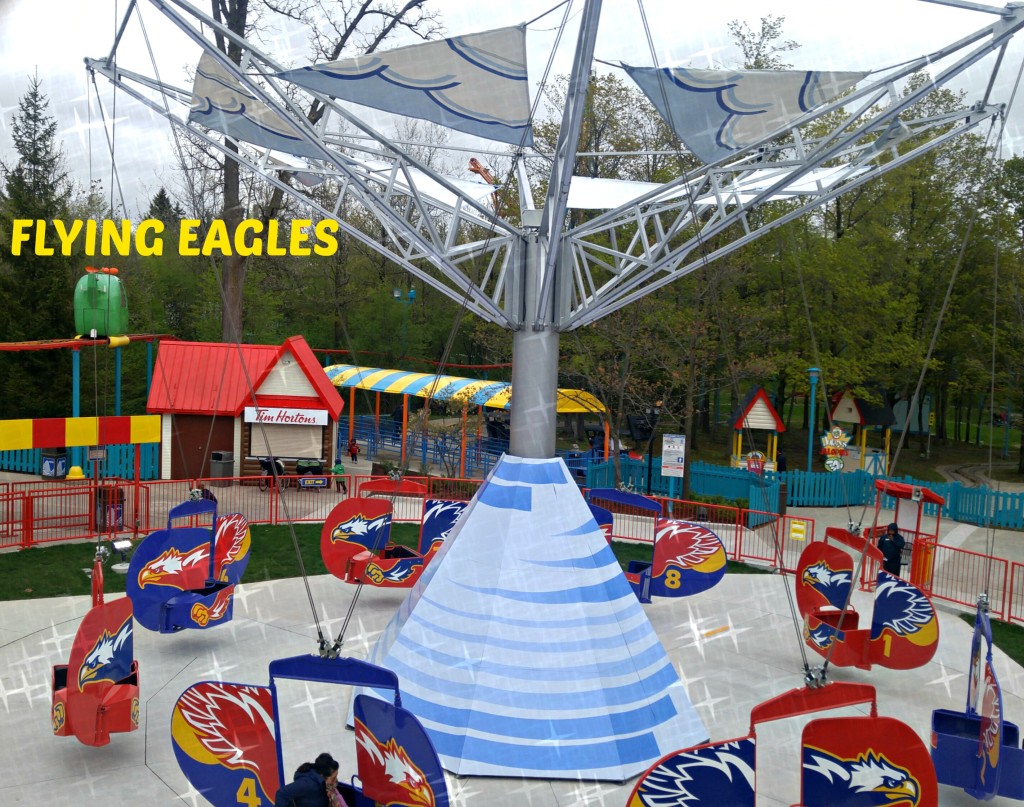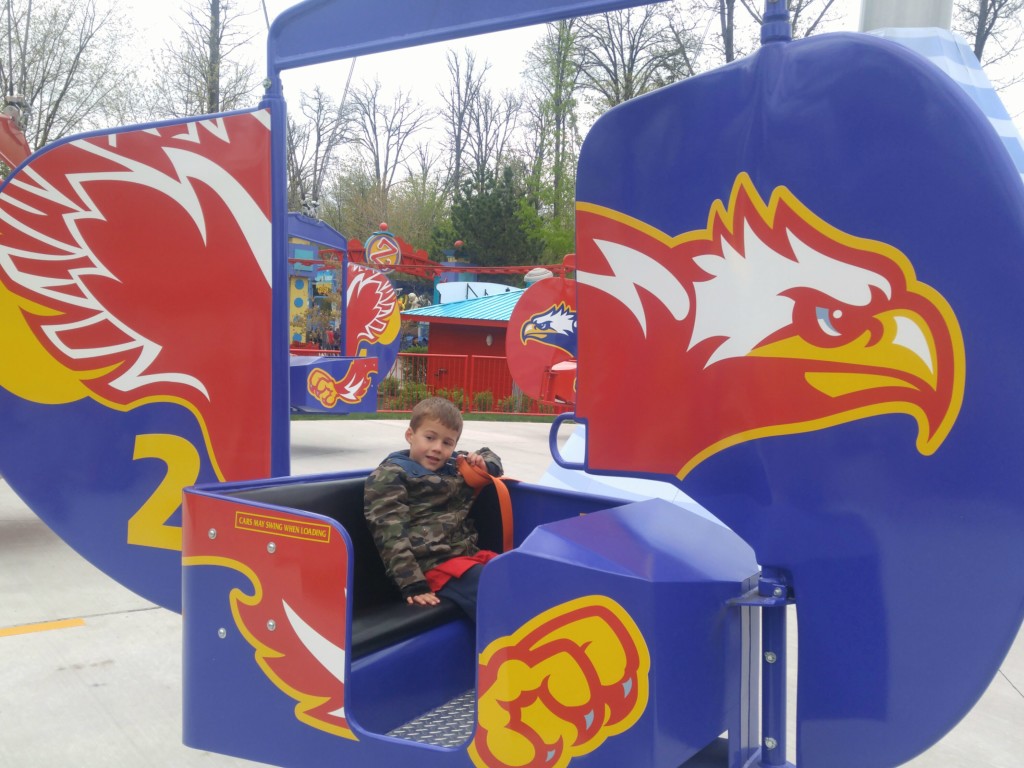 The two-person planes will glide 28 feet above the ground and allow each rider to control their flight and ride experience. Kyle liked being able to control the movement and how high above ground we went.
KID GAMES
Of course, no visit for us is complete unless the kids also play a game and win a prize. It's become a bit of a tradition.
Thankfully, the kids area's games always have a winner. It's $5 to play or you can pay $10 to get a bigger prize and let your kids play twice. New this year is a hockey game, so clearly, this is will be the ONLY game they play when we go. Another tip is that you can select a prize from any of the other stalls. So if your kids want to play the "duck" game but they like the prizes from one of the booths, they can do that. Pretty great, right?
I know that we'll be spending a lot of time at Canada's Wonderland this summer and we bought our season passes while we were at the park. Today is the last day to purchase your passes for 30% off! It's a great deal and it will pay for itself with just 2 visits to the park. By the way, kids under 3 years don't require a pass to enter the park. We're actually going back there again today! The boys have been counting down.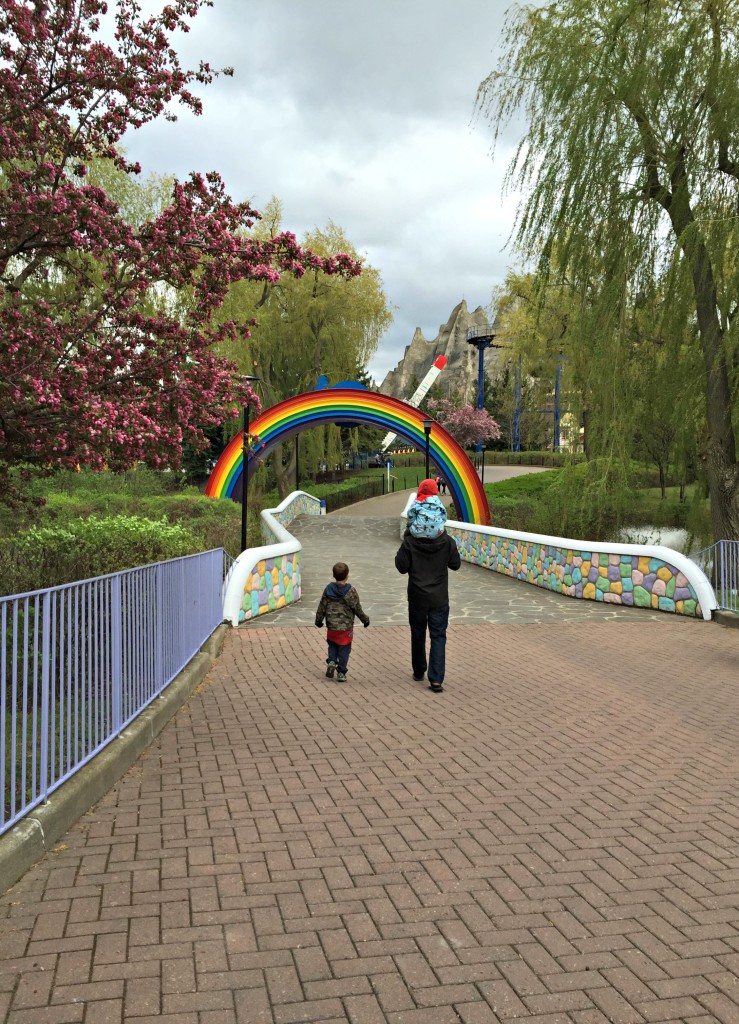 What is your favourite memory or ride from Canada's Wonderland?
Disclosure: This post is sponsored by Cedar Fair Entertainment Company in conjunction with Blog Meets Brand, and I have been compensated for my participation. All opinions and stories are my own.