I was never much of a techie when it came to new things; however, after I started my blog and got to review several baby and kid friendly products, I became more interested in learning about the in's and out's of products.  I also became a more picky consumer as I got to try out competing products to see which ones really stepped up in quality, safety and appeal.  However, if you want to truly put a product through a real test, give it to your child. Their reaction and honest comments (if they're old enough to speak) is really all you need to hear as a parent. Children don't care how much something costs or what it looks like, just how it makes them feel (i.e. happy or sad, comfortable or not).
Evenflo Platinum Symphony DLX
As an Evenflo ambassador, my family and I get to test out several of Evenflo's car seats.  I've already written about the Evenflo Symphony All-In-One car seat and how much we loved it for our younger son when we transitioned him out of the bucket seat.  We love the car seat and all of its features so much that I couldn't imagine that Evenflo could put out a better seat, yet somehow, they did.  We recently tested out Evenflo's new Platinum Symphany DLX all-in-one convertible car seat and we just loved it.  I almost liked it so much that I didn't want to use it knowing that before long, it will get messy and dirty. Fortunately, one of the great features is its easy to clean fabric.  Here are some of my other favourite features:
OUTLAST Performance Fabrics – the fabric uses special technology that balances your child's temperature by absorbing hot and cold temperature, releasing as needed. Living in Canada, the winters tend to be cold and the summers tend to get hot and muggy (with the exception of this summer). With so many instances of kids getting overheated in cars, its nice to know that this technology will help my son not sweat or stick to the car seat on hot summer days.  It's also nice to know that in the winter, when I have to remove his coat before putting him in the car seat, the fabric will help warm him up quickly.  This feature is truly priceless and gives parents a piece of mind on extreme weather days.
Buckle Pockets – This is such a "nice-to-have" feature that I think all future car seats will come standard with.  How many times have you fussed over the buckle seat to either get it behind your child or to untwist it, etc…?  The buckle pocket is a solution for all of those annoyances with car seat buckles.  The side pockets are so small but hold your buckle perfectly while you put your child in.  No more fussing, struggling or losing your mind. On hot days, it also ensures that the hot belt metal doesn't touch your child's skin.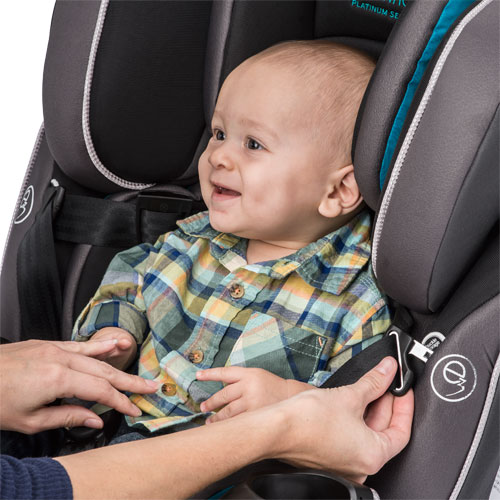 SureLATCH Technology – while the latch technology on the previous Evenflo car seat was already easy enough to use, this one is even EASIER!  Within a minute you can install your car seat, safely and securely and within minutes, you can take it out.  In the past week alone we had to take it in and out for two different instances.  It was so easy, even I could do it. Click the latch into your car and push down to hear and feel the seat auto tighten.
While the car seat is a bit bulky and heavy, all of the other great safety and simplifying features make this the car seat you should buy.  Did I mention that it comes with pre-installed cup holders? Love this feature when it's an add-on for most other car seats. The Evenflo Platinum all-in-one car seat can be used for your newborn up to a booster seat (5-110 lbs).  So if you're looking for an economical, high-end, all-in-one car seat, make this the one you get!
Giveaway
Together with Evenflo, one lucky Mayahood reader will get to win of their own Platinum All-in-One Convertible Car seat! Enter the giveaway via Rafflecopter below (please give it a few seconds to load).  Contest is open to residents of Canada. Contest ends Thursday September 11, 2014. Good-luck!