Since we put our house up for sale, we had to do some renovations and updates. Our front and backyard were included in our plans. Not only is curb appeal important, but so is showcasing a potential backyard oasis! While it's important to renovate effectively and efficiently, you don't want to over spend either. After all, the point is to invest a small amount into renos so you can make house look it's best. The biggest change we did that made a world of a difference was to lay sod down in our green space. It literately brought our backyard from drab to fab!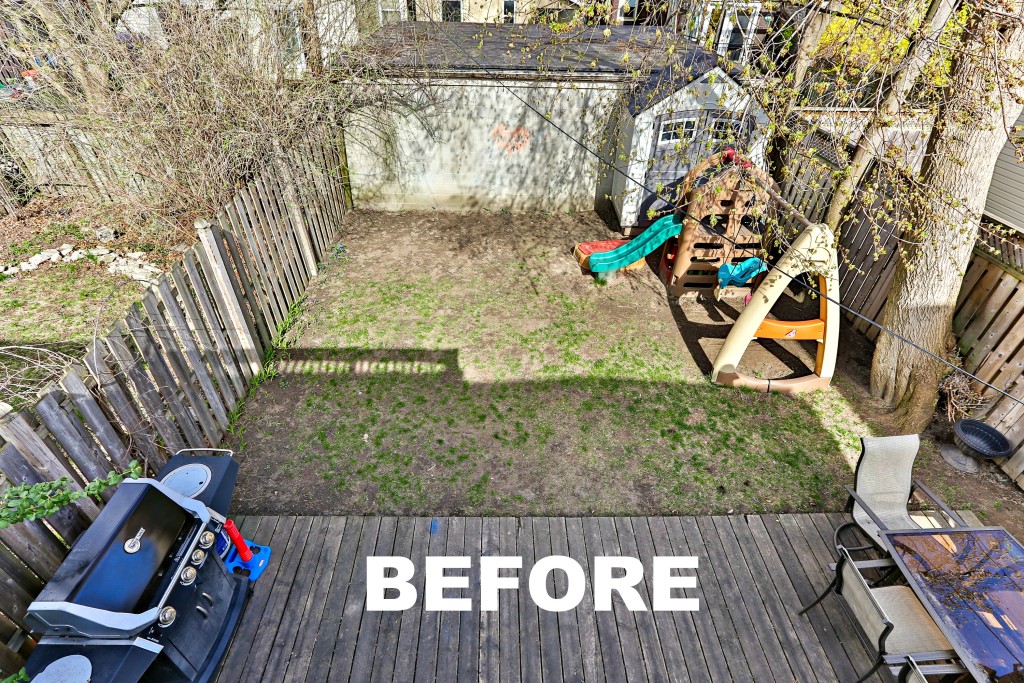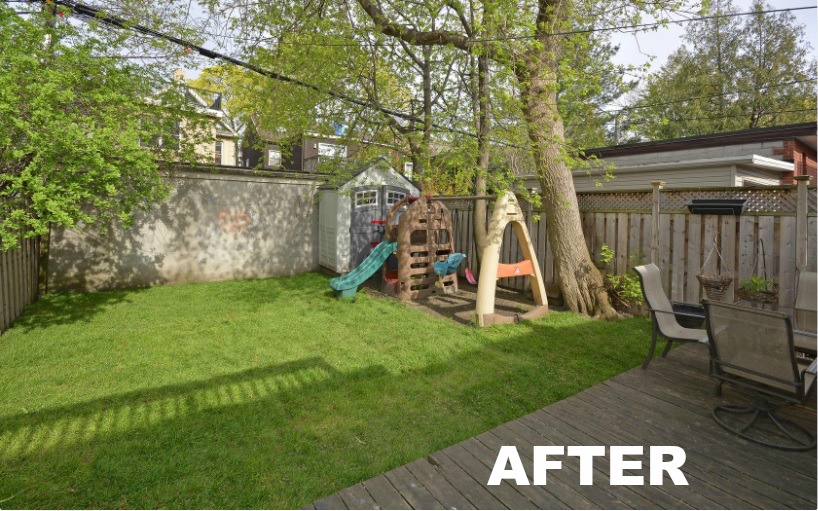 Here are some more tips from my friends at Church & Dwight on how to make your old backyard look new again with a few simple, budget-friendly tips and tricks.
Make old, new again. There's nothing worse than removing your patio furniture cushions from storage and realizing they're all stained. Before you think about tossing them, give them a clean. Mix OxiClean Versatile Stain Remover with water and let the cushion covers soak for 1 to 6 hours, depending on the severity of the stain. Wash as normal and your cushions should come out stain-free and looking brand new.
Win the weeding war. Did you know that watering your weeds makes it easier to pull them out? If it hasn't rained in a few days, water your weeds before yanking them. Fun fact: If the soil is moist, you are also less likely to disturb any plants nearby.
Save with a little scrubbing. There's a simple solution for removing dirt, grime and stains from patio furniture and even your deck. Mix OxiClean Versatile Stain Remover with water (following the instructions on the package) and apply the solution to almost anywhere. Let stand for a few minutes and scrub as needed. It will leave everything looking neat and clean again.
Wheel your way to wonderful. Re-arranging rather than replacing is also a good way to give new life to your backyard. Consider moving planters and patio furniture to different spots within your space to give it a wonderful new look and feel. Remember, you're not alone when moving heavy items like lounge chairs… there are wheels to help! Wheeling your furniture around doesn't eliminate all the hard work but will put less strain on your back. 
Be prepared that after a weekend of weeding and wheeling, your back, arms, legs – yes, your whole body – may be aching with pain. Make sure you leave yourself enough time on Sunday evening for a warm bath and a few hours curled up with a good book or movie. Before going to bed, rub and soothe your sore muscles (all of them!) with Rub A535 Extra Strength Heating Cream. The best things about this product is that it works fast and is non-greasy so you can put it on right before going to bed and it won't stain your sheets.
Whether you're a styling pro, have a green thumb, or just love to laze around in your oasis – please share your tips for getting your outdoor space looking fresh and bright!
Disclosure: I received compensation as part of my participation in the Church & Dwight Ambassador program. The opinions are my own.