Is it the holiday season already? How did that happen? I feel like I JUST wrote last year's gift guide! Well… I'm back at it, and this year's gift guide is bigger and better! Here are some of my gifting picks for babies, kids, teens and adults, including stocking stuffers and hostess gift ideas. While I did receive some of these products for review purposes, I wasn't paid to write about any of them. As well, some are products that I love and purchased by myself and thought you would be interested in them too. I also have a fun giveaway too! So without further adieu, I present to you my 2017 holiday gift guide for families.
Babies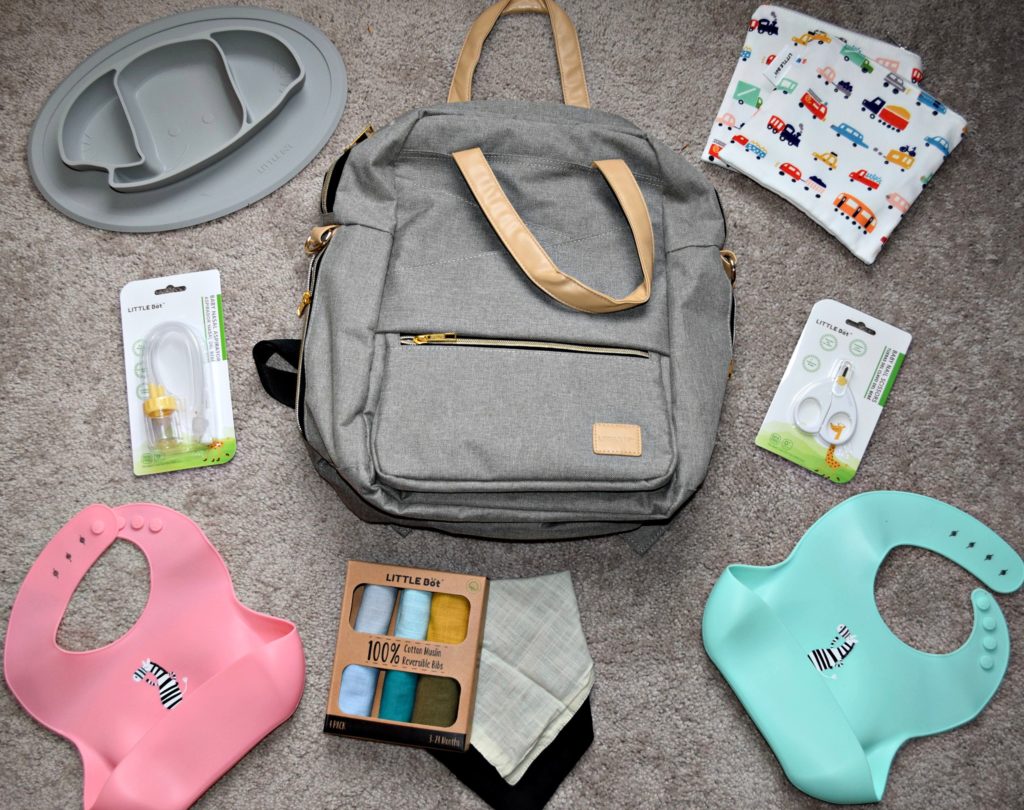 Feeding Gear
You may not have heard of Little Bot before, but pay attention! They are a Canadian company and they make quality baby products that you are going to love! While we are out of that phase, we have several friends and family members who are just having their first. I can't wait to introduce them to Little Bot Baby products. Here are some of their amazing feeding gear. 1. A catch-all soft silicone bib (2 pack retails for $15.99). 2. A 100% cotton, reversible muslin bandanas (4 pack retails for $23.99). 3. A one-piece silicone placemat and plate in the shape of an elephant (retails for $19.99). 4. Reusable snack bags with cute car designs (I love love love the quality of the fabric). Two pack retails for $15.99. All are available at Little Bot.
Diaper bags sure have come a long way since I had Kyle over 7 years ago. Now they are fun, stylish and multi-functional. I really love the design, colour and quality of Little Bot's diaper bag that I'm totally going to use for my own needs (since we're out of the baby diaper phase). The bag has more than 10 divided chambers and comes with a large changing pad. Retails for $70. Available at Little Bot.
Health care
Apparently these safety nail scissors with rounded tips are among the best sellers on Amazon.ca. They retail for $9.99. Since baby's don't know how to sneeze on their own, they will need your help to get rid of their nose congestion. This nasal aspirator with a soft silicone tip was specifically made for babies. It retails for $11.99. Both products are available at Little Bot.
Kids
V-Tech Camera
I originally gifted the camera to Nate (3 years old), who loved taking pictures with it. It was great that he was able to take 100 pictures of the cat on HIS camera, and not mine! He also loved taking random 3-year-old style videos and playing the 3 games that come with it. Eventually, Kyle took ownership of the camera. He had so much fun taking amazing family videos on them (here's one of my favourites). The camera lens rotates 180 degrees and the camera is padded to protect against falls. It also comes with a mounting accessory to attach it to a bike and a water proof case  that can be used for use up to six feet underwater. The camera is recommended for kids ages 4 – 12 years
and retails for $59.99. You can find it at Toys "R" Us, Amazon, HBC, Indigo, Mastermind Toys, and Walmart.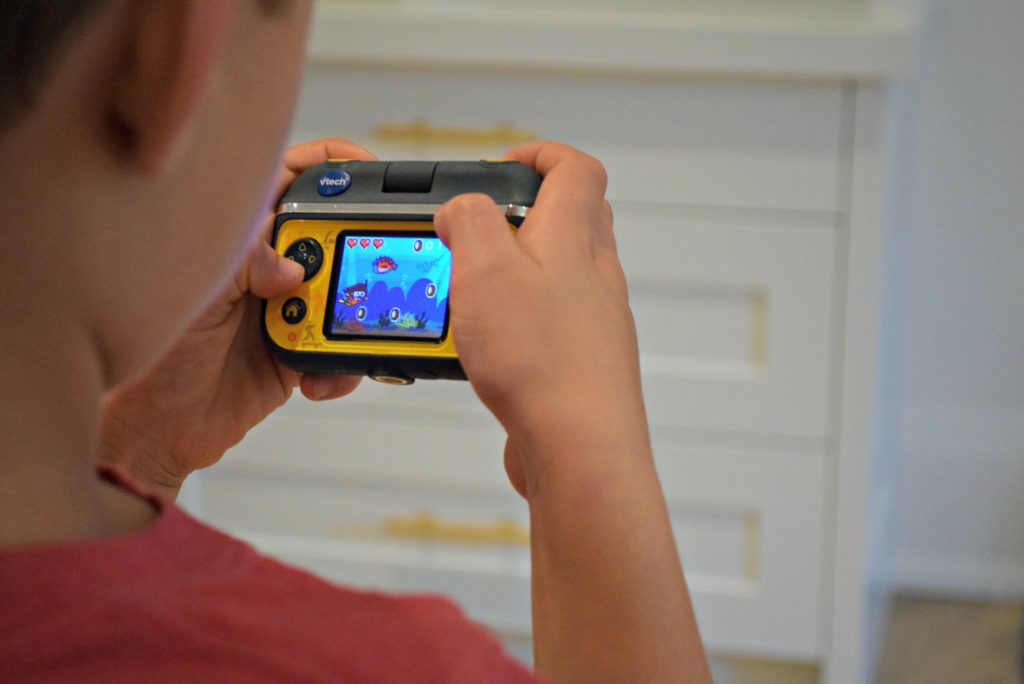 V-Tech Kidizoom Smartwatch DX2
This watch comes with tons of great features but my favourite is the Monster Detector detector (which is like Pokemon GO but without using any data) and its ability to track steps (great incentive to get my kids to be more active). Of course it has a camera and video function – just like my smartphone. Above all, its fun!! The watches are recommended for kids ages 4 – 12 years and retails for $69.99. You can find it at Toys "R" Us, Amazon, HBC, Indigo, Mastermind Toys, and Best Buy.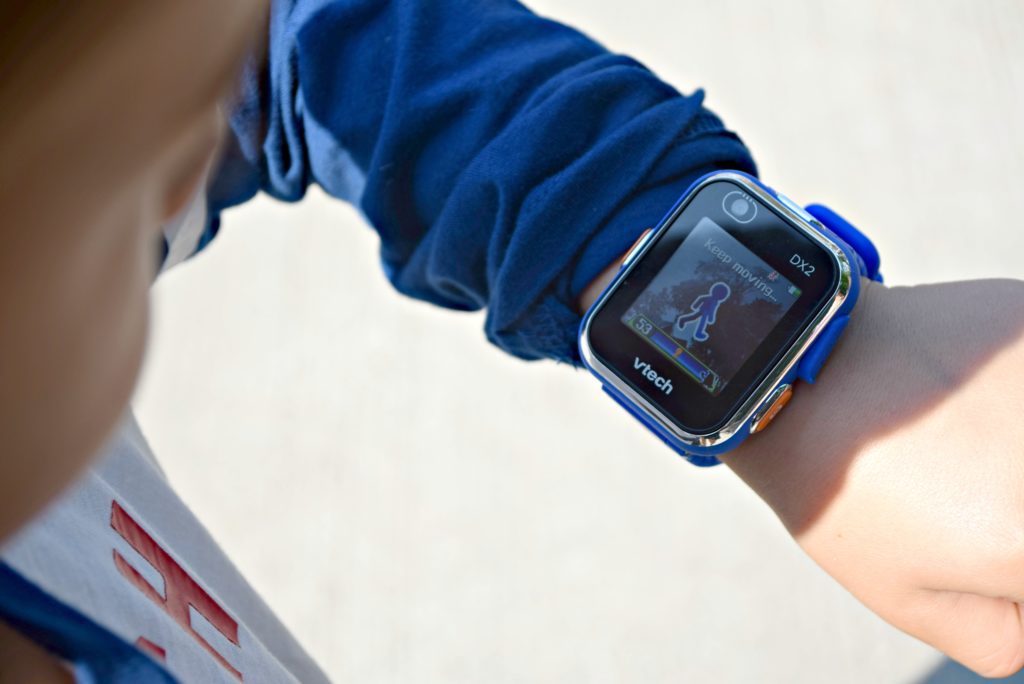 V-Tech Ready to Race 
Lightning

 

McQueen

!

You child can grab the wheel and explore letters, counting, problem solving, logic, and memory while playing 15 different games. It's so fun, they won't even realize they're learning. Recommended for kids ages 3 – 6 and retails for $44.99. Available at major retailers.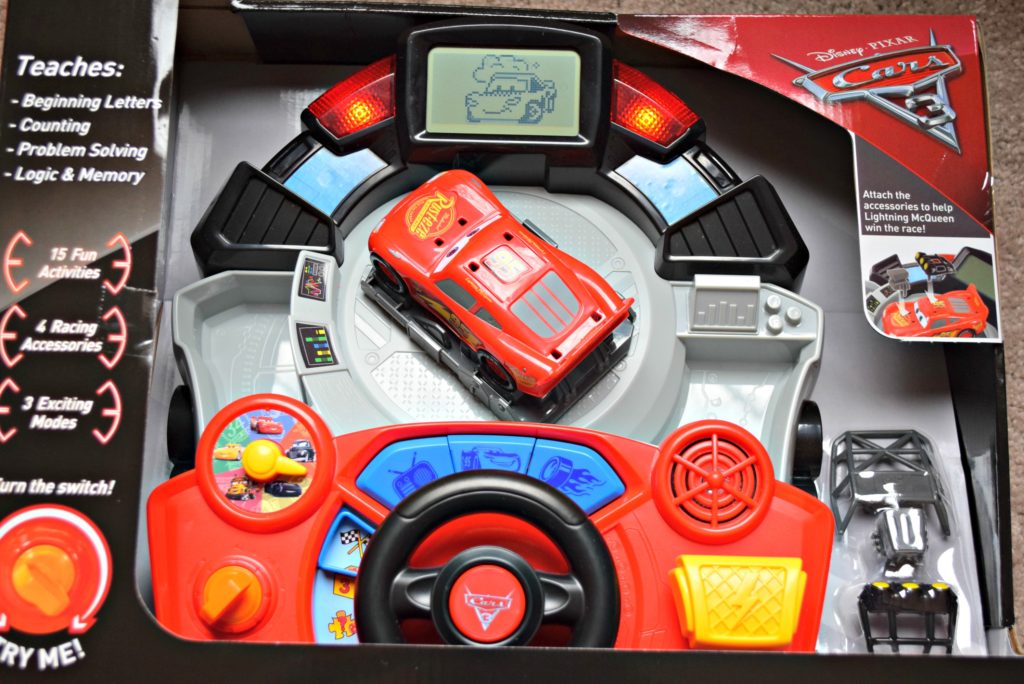 Playmobil
Playmobil toys are huge in our house. I think that they are one of the few toys that I will keep forever and pass them on to my grandkids one day. Not only is the quality amazing, but the amount of imaginative play that my boys get out of playing with them is not really comparable to any other toy we have. When the newest Playmobil "Dragons" box arrived in our house my boys couldn't wait to tear into it. The Drago ship is now a permanent fixture in our living room and Nathan plays with it every day. We saw some of the other Dragon sets (that have a Dragon figure) in a local toy store which Nathan already requested for Xmas. This set is recommended for kids ages 5+ and retails for $59.99. You can find it at Toys "R" Us, Mastermind Toys, Indigo Stores and Hudson's Bay Company.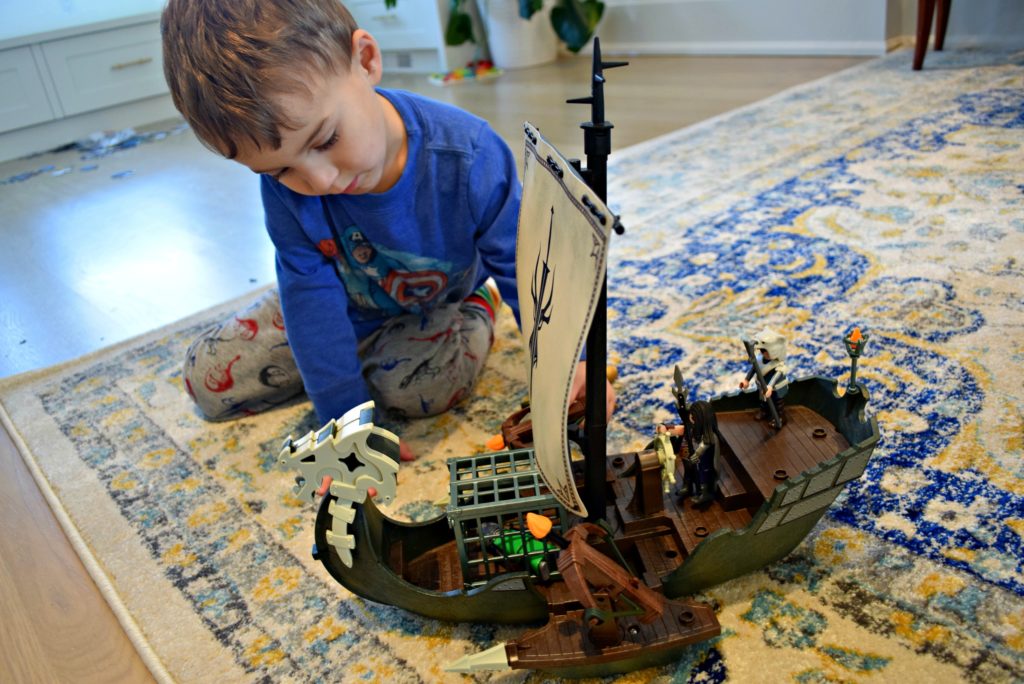 LiteHawk Mini Blast (remote control race car)
Nathan is currently obsessed with everything cars. For his birthday this past September he received a big remot control car which he played with almost daily outside our house. We were excited to try out this new mini version that was easy enough for his 3 year old hands to handle. The car itself feels light weight and not tough, but don't be fooled by its looks. It's designed that way so it can take on hard falls and tumbels. We can't wait to try it out in the winter as a way to entice the boys to get outdoors! This set is recommended for kids ages 8+ and retails for $39.99. You can find it online at Treasure Island Toys.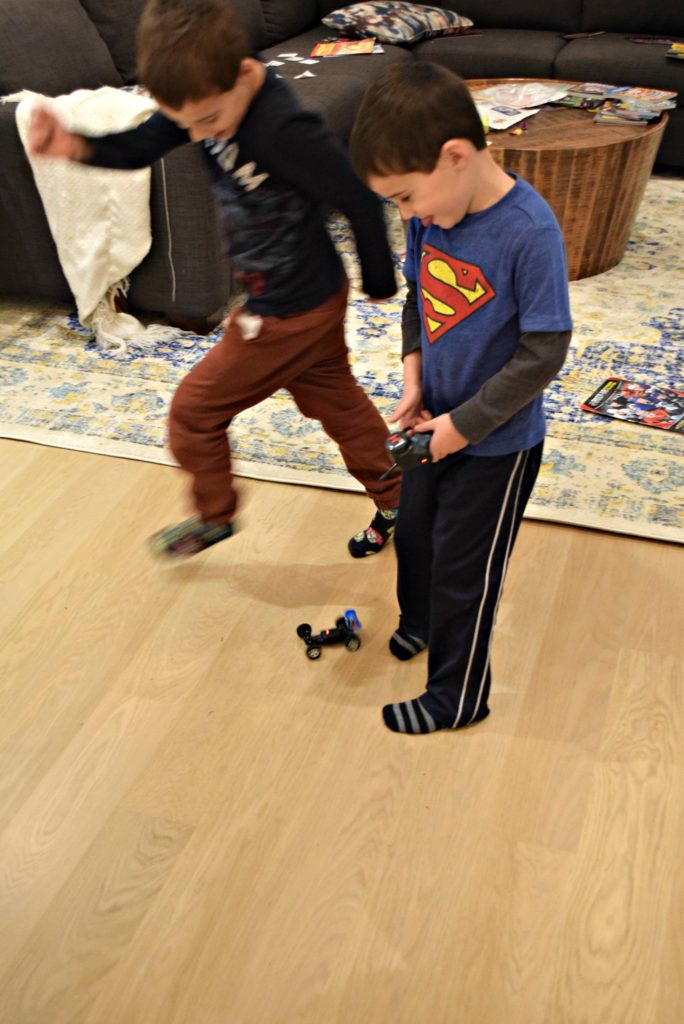 Fantastic Gymnastics
This is a really fun game for kids as you try to get your gymnast to land on their feet. It's actually way harder than it looks but amazingly, my kids are better at it than I am. It's all about patience, rhythm and timing. My boys played this game all summer long at the cottage trying to perfect their landing. Recommended for kids ages 8+ years and it retails for $24.99. Available at most major retailers.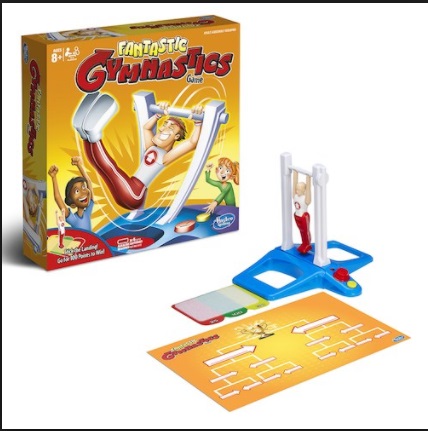 NERF
If I could use one word to describe our past summer it would be NERF! The boys have been playing Nerf non-stop and I have to say that once I get into it, I can't stop either. Together with their neighbour, my boys had fun teaming up against the adults for a good-old battle, running around in the house and outdoors. While we probably own 15 different type of Nerf Guns, we don't have the NERF Doomlands the judge blaster. I think my boys would go ga-ga for it. I just need to make more room in the house first! Recommended for kids ages 8+ years and it retails for $89.99.  I also picked up the NERF RIVAL NEMESIS MXVII-10K Blaster at Costco this year which I'm excited to surprise the boys with. This NERF is recommended for kids ages 14+ and retails for $149.99. Available at most major retailers.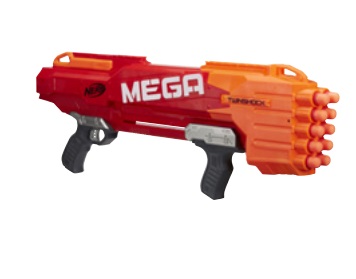 Transformers: The last knight mega 1-step turbo changer dragonstorm figure.
While my kids don't watch Transformers, they do love their action figures – especially this one that looks like a dragon. Nate spotted it in a flyer and pointed to it immediately. I don't blame him – it looks super cool. The figure comes with movie-inspired effects including flapping wings and more than 20 sounds and phrases. Recommended for kids ages 5+ and retails for $119.99. Available at most major retailers.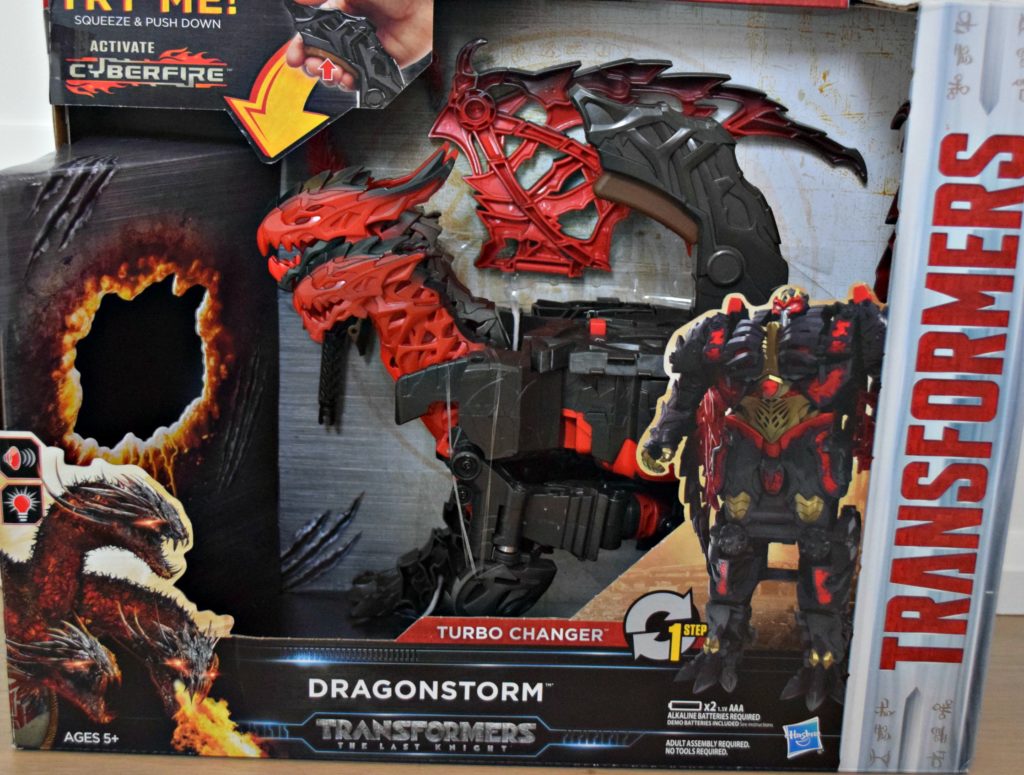 Baby Alive Snackin' Luke Baby Doll.
Unlike my oldest two, Nathan really enjoys playing with dolls and his stuffed animals. Whenever we go to our local toy store, he always plays pretend with the dolls there. He changes their diapers, puts them to sleep, and makes them food. So I knew that Baby Alive Snackin' Luke Baby Doll would be a big hit with him. I can't wait to see his face light up when he gets this for the holidays. Recommended for kids ages 3 years+ and retails for $29.99. Available at most major retailers.
STAR WARS galactic Heroes BB-8 Adventure Base. (GIVEAWAY ITEM)
We had an antique version that was very similar to this that my boys loved to play with until it broke. However, this one is specifically designed for little hands which means it's more durable.  The base includes features like the projectile launchers, multiple catwalks, a vehicle landing pad, a jail cell, and more. Kids can really pretend to be Jedi saving the planet! Recommended for kids ages 3–7 years and retails for $99.99.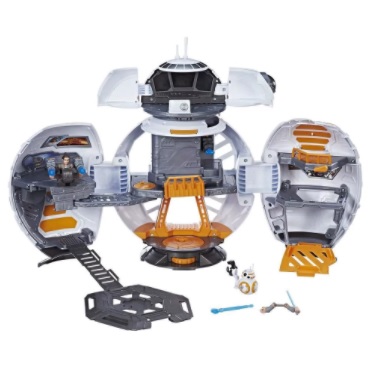 I See Me! personalized Christmas storybook, My Very Own Christmas
The boys have several personalized books which I love. What kid doesn't love seeing their name all over a book or having a story written about them! I was excited to see that I See Me! creates personalized Christmas books too. I got one made for my niece who is two and a half, who is more aware of the holidays now. I can't wait to see her reaction when we read her the book! The book retails for $34.99 USD and is available from iseeme.com.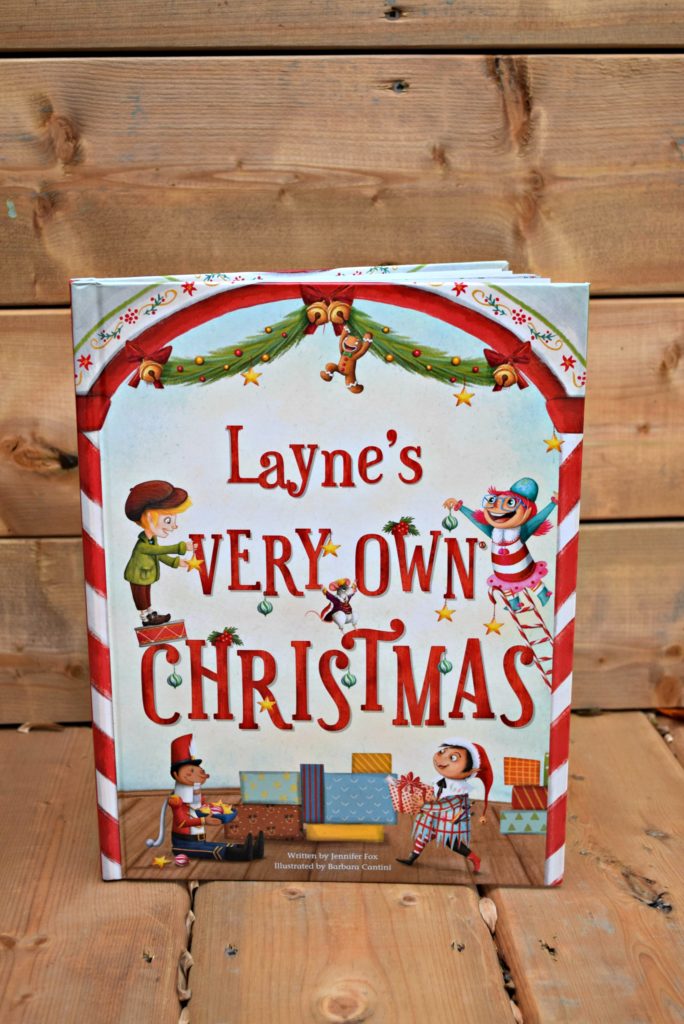 Beauty & the Beast Baby Belle Doll
I watched Disney's Beauty and the Beast Animated movie as a kid and I couldn't wait to watch the remake as an adult with my boys. It definitely didn't disappoint and I loved seeing Belle portrait as a strong independent and smart woman. This doll is a fun way to get your younger kids in on the fun. This beautiful baby doll is inspired by Belles classic yellow dress, with soft body to cuddle and a beautiful rose rattle she can hold. Recommended for kids ages 2 – 5 and retails for $29.99. Available at Toys R Us.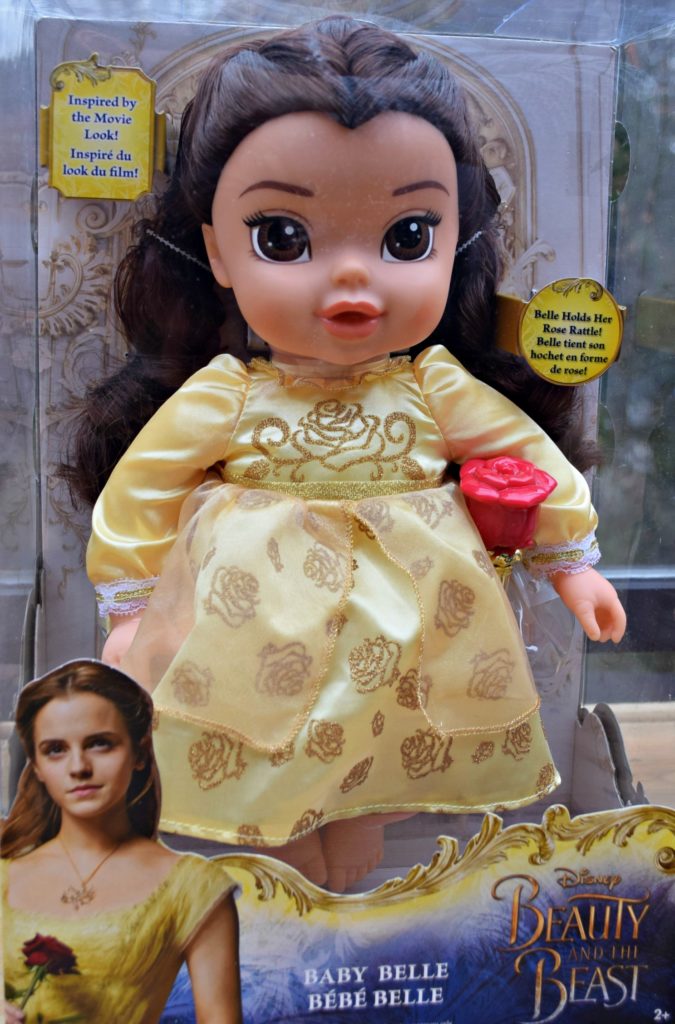 Enchanted Rose Jewelry Box – Belle Rose Jewelry Box
The Enchanted Rose Jewelry Box, which comes with a collectible gold feather ring, gives your little one an extra-special place to store their treasures. They can experience the beauty & magic over and over again as the enchanted rose opens, closes and lights up as the Beauty and the Beast song is played. Recommended for kids ages 3 – 8 and retails for $29.99. Available at Toys R Us.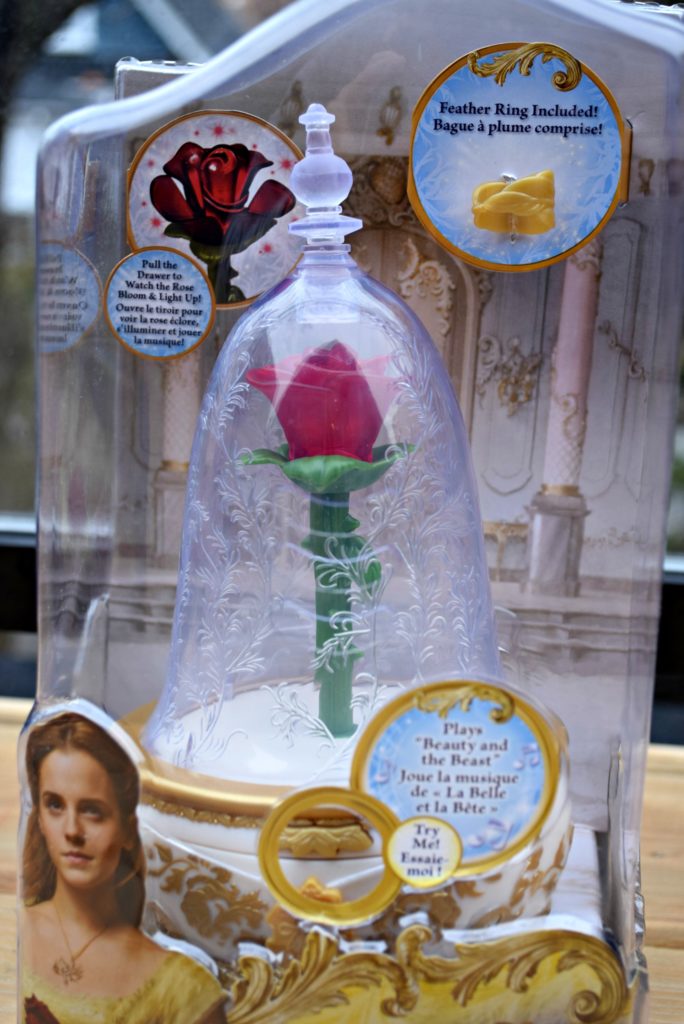 Chocolate Egg Surprise Maker
My kids are obsessed with Kinder Surprise Eggs. If they get a choice of a treat, they always pick this. And they actually eat both the chocolate and enjoy the surprise too. At home they take random toys and wrap them up in tinfoil to recreate this treat. So I'm excited to try out this maker so they actually make the chocolate too! Recommended for kids ages 6+ and retails for $19.99.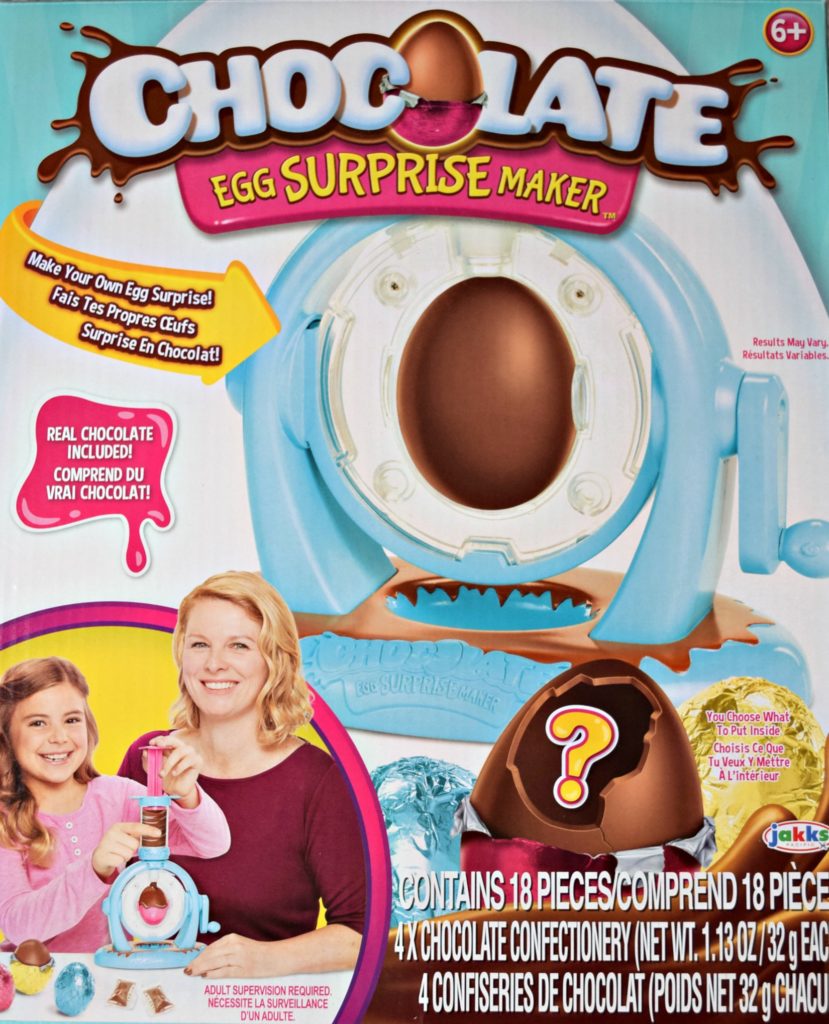 Safe Breaker
What kid doesn't like secrets and pretending to be a spy. That's why I love this game. Calling all top-secret spies! Safe Breaker from YULU Toys is a new electronic game that combines spy skill, memory and a little bit of luck, challenging players to crack the code and break into the safe. Clues include mathematical chances and luck elements, allowing for a new experience each round. Recommended for kids ages 6+ and retails for $30. Available at Toys R Us.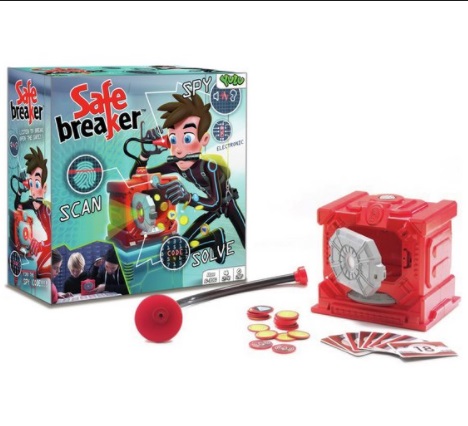 HEXBUG nano Space Cosmic Command
HEXBUGs are pretty much so fun! We tried them out four years ago and just fell in love with them. Sometimes you forget that it's just a toy and not really a bug. In this one, your kids can pretend that their nano is exploring their space command centre. Hours of fun it's sure to be a hit with the kids. Recommended for kids ages 3+ and retails for $64.99. You can find it at at HEXBUG.com, Amazon, mass and specialty retailers.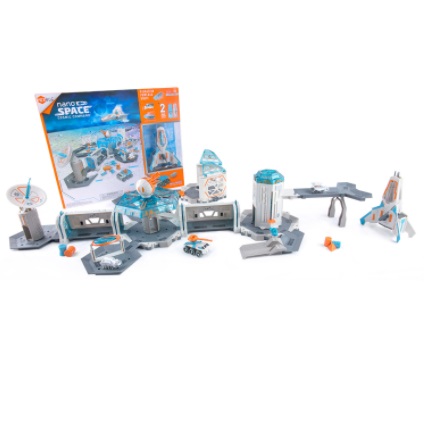 VEX Robotics Explorers lines
This STEM based, build-it-yourself construction kit helps your kids use their imagination as they explore space. The pieces are fairly easy to put together and the parts move making play time that much more interactive. This kit includes a space drone, hauler, command base and astronauts. Recommended for kids ages 6+ and retails for $25.99. You can find it at at HEXBUG.com, Amazon, mass and specialty retailers.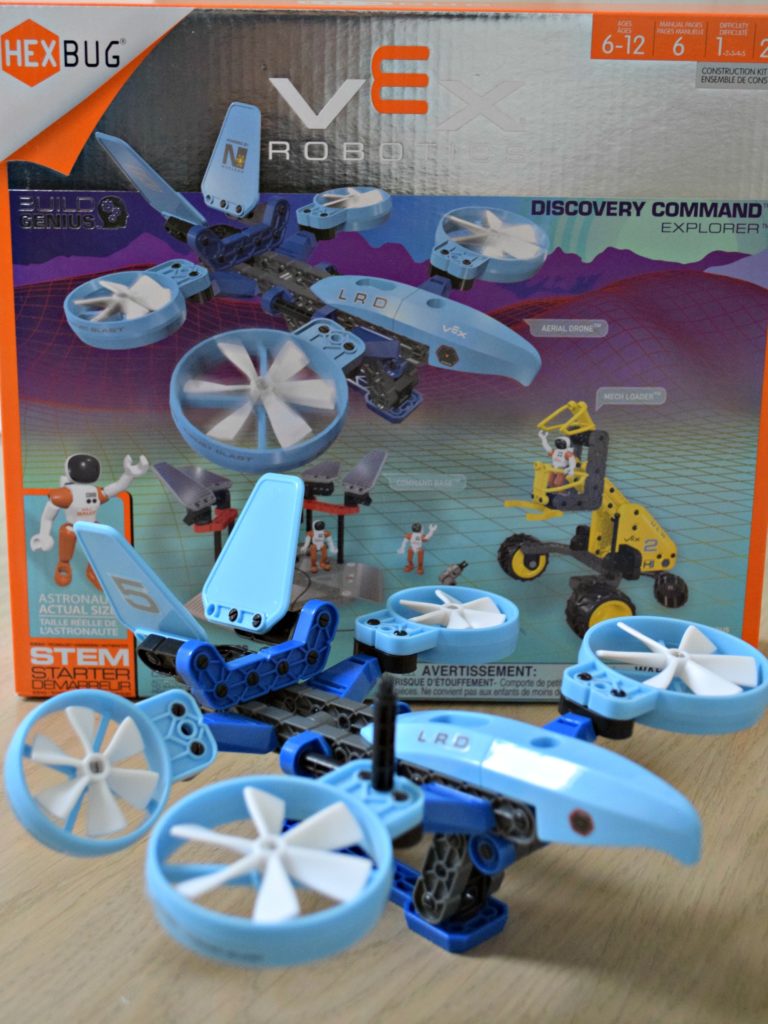 Tweens / Teens
Momentus Book (GIVEAWAY ITEM)
I first met Hannah Alper at a blogging conference in 2013. She was there with her amazing parents. I was blown away by how much she accomplished at such a young age. Fast forward 4 years later and nothing is stopping Hannah. In fact, she's only accomplished more and more, including writing her first book. This is a great book to help engage and inspire teens to become young change-makers of their own. Retails for $19.95 and is available at Chapters and Amazon.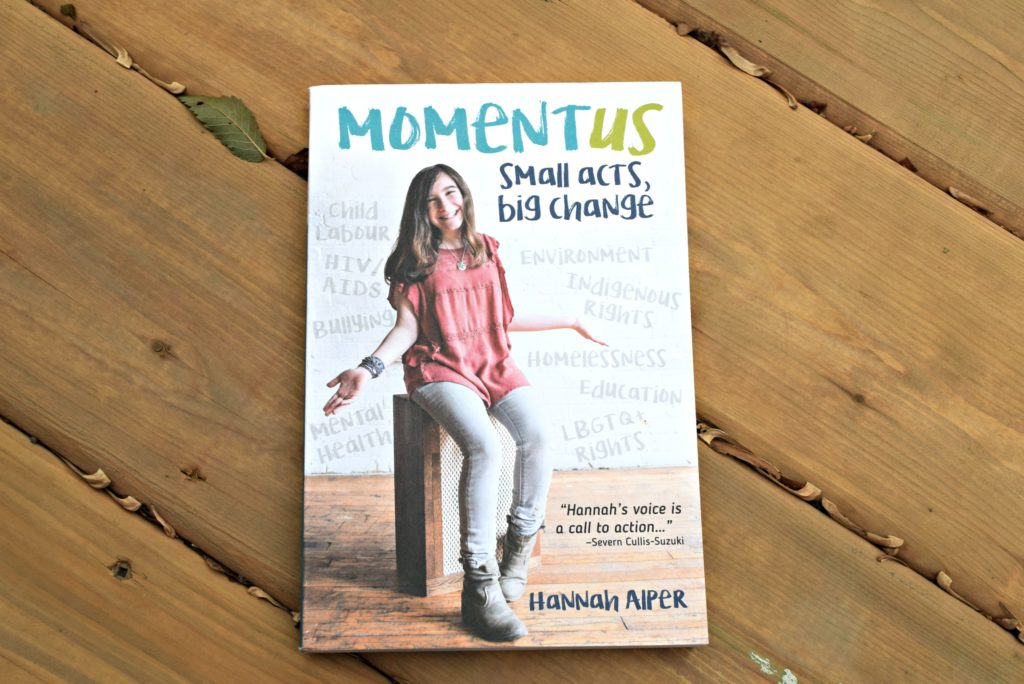 Face Off Cloth
When it comes to my face routine, I'm all about easy and simple. That's why my daily routine includes washing my face with water only. So far, it's working for me. For those days I do wear makeup though, I find that water isn't enough to remove it from my face. Luckily, Face Off cloth does just that, with the addition of water only. No chemicals or other ingredients are needed. And you just pop it in the wash to keep it looking like new. This is a must in every house. Retails for $14.99 and is available at faceoffcloth.com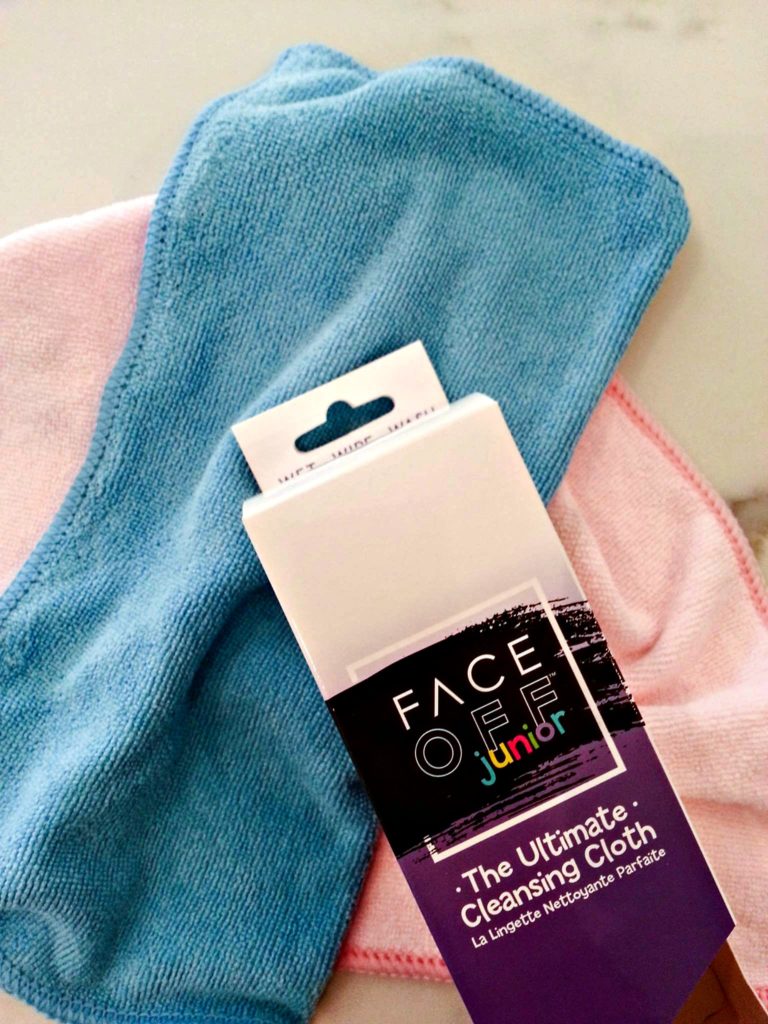 Adults
Craft Beer monthly subscription
This is pretty much the best gift I can think of for my husband. He loves craft beer and it's fun trying out new ones. Brew Box is a monthly craft beer subscription box that delivers right to the recipients home and features brews that aren't readily available in the LCBO or Beer Store. There are 4 different subscriptions to choose from starting at $58/month. You can buy it from thebrewbox.com.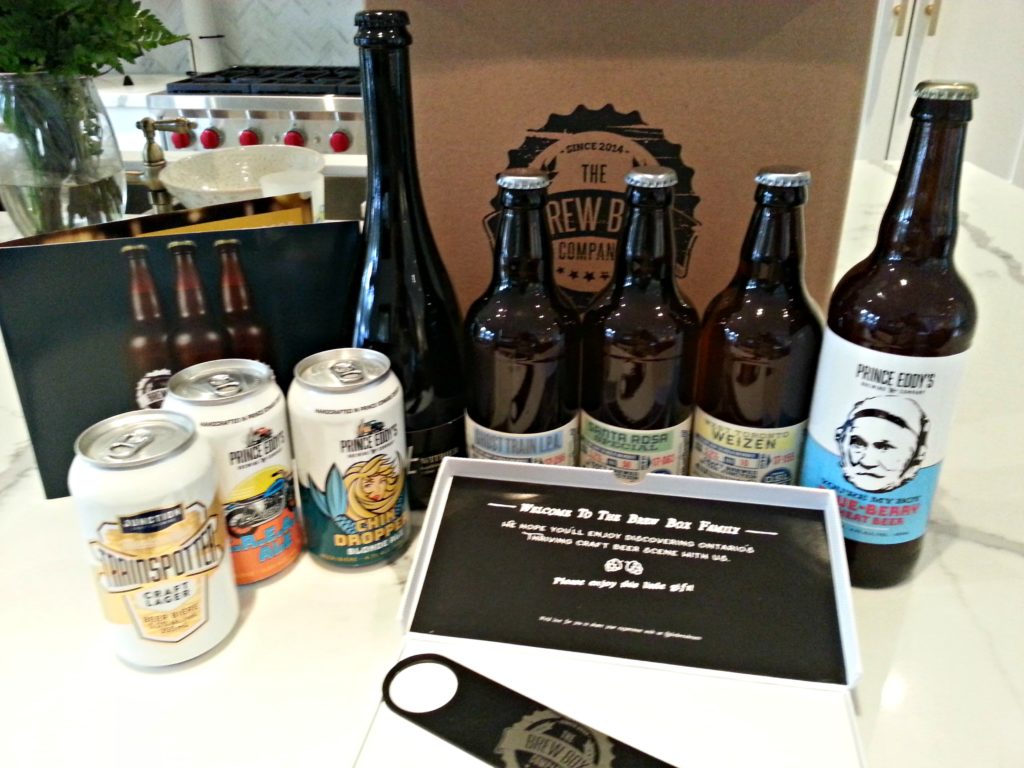 Happiness is Family sweatshirt
I first fell in love with this company last year when they launched. I proudly wear their "Happiness Is… Canada" shirt almost weekly. I've purchased a few as gifts too. They are soft and comfortable and I love everything about what this company stands for. I was so excited to see that they have extended their messages and came out with a "Happiness Is…. Family" sweatshirt. I couldn't wait to get my hands on one and it didn't disappoint. It's soft and comfortable, and just like the shirt, I wear it almost weekly. Retails for $99.95 and you can buy it at happinessisinc.ca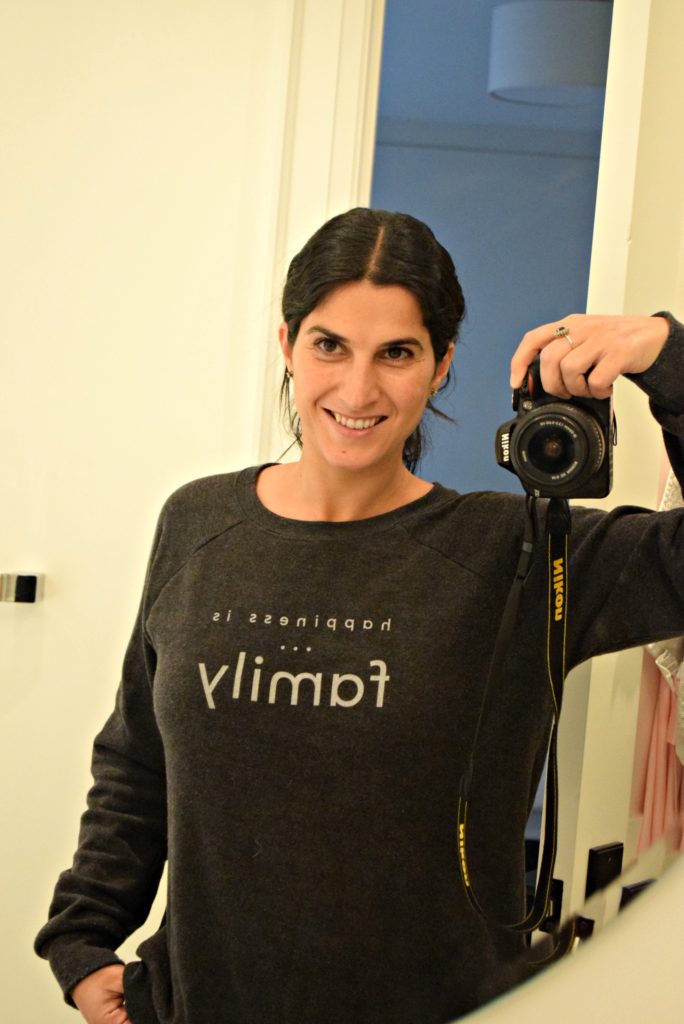 Vintage Maps Pillow
I've been eyeing these pillows for a few years now and I couldn't wait to get my hands on one. These pillows are hand-made by a mom (who I am lucky to call a friend now) who resides in Toronto. She uses vintage maps of various areas around Canada, specifically of cottage country. I was so happy to get this pillow that has a map of our cottage lake. I feel like it will be a family heirloom now. Retails for $69.99 and you can buy it at vintagemapeco.com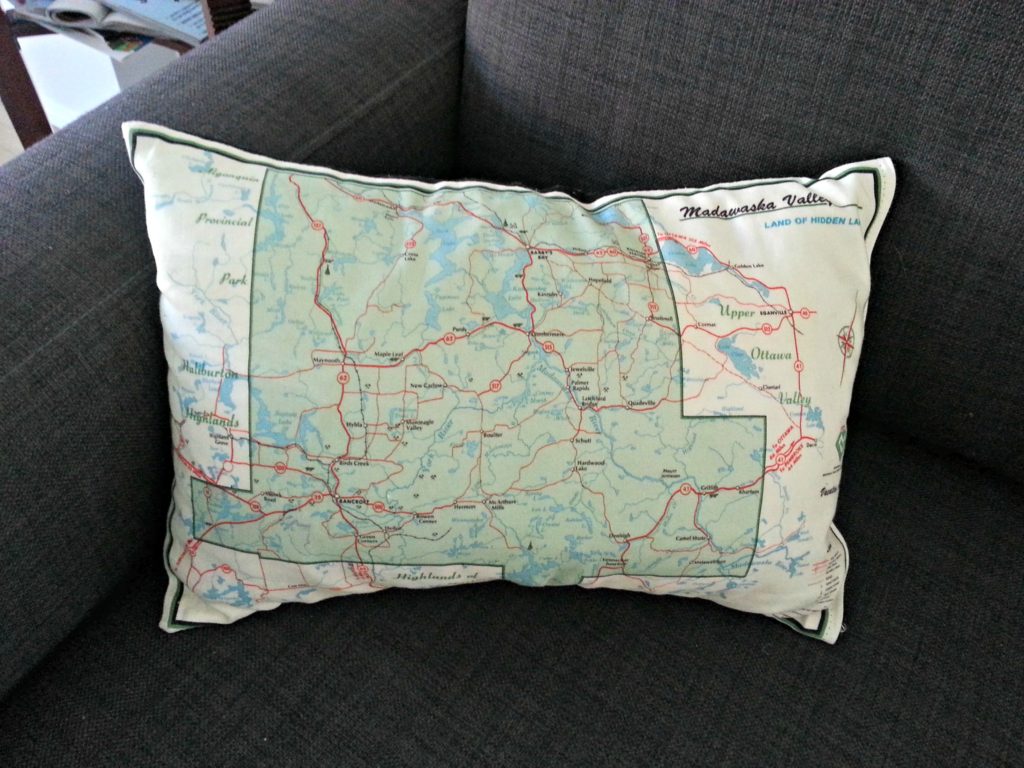 Live Clean Bath Foam & Holiday Scents (GIVEAWAY ITEM)
I have used and loved Live Clean products for almost 10 years now. I use them for almost all of my personal needs including shampoo, conditioner, hand wash, body wash, kids soap and body wash and face wipes to name a few. So you can guess how excited I was when I heard that they came out with a new Bath Foam line of products. Bath time just got even better!! Available in the following scents: Lavender Vanilla, Fresh Water or Tropical Coconut. The Bath Foams have a retail range of $8.99 to $9.49. Just in time for the holidays, Live Clean released two great liquid hand soap holiday scents – vanilla peppermint & Holly Berry. They retail for $4.98 and you can buy it on well.ca.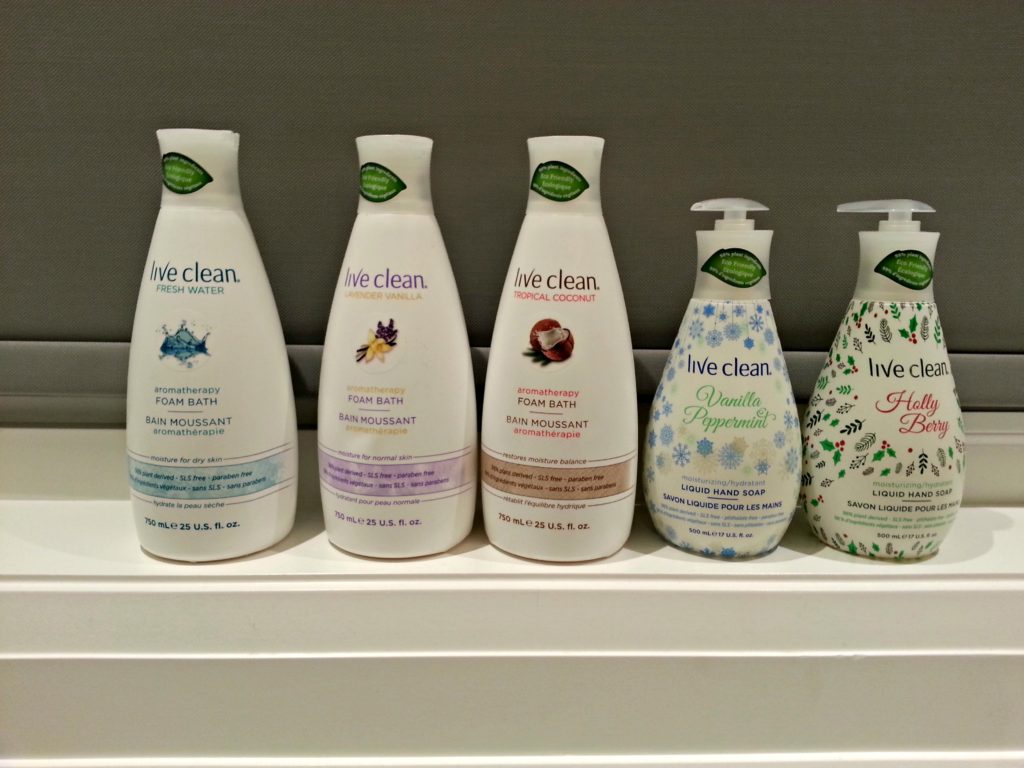 Tile Pro Series
Always forgetting your stuff? I can never find my cell phone. We also seem to misplace our keys. Sounds familiar? Than you need Tile in your life. All you need to do is download the app, connect it to your tile, and attach the tile to any item that you want to track. These new versions have twice the Bluetooth rage (up to 200 feet) and twice
the loudness. Retails for $45 and you can buy it from thetileapp.com, Best Buy, Amazon.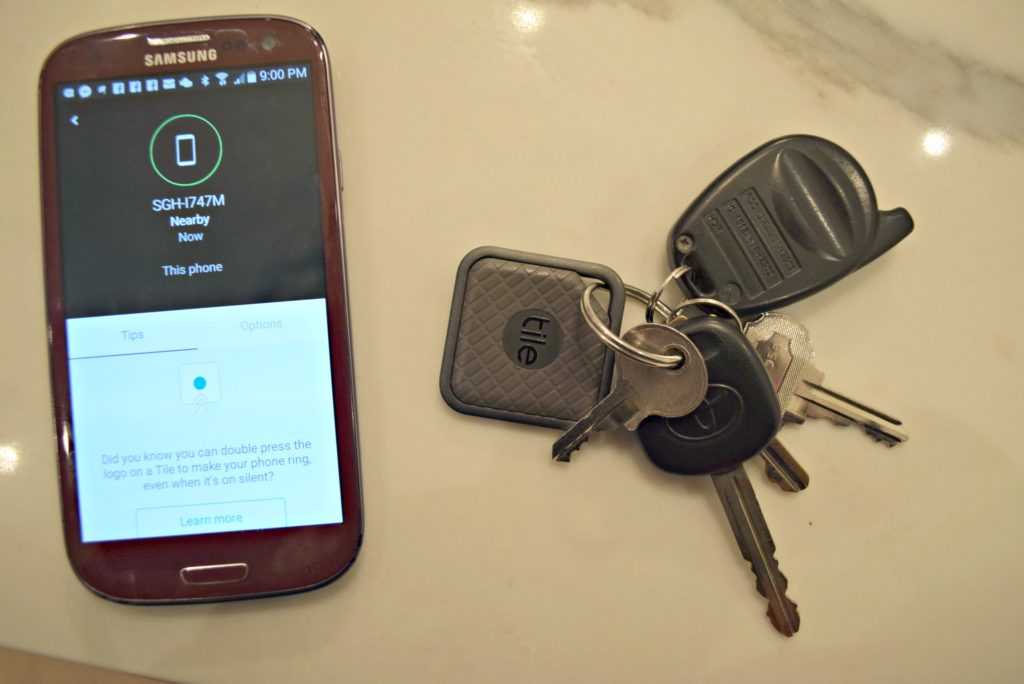 Pink Zebra
This isn't your ordinary candles and home fragrances. Using simmer pots, scented wax or soaks you can really elevate your home's scent. I know that in our house, whenever we cook, the scent travels all over due to our open concept home and our gas stove / burner. These products will come in handy for that purpose. There's even some relaxing scents which I plan on putting on during the day to relieve the stress. You can see the entire line up HERE! The hardest part is selecting only a few scents because there's so many to choose from.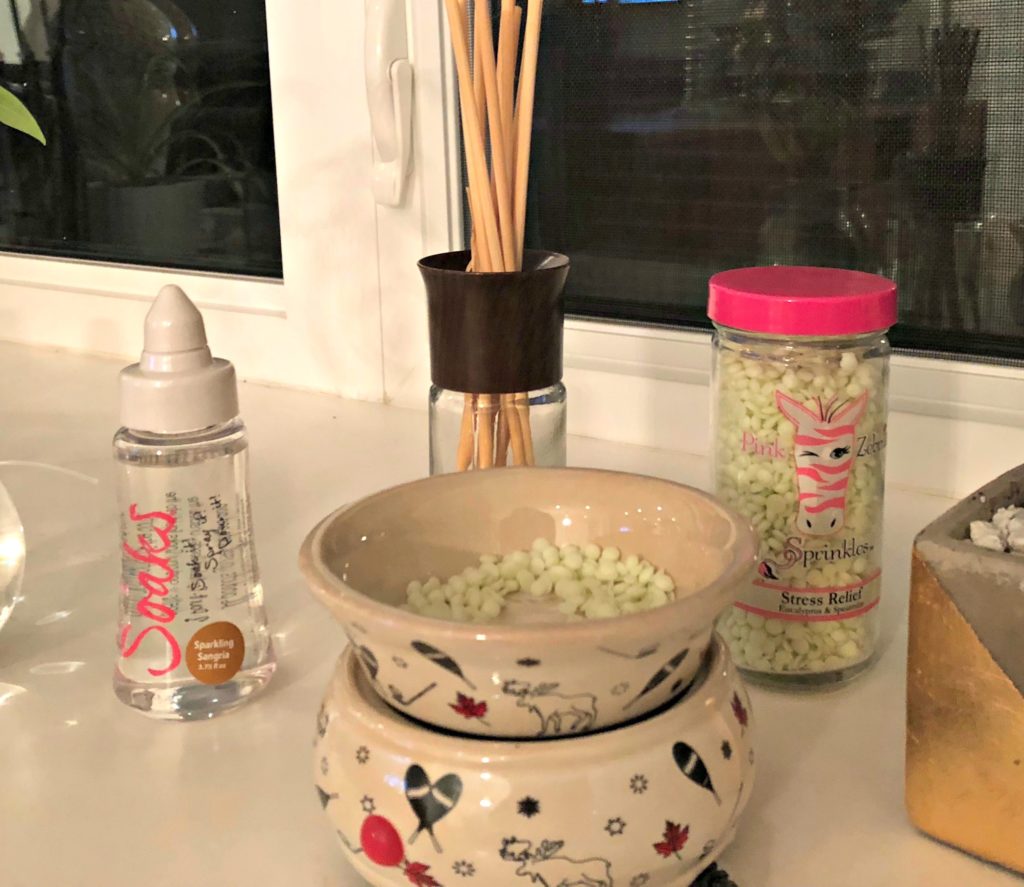 Stocking Stuffers
Tumblstix
The new fidget spinner? It's actually even better. The Tumblstix is a small, weighted mesmerizing stick that challenges balance. Each Tumblstix includes LED lights for awesome visual effects. Recommended for kids ages 4+ and retails for $10.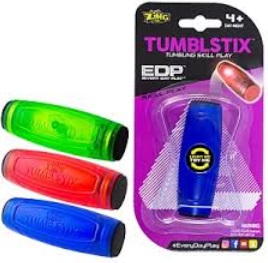 Awesome Little Green Men
Kyle dressed up as an army guy for Halloween so I thought that he might like these cute new Awesome Little Green Men figurines to collect and play with. He's currently obsessed with learning about WWII. The Blind Box (recommended age 6+) comes with 1 figure, 1 dog tag on a chain and a collector's poster. The retail range is: $4.99 – $5.95. The starter pack (available in both Blue & Green and recommended for age 6+) comes with 4 figures (1 surprise), 4 dog tags, 1 chain and a collector's poster. Retail price range is: $17.99 – $19.99. The Deluxe Battle Packs comes with 8 figures (2 surprises), 8 dog tags, 2 chains, and a collector's poster. Retail Price Range is: $34.99 – $39.99. These are available at Toys "R" Us, Indigo, and other major Canadian retailers.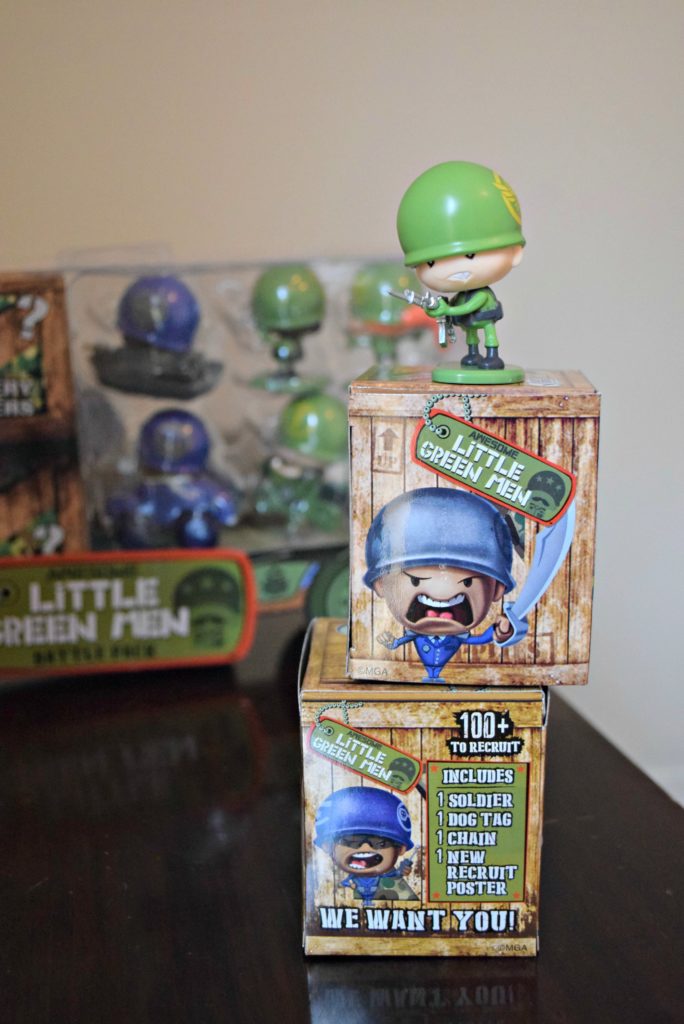 Fingerlings (GIVEAWAY ITEM)
I have yet to actually see these in person but I've seen them tons on YouTube videos. They are super cute and seem to be this season's hottest toys. If my boys don't like them, I'll just have to keep it for myself. They retail for $20 but they are pretty hard to find. That's why I'm excited to be giving one away (Unicorn Fingerling no less).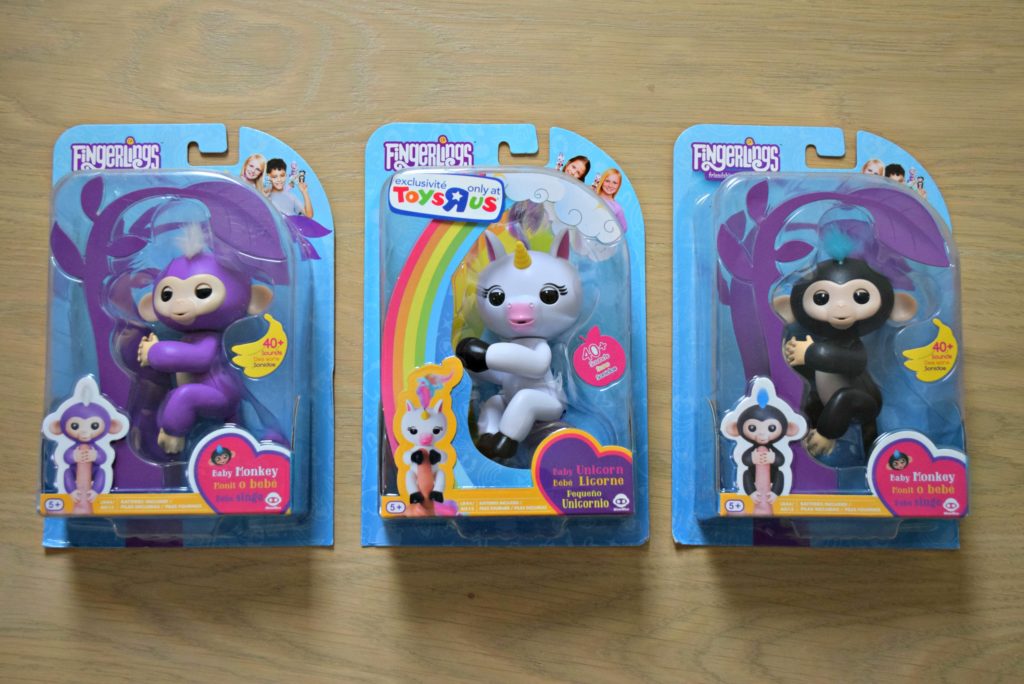 NHL Funko POP! figures
Since my boys are obsessed with everything Hockey, I know that they will love to receive this figure in their stocking. They're cute to collect and are perfect decorations for a kid's room! The figures retail for $14.99 and are available at sportstoys.ca.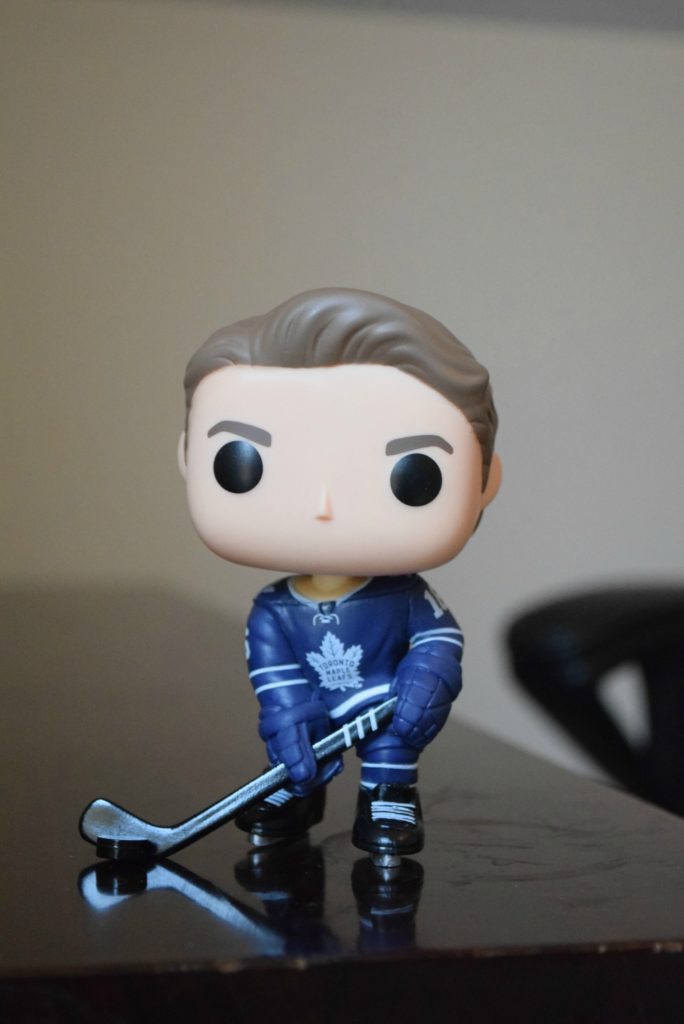 Oyo Sports Backyard Rink
Lego and hockey in one? Yes please!! Kyle will just go crazy for this. He will build it and my younger two will play with it. Either way, you can't go wrong with this gift for a hockey lover! Retails for $29.99 and available at sportstoys.ca.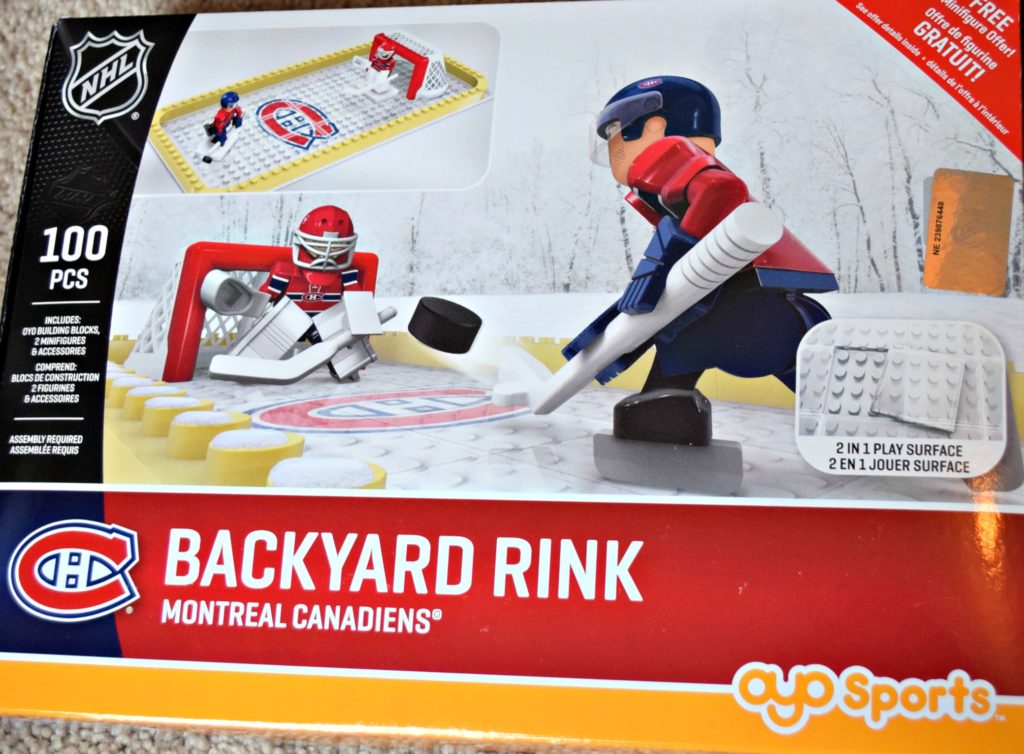 Oyo Sports professional sports players
Another great way for your sport lovers to play with their favourite athletes. You can choose players from the NHL, NFL, MLB and NBA. Each figure retails for $14.99 and you can buy them from sportstoys.ca.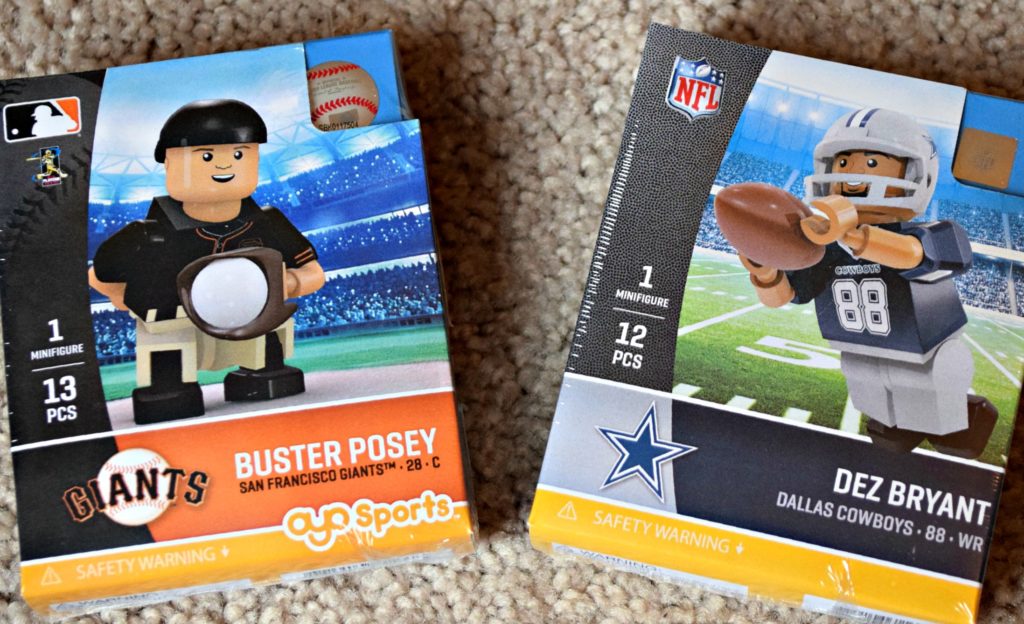 Squish-Dee-Lish
If you have a teen at home, I'm sure you've heard of Squish-Dee-Lish. They're all the rage with teenagers these days (girls mostly I believe). However, my 7 year old son also made a request for one, so what do I know. I just oblige and buy!! These retail for $7.99.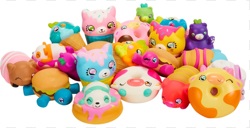 Hostess Gifts
Sweet Corner gift
Give them something new, unique and edible!! Sweet Corner Gift are edible chocolate boxes, filled with your favourite candy, chocolate, cookies, dried fruit and more. Their boxes come in a variety of different shapes and sizes and are tailored to your specific requirements and personalized to your needs. Boxes start at $25 and you can buy them at sweetcornergift.com
GIVEAWAY
I'm excited to give my readers an opportunity to win some of the items in my gift-guide. Enter to win a STAR WARS galactic Heroes BB-8 Adventure Base (courtesy of my friends at Hasbro), Hannah Alper's new book Momentus, 3 Live Clean Bath Foams & 2 Live Clean Holiday hand soaps and one Unicorn Fingerling! Total prize value is approx $177. Enter the giveaway via Rafflecopter (please give it a few seconds to load).  Contest is open to all residents of Canada. Contest ends Monday Dec. 11, 2017.
Disclosure: I received some of these products for review (but not monetary payments) but some we bought on our own because we love the products. As always, all opinions are my own.